Women Gun Bloggers: She's all 'Sass, Brass & Bullets'
Just up the road from The WON's home lives a female blogger named Beth Cowgill. If you follow women's gun blogs, you'll know her better as "Sass, Brass & Bullets." After spending time with her at the gun range, we can say that she aptly fits her blog's moniker, and that we think you'll like reading what else this mighty mama is up to these days! And, congrats to her daughter's softball team, who just won the state championship! Read all about life as a blogger, softball mom and woman in the gun industry in this installment about women gun bloggers — featuring Beth Cowgill.
The WON: When did you start blogging and why?
Beth: In the summer of 2010, Julie Golob and Kippi Leatham were looking for someone to help them with the launch of the Women of USPSA Facebook page. I answered their "cry for help," if you will, when I saw an ad in a Front Sight magazine. Julie knew that I was just getting into practical shooting and had a passion for wanting to help other women learn and understand shooting.
After some time getting to know each other, Julie said, "You should start a blog!" I immediately said, "Are you crazy!? I don't have time to write a blog, and I'm not that great of a writer." I was also dealing with some personal issues at the time and felt I needed to focus my attention elsewhere, but I soon discovered that writing was a way for me to escape reality for a while. Once I started blogging, it was really hard to stop. I wanted to document my journey as a brand new shooter. Being able to share my experiences with other new shooters was my goal.
The WON: Sass, Brass and Bullets … kinda an "in-your face" blog name! Why'd you name it that, Beth?
Beth: Once I was completely committed to the idea of a blog, I starting thinking about a name. Coming up with a blog name isn't as easy as you think. My first choice was "The Road to Grand Master." My original shooting goals consisted of working toward becoming the first female Grand Master in the shooting sports. One of my first blog posts was "Just Like You … Only Prettier." This was my "in-your-face" to all the men out there who don't see the women's division as a comparable category, and to prove that girls can shoot just like the boys can, if not better! After a while, I started disliking my original name, and decided I needed to come up with something a little more feminine and something more original than www.bethcowgill.com. I went back to Julie G for some help. I wish I had the original email string where she and I went back and forth swapping suggestions because we had some great ones. Some of the earlier suggestions were Sassy Shooter, Midwest Shooter, Midwest Sass, but Julie and I both agreed that having a** and hooter in a female blog name probably wasn't the best idea. Finally, I said, "What about Sass, Brass & Bullets? There's still a lot of a** in there, but who cares!?" So let it be written …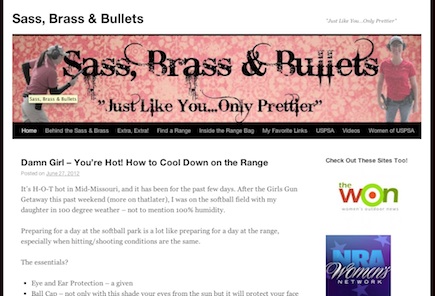 The WON: What do you hope to accomplish with your blog?
Beth: Sass, Brass & Bullets is a website for new and seasoned shooters, both male and female, as a resource for those interested in learning more about competitive shooting, the great outdoors and much more. My primary goal is to educate others on the good and bad things I've learned throughout my journey as a shooter, a writer and an individual. If I can help one person achieve her goals or simply answer a question she might be afraid to ask, than I think that's a great accomplishment. I think a lot of my readers can relate to me because I write how I talk, and that makes me more personable and someone they can relate to a lot easier.
The WON: I see that you are a practical shooter in training. How'd that come about and where are you in your quest?
Beth: I love working in the shooting sports industry. Several years ago, I went to the range with a friend of mine who felt I had a natural talent with a pistol. I started shooting with him at local club matches and immediately fell in love with IPSC/USPSA. I immediately had all these ideas and goals that I wanted to reach, but was quickly forced to take a step back and evaluate some priorities in my life. While I still have some of the same hopes for my shooting career, some of those short-term goals have turned into long term, but I'm 100 percent okay with that. I'm a mother first, so my daughter takes priority. When she gets older and more independent, then I'll focus more on me.
The WON: Now, when you're not blogging or at the range practicing, what would you want folks to know about you?
Beth: I'm a softball mom, and for those of you who had/have children in sports, you know what this means. My free time right now is limited to softball games and practices, which means limited range time. Today (6/5/2012), I'm going to the range for the first time since March 24 when I shot a benefit match for The Susan G. Komen Foundation. Free time is limited. Dry firing can't always replace live fire training, so tonight's match might be interesting. I'm taking my daughter with me tonight so regardless of how I shoot, it's going to be a great time! I also spend a lot of time with friends at the Lake of the Ozarks in Missouri. My boyfriend is a tournament fisherman in his spare time so we spend a lot of weekends on the water. I also enjoy helping others. I volunteer my time at our local food bank, creating "Buddy Packs" for kids from low-income families as well as working with my daughter's Girl Scout Troop. I used to be the Troop leader, but now I just help out from time-to-time. I also enjoy hunting and this past year have taken my first animals, a white-tailed deer and Eastern turkey, both in Missouri.
The WON: What do you shoot when you're competing and why?
Beth: For Limited and Production division, I shoot a Glock 34, the competition 9mm model. I have always been a fan of Glock, since I started carrying a G19 a few years ago. I was introduced to former Team Glock member Dave Sevigny a few years ago at the NRA Bianchi Cup. Dave and I soon developed a friendship and started discussing competition firearms for my personal use. He told me the benefits of a G34 and why he thought it would be a good gun for me, so I ordered one. I love shooting that gun! My next gun will be a 1911 so I can resume competing in the Single Stack Division.
The WON: If you could be any famous woman in history, who would you be and what gun would you carry?
Beth: Great question! I have always been a fan of Jacquelyn Kennedy and Princess Diana. Both of those ladies were remarkable role models during their time and I only hope one day to contribute to society the way these women did. As far as what firearm to carry, if these women were packin', I would envision them carrying some sort of compact pocket pistol with interchangeable grips. This makes it easier to accessorize the pistol with their purse.
The WON: What do you wish they'd make for women shooters?
Beth: While I don't shoot IDPA, I know lots of women who do. I have yet to see a stylish IDPA-approved vest for this class of shooting. If there is one, who makes it? Maybe it will persuade me to start shooting IDPA.
The WON: When will you start working with your daughter at the range? Or will you?
My daughter, Lauren, and I have been shooting together for a few years now. She will be 11 in September. While I wish we could shoot together more often, she doesn't have a huge interest in firearms, which is OK with me. I won't force a sport on her if she doesn't like it. Maybe one day she will change her mind about it. If she does, great! If she doesn't, I'll still love her anyway!
The WON: If you don't mind would you please tell us if you carry and why?
Beth: I carry a Glock 19, the subcompact 9mm Luger (no, I'm not a 9mm snob). I started keeping a firearm in my vehicle a few years ago when car thefts were on the rise in my area as well as assaults on women. Now, I have my CCW and carry it on me when my outfit allows me to. I need to get a smaller pistol because the G19 doesn't fit so well in my purse, plus I want to try out the Flashbang holster.
Please visit and subscribe to Sass, Brass & Bullets. Also, you may enjoy reading Beth's gear reviews here at The WON.
About Barbara Baird

Publisher/Editor Barbara Baird is a freelance writer in hunting, shooting and outdoor markets. Her bylines are found at several top hunting and shooting publications. She also is a travel writer, and you can follow her at https://www.ozarkian.com. View all posts by Barbara Baird →
The Conversation