Babbs in the Woods: Move over Kim Kardashian … Jana's got her own line of scent (and no-scent)
Jana Waller is a mademoiselle in motion. When she's not on camera, hunting or fishing for another episode of Skull Bound TV, she might be in the production room or setting up yet another globe-trotting trip. Or, she might be adding art-deco to another skull, for her Painted Skulls business. So, we caught her on a day when she said she would be home all day. We wanted to know more about her new line of scent and scent-eliminator products. And, she told us …
Babbs: So, Jana, I read about your new line of two products that are all you'll need in the outdoors? When did you decide to create these products?
Jana: I met Darrel Tyler of 3D Hunting Supply awhile ago and was intrigued by with his original "White Oak Acorn Scent." After learning about its ability to attract whitetails and other game, I was excited to try it out in the woods. I used the odor eliminator, along with the acorn scent on hunts in New Mexico, Illinois, Florida, Wisconsin and Montana and had tremendous results! Trust me .. my taxidermy bill speaks for itself!
Not to mention its added benefit of warding off insects. Trust me [again]! That came in handy in the swamps of Florida on my gator hunt. I loved it so much that I contacted 3D Hunting Supply and a partnership was formed to help get the word out about his awesome products with the Skull Bound name!
Babbs: I also see that you selected white oak acorns as the base for your secret formula. Tell me, what else did you try? Hickory nuts? Walnuts? Pecans? 😉
Jana: Darrell developed the white oak acorn scent after researching whitetails favorite forage. He was intent on making his own attractant simply for personal use. White oak trees are very prevalent in the South where Darrell first developed the scent system but after having his friends try it all across the country and loving the results he decided to take his idea to the next level and manufacture the dual scent system for the general public.
Babbs: Have you been wearing these products for a while now? And how do you know they work?
Jana: I've used both the odor eliminator and the white oak acorn scent from the mountains of Montana to the Florida swamp and everywhere in-between. When you have whitetails walk directly to your stand from downwind you KNOW it's working. Even if white oak trees don't grow in your area, the game are still attracted to the sweet smell of the spray. I've had mule deer walk up to 20 yards from me while sitting in sage brush in the Montana hillsides. And the fact that insects don't like it is an incredible advantage to using the scent system. The mosquitoes were horrible in New Mexico this past September, but once we put on the white oak acorn scent they "buzzed off."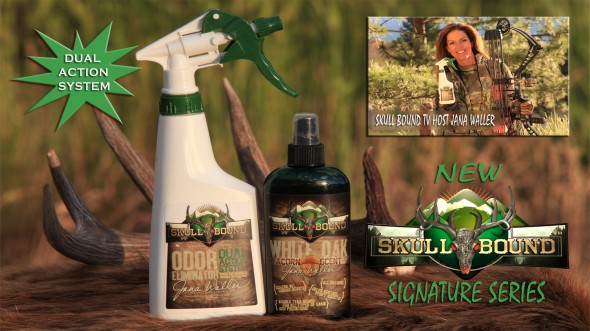 Babbs: Price point?
Jana: The odor eliminator is $9.95 and the white oak acorn scent is $10.95 +s&h.
Babbs: Where to get 'em? Only at Skullboundtv, or are you pitching to the big box stores?
Jana: The dual scent system is available on www.skullboundtv.com but there is also wholesale pricing for stores and shops. We are not in the big box stores yet, but may be soon!
Visit Jana Waller at her Painted Skulls website to see her latest creations.
About Barbara Baird

Publisher/Editor Barbara Baird is a freelance writer in hunting, shooting and outdoor markets. Her bylines are found at several top hunting and shooting publications. She also is a travel writer, and you can follow her at https://www.ozarkian.com. View all posts by Barbara Baird →