Kathryn Maroun's What a Catch: Keep Your Scuttlebutt to Yourself
Pro angler Kathryn Maroun debuts in this, her first, blog at Women's Outdoor News. We were delighted that Kathryn chose to come onboard here, because she is more than a breath of fresh air — she is a tornado at times — as she plows her way through topics that might be a little uncomfortable, but are her truths. Welcome, Kathryn.
How it all started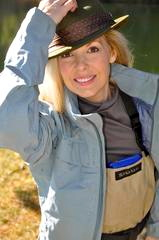 I was a year old when The Red Fisher Show hit the airwaves on Saturday afternoons on CTV. My parents must have set my playpen in front of the "tube" or CRT television (no flat screen back then) to watch "Scuttlebutt Lodge, the Tall Tale Capital of the World." I grew up with dreams and big ideas, the excitement of possibilities. It was not like my mother's generation, where you were what your husband did.
There wasn't anyone fishing on TV who looked like me to model myself after, but I liked what Red Fisher was doing, so that was a start. He was ahead of his time. He featured a wholesome show that the entire family could enjoy. He promoted conservation as well as catch-and-release. My own TV show, "What A Catch," became a reality in 2003 – quite an accomplishment when you consider that only 16 percent of all television writers, directors, producers, cinematographers and editors are women.
Finally, young girls could see a woman angler on TV to model themselves after. Historically, many women have fished and had great successes in the sport off screen, but based on the images in print and TV, it wouldn't appear that more than a handful of women were part of the industry. What we are seeing, for the most part, today however, are models posing as anglers. With only three percent of "clout" positions in telecommunications, entertainment, publishing and advertising filled by women, it is not surprising that the message and what sells is all about the female body, and little about mind and ability.
Media reinforces the idea that as a woman fishing host, you need to be pretty, young and sexual rather than a great angler. I had to take the path of an independent producer to avoid being caught up in that trend, but this had clear limitations.
The Internet is the Scuttlebutt is the Water Cooler (stay with us now)
If you didn't already know, the term scuttlebutt is Navy slang for "gossip or rumors." The word corresponds to the colloquial concept of a water cooler in an office setting. Today's "water cooler" is the Internet and the World Wide Web. It comes with a lot of the same high school tactics, except that people can't see who they are being rude to, or worse.
More than a billion people are on the Internet every day. "Media is the message and the Messenger," as Pat Mitchell says. Jane Fonda once said, "Media creates consciousness." That consciousness is becoming socially and morally bankrupt because the people who create the media message are saying that sexual innuendo is more valuable than skill and talent. Do we really want this?
I sure don't. A sexual caste system is at play. I'm forced to admit that I don't fit into the "old boys club" – never did and didn't try. A guy in a chat room commented: "How do you think she (the angler) feels being ogled by a bunch of anonymous online creepers? (No offense, but dudes, it is creepy.) Would you stick around a sport if you got treated with disrespect all the time?"
Today anyone can say anything, including things that would never be said face to face. Things that sons would not say to mothers, brothers to sisters, husbands to wives, nor fathers to daughters. So why are we allowing it to be said at all, on the Internet? The Internet has outpaced current rules and regulations, especially when it comes to obscenity. People try to do more and more shocking things to stand out by posting sexually offensive and demeaning content on my "water cooler" site called Facebook.
I suppose if I were an equestrian, then the vast majority of my friends on Facebook would be horsey people, but I'm not. Most of my friends are hardcore anglers. Riders would not circulate pictures of women in beachwear on horseback. So you can imagine my horror to be unwittingly exposed on a regular basis to images of scantily dressed women in provocative poses with fish. Why should someone feel the need to post a picture of a near naked woman riding the carcass of a dead shark as if it were a horse? So disrespectful on so many levels.
Like riders, anglers have a uniform – and it isn't a string bikini. As an avid angler, I use Facebook as a tool to foster new connections, find new opportunities, build new relationships with anglers from around the world. Suddenly I'm aware through this process that things that we once valued we don't value anymore. I know that every time I scroll through the daily posts I'm forced to view content that I'm not comfortable with: inappropriate pictures and comments about barely dressed young girls posing sexually with dead fish, two things I definitely don't like to see.
Gloria Steinem says: "A woman reading Playboy feels a little like a Jew reading a Nazi manual." Sadly, these sexualized images are what our youth are modeling themselves on today; this is so different than the days of Red Fisher. Facebook is like the Wild West, where sexually explicit content is mixed in with legitimate angling content. I'm being forced to view images that I don't want in my consciousness. The boys' locker room pictures should be kept behind closed doors, shared privately, and not posted publicly, where unsuspecting fishing enthusiasts get more than they bargained for. Remember that these enthusiasts include wives, daughters, mothers and our youth.
I have tried to curate my Facebook experience to reflect the things, ideas and values that I stand for. I've tried to surround myself with like-minded people (based on their info pages), which is probably the opposite of what the Internet does best, which is to disseminate information from many points of view. I have written to "friends" to ask them to stop sending live feeds of lewd pictures and videos. I have unfriended, blocked, reported and even turned Facebook off.
An hour passes … I turn Facebook back on (surprised I lasted that long). Technologies are here to stay. I'm taking a stand for good values and principles, with an emphasis on playing a role to support change. Jackson Katz's "Call to the Bystander Approach," encourages witnesses to sexism to speak up to create positive change.
I can't hear you.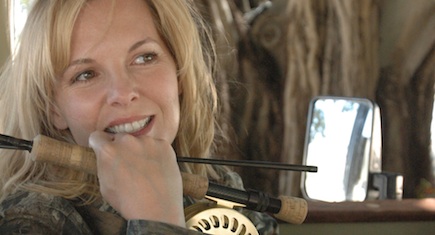 Visit Kathryn Maroun at her website, What a Catch!
About Kathryn Maroun

Kathryn Maroun is one of a handful of Canadian women to be certified as an FFF casting instructor. She is the award winning executive producer of What A Catch Productions. The 52 show series highlights Kathryn's fishing adventures from around the world. Kathryn exposes never talked about hazards of the sport, conservation, culture, as well as showcasing exotic game fish in her series. Her show first aired in the US before being internationally distributed. Kathryn is featured in the collection of two prominent museums for her significant contribution to the sport of fly fishing. Kathryn Maroun is the president and founder of Casting for Recovery Canada, past director of Trout Unlimited Canada and past member of the Canadian World Fly Fishing team. Along with creating a line of clothing for women at work in the outdoors, Kathryn has fished around the world and has a number of world record fish to her name. Today she dedicates her time to writing about her miss-adventures and enjoys telling her stories through keynote speaking opportunities. Kathryn is campaigning to create a more balanced playing field for women in the sport. View all posts by Kathryn Maroun →
The Conversation