She's harnessed her binoculars, thanks to Alpen Optics
If you are like me, it makes you crazy to walk with binoculars hanging around your neck. The thunk, thunk, thunk on my chest with every step I take, along with the strain of the strap pulling on my neck, makes me not even want to wear them. I won't even mention trying to bend over and having them swinging in front of me. Well, the Binocular System Harness by Alpen Optics has solved all those problems.
The harness easily attaches to the binoculars with o-rings and plastic ties. Alpen Optics is even kind enough to include an extra set of both in the package along with simple directions. I easily attached the harness to my Alpen Optics' pink binoculars and put my arms through the straps. After a bit of adjusting I found the perfect area for them to set snuggly on my chest.
The elastic of the harness easily stretches when I want to use my binoculars, easily bringing them to my eyes. When I walk quickly there is no more bouncing. I can even bend over without a swinging pendulum in front of me. What a great product!
Whether you have Alpen Optics Binoculars or another brand you definitely want to purchase your own Alpen Optics Binocular System Harness. You can find here, at Alpen Optics. In fact, they are on sale at the time of this review, for $23.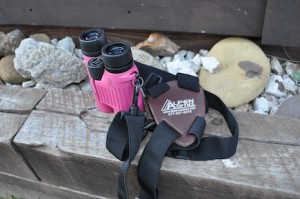 Although I find it comfortable to use the harness and actually enjoy caring them in the field, I did find one drawback. There is no easy way to share your binoculars with someone else. On second thought, maybe this is a benefit. Let them buy their own binoculars!
About Michelle Cerino

Michelle Cerino, aka Princess Gunslinger, first entered the firearms industry in 2011 as co-owner, president and trainer at a national training company. She immediately began competing in both 3-Gun and NRA Action Pistol, becoming a sponsored shooter. Michelle is currently a columnist and Managing Editor of Women's Outdoor News, as well as owner of Pervenio LLC. She also manages social media for Vera Koo and GTM Original. Michelle encourages others to step out of the comforts of home and explore. View all posts by Michelle Cerino →