Wanna Win WON? Reader Alyssa wins 'Sweethearts of the Forest' jewelry
Sorry, readers, but we had a little Internet problem going on and couldn't select the necklace till today. Sept. 30. Alyssa wins, and wrote, "I just love all the items you're making and I love the fact that you're able to enjoy this new adventure together with your daughter and hunting partner! I just love the Antler pendant since I'm a big bowhunting fan. I'd wear it everywhere! It would show off well against my brown tweed turtleneck sweater, cognac suede jacket and dark denims. Thank you and good luck with your business!"
Congrats, Alyssa and we'd like to see a photo of you wearing this lovely pendant. ~BB
We love to tell stories about women who are successful. And this woman, Ellen Benitz, has already finished one successful career with the National Wild Turkey Federation (NWTF), as a Regional Director and before that, Regional Coordinator of Women in the Outdoors program. Now retired from traveling thousands of miles every year to do the good work for the NWTF, Ellen has turned her talents toward making outdoor-inspired jewelry in her St. Joseph, Mo., home. We thought you'd like to learn more about her business, Sweethearts of the Forest.
The WON: Your business … what inspired you to start it? Do you run it with your daughter? Tell us about it!
Ellen: I don't like waste and I also like jewelry that reflects my passion, hunting! I have always thought that turkey feathers and pheasant feathers are really pretty and it seemed such a shame to throw them out when you harvest a bird, so I did some experimenting and come up with a way to make some jewelry with it.
Same with the whitetail antlers – it seemed such a waste to let them just sit around and not use them for something. Plus, I have a friend who makes antler-handled knives; he uses the rosette, or base of the antler, and had all these main beams and tines he wasn't using. We help each other, I give him what I don't use and he gives me what he doesn't use.
Jessie, my daughter, and I took a polished stone wire wrapping class at a Women in the Outdoors event and decided to take it one step further and wrap the antler pieces. Jessie is pretty talented at it, but we both have a different style that compliments each other. Jessie is very creative and does most of the beading for some of guitar pic bracelets. She also is in a band and this is something she wanted to add to our list of merchandise. I do the survival bracelets. I also do all the antler cutting, drilling and polishing. Jessie is my hunting buddy, too, so this is just another extension of that which we enjoy doing together.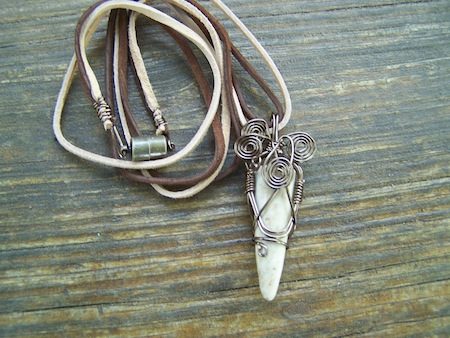 The WON: What do you offer? And customize?
Ellen: We offer feather earrings, feather and antler earrings, feather bracelets, guitar pic bracelets, survival bracelets with antler toggles, antler pendants, feather hair extensions or clips and antler pendant necklaces. We can customize any piece; if you want us to use feathers from your own bird, or an antler piece from your deer, we can do that as well. I also make survival hatbands for cowboy hats, with a great antler toggle. These pretty much have to be custom fit. Jessie also is very good at making dream catchers using an antler, and this can be custom done as well.
The WON: How is the response so far?
Ellen: The response has been steady on our web-site on Etsy, and also on our Facebook page, but we are now in the process of trying to build our inventory for a show. We really want to do a show, like a sports show, gun show, festival or fair. We want to talk to folks about our product and visit with other like-minded people.
The WON: Where do you advertise and do you have an affiliated website?
Ellen: Right now, advertising is a bare minimum because we haven't really gotten our inventory where we want it to be, but we are almost there! Some of our product is posted at Etsy andof course, our Sweethearts of the Forest Facebook page.
The WON: How does this connect to your recent retirement from the National Wild Turkey Federation?
Ellen: Well, retirement has definitely given me more time to work on things!
The WON: What's new in the lineup?
Ellen: We are currently working on pheasant feather bracelets, and adding some colored crystals to the antler pendant wire wraps. They look phenomenal!
The WON: Where do you see this business in five years?
Ellen: I hope to keep expanding our lineup of jewelry using things from nature and the wild.
The WON: What's your favorite thing about the business?
Ellen: It gives me a creative outlet! It also gives the two of us, Jessie and me, time to spend together and when we are together the creative juices really get to flowing!
Ellen: We hope to get a website up and running in the next year, so watch for us to update that on our Facebook page. I think we should do a Wanna Win WON! Let's do a choice of wire wrapped antler pendant, survival bracelet, or feather earrings, (pheasant or turkey).
Visit Sweethearts of the Forest at Etsy.com.
And, yes! Let's do a little giveaway — your choice of wire-wrapped antler pendant, survival bracelet or feather earrings. Tell us which one you'd like and a special occasion where you would wear it! In fact, tell us what you'd wear it with — a little black dress, your favorite jeans and cowboy boots? Deadline is next Friday, Sept. 28. Winner will be chosen at random.
About Barbara Baird

Publisher/Editor Barbara Baird is a freelance writer in hunting, shooting and outdoor markets. Her bylines are found at several top hunting and shooting publications. She also is a travel writer, and you can follow her at https://www.ozarkian.com. View all posts by Barbara Baird →
The Conversation