Sisters on the Fly needs cross-country relay helpers to deliver trailer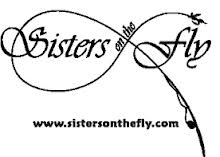 Here's something you don't hear about everyday. The organization Sisters on the Fly will be undertaking a "Sister2Sister" cross country relay to transport a vintage trailer to the winner of the vintage trailer raffle. The trailer needs to be towed from McCall, Idaho, to Columbia, New Jersey.
As a National Sponsor of Casting for Recovery, Sisters on the Fly raised over $25,000 for CFR with this raffle by generous donations made by Sisters and their friends & family, and by non-sisters, CFR supporters and friends and past CFR retreat participants, all who often gave above and beyond the price of the ticket!
The sisters sent out a press release recently:
One of our newest Sisters, Sister # 3054 Chris Lent, is willing to be the go-to coordinator for this event. Chris will help map out the journey of "Draggin' Flies" and her volunteer tow-ers to her new owner/winner of the vintage trailer raffle, Gini Dutcher. It needs to get from McCall ID to Columbia, NJ

(Off I-80 near Allentown, PA)

Everyone who has already expressed an interest in helping make this point-to-point relay happen thinks it's a good idea to time it in late spring so the trailer and final driver(s) can arrive in Columbia, NJ, for the SOTF event "It's a NorEaster" on June 19, 2013. Gini can pick her new trailer up and celebrate with her Sisters there!

Please contact Chris L. if you can help with any of the driving, the logistics or have helpful ideas.

Email her at chrislent2sumor at msn.comor give her a ring at 415-786-9210 (PST)

Another Sister is trying to get ABC news affiliates to cover this event so SOTF gets coverage and fun press from this human-interest story. Stay tuned on that!

Please contact Chris and let's get the trailer rollin! Lights, camera, go!!!!!
About Barbara Baird

Publisher/Editor Barbara Baird is a freelance writer in hunting, shooting and outdoor markets. Her bylines are found at several top hunting and shooting publications. She also is a travel writer, and you can follow her at https://www.ozarkian.com. View all posts by Barbara Baird →