Breast cancer survivor donates first prize winnings to Casting for Recovery
Talk about paying it forward. When Judy Elsley, Ph.D., of Ogden, Utah, won first prize among the more than 500 submissions to the fifth Lilly Oncology On Canvas: Expressions of a Cancer Journey Art Competition and Exhibition with her mixed media artwork entitled "Chemo," it didn't take long for her to make a decision.
As a breast cancer survivor and recent participant in the breast cancer recovery program Casting for Recovery, Dr. Elsley chose the national organization as the recipient of her $10,000 first-place prize for her quilt, as well as for one of her two additional, $1,000 prizes. A renowned quality of life program, Casting for Recovery provides an opportunity for women whose lives have been profoundly affected by cancer to gather in a natural setting and learn a new therapeutic sport, fly fishing. The retreats offer an opportunity for the women to meet new friends, network, exchange information, and have fun.
Quilts are made for dozens of reasons – for warmth, decoration and remembrance – but for a college professor from Utah, quilting became a form of healing after her breast cancer diagnosis and treatment. It was something Judy Elsley had enjoyed doing for years, but it took on new meaning after she heard these words, "You have breast cancer." Her quilt depicted the journey of chemotherapy through her bloodstream as her body moves toward health.
Oncology On Canvas, presented by Lilly Oncology and the National Coalition for Cancer Survivorship (NCCS), invites people from the United States and Puerto Rico who have been touched by cancer to express, through art and narrative, the life-affirming changes that give their cancer journeys meaning. Winners' prizes consist of donations made in their names to the cancer-related charities of their choice.
About Casting for Recovery
Since 1996, CFR has served over 5,000 breast cancer survivors, with the help of over 1,500 volunteers, in retreats that provide emotional and medical support and teach new skills through catch-and-release fly fishing. In 2012, 44 retreats are scheduled across the United States in 32 states.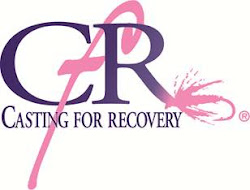 Casting for Recovery retreat programs are offered at no cost to the participants. Casting for Recovery is supported by generous donations from individuals, foundations, and corporations. Its leading national sponsor is The Hartford and other national sponsors include L.L.Bean, Under Armour®, SmartWool, and Sisters on the Fly. Casting for Recovery is a 501(c)(3) non-profit organization. For more information about the Casting for Recovery program, please call: 802-362-9181 or visit www.castingforrecovery.org.
About The WON

The Women's Outdoor News, aka The WON, features news, reviews and stories about women who are shooting, hunting, fishing and actively engaging in outdoor adventure. This publication is for women, by women. View all posts by The WON →