Mia & the Little Gal: Wrastlin' a dinosaur and also, the fear of failure
If you've been following us for any time at all, you may know that the Little Gal enjoys activities such as Youth Hunter's Education Challenge (YHEC). With hunting season pretty much over in Colorado, the kids are getting back into focus for their 2013 season of YHEC. LG is in the local Pathfinder's Club, and this year they have a goal to put some focus on the kids who would like to enjoy the competitive side of the program. They are beginning their focus during these winter months with archery competitions.
The kids started their first of a few "mail-in" competitions. They will be competing at a local archery shop where they shoot paper targets which are witnessed, scored and then sent in. The competition is a three-week competition in which LG will be shooting 30 arrows a session. She was excited to be competing, but also very nervous.
I chatted with her on our way to shoot the first evening of mail-in. I explained to her that she needed to work on not being too hard on herself. It's a trait she's trying hard to overcome. If she makes a bad shot, she beats herself up, thus causing additional poor shots. She smiled and said, "I can shake it off."
That evening she was nervous and did have a couple poor shots. I was excited that as she shot, bad and good, she continued to improve. The last two out of her 30 arrows were ten's (bullseyes)! She had found some determination.
We did note that we needed to lower her draw weight before her next shoot because it was set up for hunting, and to pull and focus continually with that weight was tough. The next day the two of us had fun shooting our bows and re-sighting in LG's after her adjustments. We once again chatted about HAVING FUN.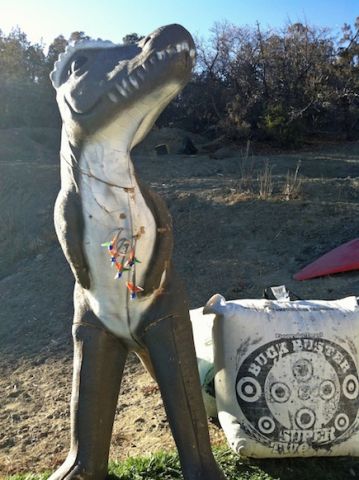 After shooting our bag and getting sighted in, we decided it would be fun to use our last arrows to shoot at Rex. He is a 3-D target that LG and Hank bought me for my birthday. I turned Rex so he was facing us.
"Oh no! Here he comes! Quick! Shoot him!"
I shot and then went to pull my arrows. I smiled and asked LG to take a pic of me hugging my Dino. She shook her head with a "Mom, You're so dumb." Look, but happily took a picture.
Next it was her turn to fling some arrows at Rex. She set down her bow and looked displeased with her shot grouping. She looked at me and said "Look out mom! I didn't hit him good. I'll save you!"
She skipped up to Rex and put him in a headlock. I couldn't help but laugh. She laughed and wrestled him around.
Then it occurred to me that she's been watching too many Twilight movies as she said "Maybe he's a vampire. I'll pop his head off. CHINK!" At which time he head conveniently POPPED OFF!!!
I nearly fell on the ground laughing. SHE'D SAVED MY LIFE! It is great that LG is learning to not be too hard on herself. The two of us laughed and laughed as she put Rex back together. It was quite a fun day, and we ended our practice session with a smile. I can't wait to shoot again.
Follow Mia and the Little Gal's further adventures at Mia's blog, My Many Outdoor Adventures.
About The WON

The Women's Outdoor News, aka The WON, features news, reviews and stories about women who are shooting, hunting, fishing and actively engaging in outdoor adventure. This publication is for women, by women. View all posts by The WON →
The Conversation