Sara Ahrens' OffBeat: Review of the Colt 1911 Gold Cup
The Colt 1911 Gold Cup is not a new gun design, but it is a gun I had not yet experienced and was anxious to do so. In fact, the Colt 1911 Gold Cup was first introduced in the 1950s. Its longevity in the marketplace is a testament to the success of its superior design. Although I have shot several 1911-style firearms before the Gold Cup, I really did not anticipate the pleasure I would experience shooting it for the first time.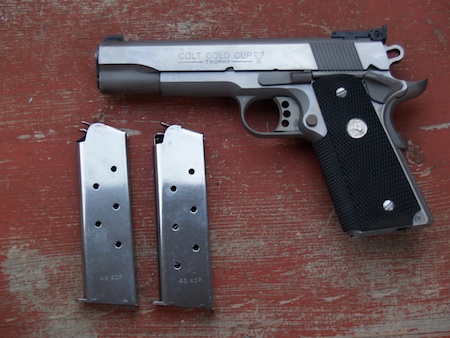 One of the most important features on any firearm for me is the trigger. If the trigger feels good, and the recoil is pleasant, I'm usually sold. The Colt Gold Cup has a wide target trigger, which allows for greater control. The trigger pull is smooth, definite and sudden. There is a little slack in the trigger, but it felt very good to me. The reset is also distinctive and occurs at about the halfway point.
First Shots
When I first get a new firearm, I typically shoot several rounds from a bench rest position in order to determine exactly where my rounds are in relationship to my sight picture. I have discovered that with some firearms, this relationship can vary wildly. Based on these variances, I try to purchase firearms with adjustable sights. I don't want to depend on any Kentucky windage if I can avoid it. That is especially true if the gun's intended purpose is personal defense. Under stress, it's imperative to have a gun that allows the shooter to maintain a consistent, natural sight-picture. Unfortunately, not all guns offer adjustable sights, and we must know where to aim.
When I received the Gold Cup, I took it to the range and set up my typical bench rest shoot. For some reason, I had anticipated that I would necessarily have to make adjustments to the sights. Maybe I expected I would have to make sight adjustments just because the sights are adjustable. I soon discovered that the Gold Cup was a point-of-aim, point-of-impact weapon – no adjustments needed. Guess that shouldn't have been a surprise because the Gold Cup was originally designed with features to allow the owner to go straight from the gun shop to the range – and that's exactly what I did! My first couple of shots told me I had made a solid choice.
I haven't owned a .45-caliber firearm in more than a decade, mainly because the ammunition is expensive. I was drawn back to a .45 because I clearly recall when my agency changed from a .45 to a .40-caliber sidearm. For me, the felt recoil of the .40 was much more violent than the .45 and I had to fight a serious case of the flinches when we first switched. The .45 had always seemed more manageable. When I got the Colt Gold Cup chambered in the .45 ACP, I found it very comfortable to shoot and easy to get on target quick. And, it certainly has enough stopping power to knock down steel plates … at least, ahem, when I hit them.
After firing only two shots, I knew exactly what I wanted for Christmas and it will ensure that any fan of the 1911 has a Merry Christmas.
The Gold Cup offers the following features:
Standard Safety Lock
Wide Target Trigger
Lowered and Flared Ejection Port
National Match® Barrel
Round Top Slide
Wrap Around Rubber Stocks with Nickel Medallions
Fully Adjustable Bomar Style Rear Sight
Target Post Front Sight
Two magazines, one 8-round magazine and one 7-round magazine for wadcutter ammunition
The Gold Cup is available in brushed stainless steel for $1125 MSRP or blued carbon steel for $1103 MSRP.

Sara Ahrens' OffBeat is sponsored by Otis Technology.