Review: Sigh — the Strut Lounger gonna be her best friend during turkey season
"Hey, Barb … you look pretty comfy in that seat," said a voice that I quickly recognized while in the Hunter's Specialties booth at SHOT Show recently. It was Hunter's Specialties' pro
Pat Muffler
, who hails front the U.P of Michigan and who once served as my turkey guide in Oklahoma during a women's hunt.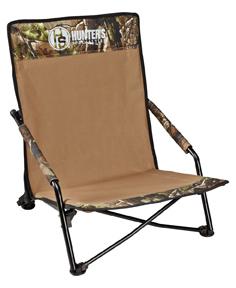 I was testing the newly released Strut Lounger, a khaki canvas low chair with Realtree Xtra Green trim. The seat takes the load off the lower back, and allows you to sit anywhere, yet come up into a shooting position. No trees required. The guys at Hunter's Specialties said they just spread cedar branches and other cover around themselves when using these chairs. One turkey hunter said he can last at least six hours in the Strut Lounger, which measures 20-inches wide, 17-inches deep and touts a 23-inch tall backrest.
It can hold up to 300 pounds of hunter.
I was thinking this would be a great chair for kids' soccer games and tee ball games, because let's face it … the teams are short and you can see the action better from this height than way up in the bleachers!
The chair comes with a carry strap. Retail: $98. Learn more about the
Strut Lounger.
About Barbara Baird

Publisher/Editor Barbara Baird is a freelance writer in hunting, shooting and outdoor markets. Her bylines are found at several top hunting and shooting publications. She also is a travel writer, and you can follow her at https://www.ozarkian.com. View all posts by Barbara Baird →
The Conversation