National Wild Turkey Federation strutted its stuff at annual convention
The National Wild Turkey Federation celebrated its 40th anniversary last weekend in Nashville, Tenn. I was at the convention to witness thousands of turkey enthusiasts jamming the exhibit rooms of Opryland and to hear hundreds of turkey callers, duck callers and goose callers competing for air space in the hall. My ears hurt a little when I think about it. The NWTF definitely strutted its stuff.
I have been a member of the NWTF for several years, a secretary in our local chapter, the state newsletter editor and a columnist at its flagship publication, "Turkey Country." The NWTF is all good — good people doing the right thing at the right time to improve wildlife habitat and hunting access. Listed below are some of the people I met and gear I liked from the show.
Sassy Does
They're sassy, all right. The crew of Sassy Does not only sold edgy outdoor apparel at their booth at the show, they also held a meet-and-greet with customers. I heard them extolling the virtues of why women who want to, should go ahead and try hunting. LeighAnn Phillips, founder of Sassy Does, has a story about how she learned that she liked hunting — not as a child, but as an adult. Sassy Does touts a very active social media agenda, with a huge Facebook Fan Page. Also, new products — from sassy tees to scent elimination items — can be found at Sassy Does online.
ComboKooler King
Here's Steve Glass and a way cool cooler — which could also be called a hot hotter. It's called a ComboKooler and keeps cold things cold and hot things hot. "We're using it for boating, camping, fishing,tailgating and if you're going to a social function, why you can put a cutting board in the bottom of this and keep your food hot or cold for a long time," said Steve Glass, president of the company. It comes with a half-inch of closed-cell foam with insulating properties. It also has a removable liner that touts a thermal radiant barrier. The coolers come in two sizes: 54 quart ($74.95) and 105 quart ($84.95). You may purchase both coolers for $149.90.
Steve recommends getting one for your trunk as the weather starts to warm up. It will keep your groceries fresh and cool for the trip home.
You might remember when Nancy Jo Adams reviewed the Trophy Bag Kooler, also in the same family as these coolers. Hunters love these coolers for keeping their game fresh.
BBB — Babes, Bullets and Broadheads
In 2010, three women founded the organization called "Babes, Bullets & Broadheads," with the mission to promote friendship, leadership, exploration and enjoyment in the great outdoors. BBB sponsors youth- and ladies'-only hunts. The women had a booth at the show, promoting upcoming hunts and selling items that displayed their logo.
Remington 870 Super Mag Turkey/Predator Shotguns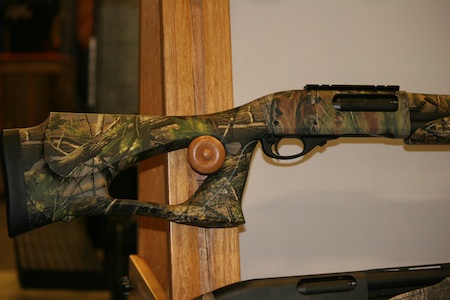 Love me some Remington. I took my first gobbler with a Remington 870 and now I own two — one in 20-gauge and one in 12. However, take a look at this Super Mag Turkey Predator with its ShurShot pistol grip stock, TruGlo 30 mm red/green dot scope that comes pre mounted, and available in Realtree APG HD camo finish — which is my favorite finish for hunting in the Ozarks. I think women and seniors will really like the grip and how this one just fits nicely. MSRP: $700.
'Skull Bound's' Jana Waller
It's always delightful to catch up with Jana Waller and Jim Kinsey, of "Skull Bound" TV show. One of their viewers, Danny Hottinger, from Arkansas, makes these antler-handled knives. Danny is in a wheelchair and only has the use of one hand. Danny also makes the knife holders, and other antler creations. Read more about Danny.
Back Seat Bow and Gun Slings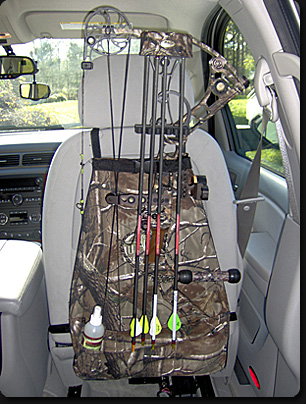 Where to put that gun or bow when you don't have room in the trunk, or don't have a trunk? Check out the Back Seat Bow and Gun Slings, made by Trophy Hunting Products. I met Ryan Klesko, who retired from Major League Baseball in 2008, and who promotes these products. A hunter, Klesko said the cordura material supports and protects your tools for the next hunt. And the best thing about these slings? You can leave that big old hard case at home. MSRP: $29.99
Southern Girls Got Game
Coming soon to a channel near you, a television show that features five Southern women who hunt in a new show called "Southern Girls Got Game." The main goal? To introduce conservation and tradition to America. Featuring women from teens to 30-something moms, the women say they want to "teach the anti-huntress that we're not bad because we carry guns." We wish them well, and look forward to seeing what they will bring to outdoor TV.
More Southern Charm — Karen Lee
Karen Lee, editor of "Turkey Country" magazine for the National Wild Turkey Federation, took a little break between breakfast and lunch meetings at the convention to tell us about her role at the event. We know she loves her job and the many facets of it. And, if you want to read more about Karen's adventures, check out her blog,
"Keepin' Up with Karen."
About Barbara Baird

Publisher/Editor Barbara Baird is a freelance writer in hunting, shooting and outdoor markets. Her bylines are found at several top hunting and shooting publications. She also is a travel writer, and you can follow her at https://www.ozarkian.com. View all posts by Barbara Baird →
The Conversation