Britney Starr named managing editor at Women's Outdoor News
ROLLA, Missouri, (March 13, 2013) – Women's Outdoor News (The WON) today announced the appointment of Britney Starr as Managing Editor. In her new position, Starr will schedule, edit and publish the editorial calendar, work with advertisers and direct social media.
According to The WON's publisher, Barbara Baird, "Britney's attention to detail, knowledge of the industry and integrity set her apart in this field, and I'm delighted to work with her to promote women who enjoy active outdoor lifestyles. She will work with our fine group of writers and photographers. Already, Britney has created strong relationships with our contributors, who educate, entertain and interact with our readership that extends to more than a million."
Baird continued, "Britney planned and hosted the First Women's Industry Dinner at this year's Shooting, Hunting, Outdoor Trade Show in Las Vegas. I believe the industry took notice of this young fireball and her abilities to bring women together. Currently, she is planning next year's event, with the help of LaserMax and other pivotal sponsors."
Starr graduated from Western Michigan University, with a Bachelor of Arts degree in journalism and a minor in practical writing. Her bylines have appeared in African Sporting Gazette, The Daily Caller, The St. Ignace News and The Western Herald. She pens the column "ShootingStarr" for The WON.
Starr is part owner, client services representative and social media manager of Starr & Bodill African Safaris, where she works with her father and licensed professional hunter, Dwaine Starr, to provide their clients with worry-free and memorable safaris.
She lives in Kalamazoo, Mich., with her husband. Currently, Starr is on the Field Staff of Próis Hunting & Field Apparel for Women. An avid huntress, she particularly enjoys upland bird hunting with her German shorthaired pointer, Wesson.
Contact her at Britney@womensoutdoornews.com
About Women's Outdoor News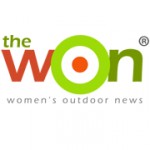 Women's Outdoor News, aka The WON, features news, reviews and stories about women who are shooting, hunting, fishing and actively engaging in outdoor adventure. Visit The WON at Facebook and Twitter.
About The WON

The Women's Outdoor News, aka The WON, features news, reviews and stories about women who are shooting, hunting, fishing and actively engaging in outdoor adventure. This publication is for women, by women. View all posts by The WON →