Rachel H. wins WON — Celebrate your freedom to carry concealed with this Roma leather bag from Armed in Heels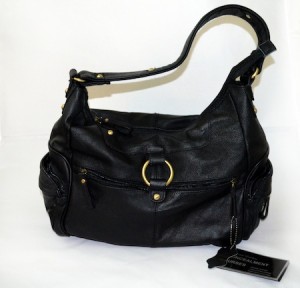 This cowhide leather purse, from Roma Leathers, is perfect for concealed carry if you are looking to stay stylish. The concealment compartment is along the back side of the purse with zipper access from both sides, which means a leftie or rightie can enjoy this bag. The holster is inside the concealment compartment and attached with velcro so that you can adjust the angle to get a perfect draw. The main compartment of the purse has various places to store all of your goodies. Cell phones and keys will find homes in the side zippered pouches along the exterior of the purse. This beauty measures 13.5″ x 10.5″ x 5″ and comes in black with brass fittings.
Armed in Heels wants to gift this purse to one of our readers in honor of the Fourth of July and all it signifies — especially to a woman who chooses to carry a concealed firearm.
If you'd like to enter the contest to win this little black number, please tell us a little something about how you intend to celebrate our freedom this week.
The contest ends next Friday, July 5, at noon CDT. Visit Armed in Heels to see their extensive line of concealed carry options for women.
About The WON

The Women's Outdoor News, aka The WON, features news, reviews and stories about women who are shooting, hunting, fishing and actively engaging in outdoor adventure. This publication is for women, by women. View all posts by The WON →
The Conversation