C.B. wins WON — a Gun Goddess gift certificate
Congratulations, C.B., you've won WON!
Gun Goddess is offering a nice little giveaway this week, of a $50 gift certificate good for anything at the online shop.
However, we think our readers will really like these new products at the site, a line of of undercover holsters. Covered in luxurious lace, Femme Fatale Ankle Soxxx, thigh, and corset holsters offer more options for concealed carry – especially under a dress or skirt.
"They're lacy, feminine, and functional. A secure ankle holster that slips on like a sock, a thigh holster that stays put without requiring an uncomfortable belt, and a waist-cinching corset holster that provides deep concealment and is perfect for runners," explained Athena Means, proprietor extraordinaire at Gun Goddess.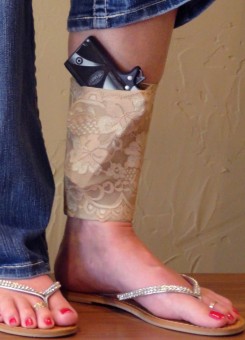 The ankle version features a 5-inch hidden pocket inside a wide elastic holster. It allows the holster to be placed in different places near the ankle or even higher up on the calf, if necessary. It costs $50.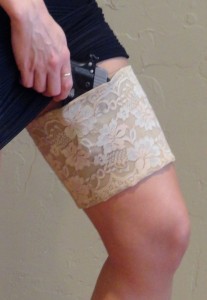 The lace thigh holster comes equipped with silicone grippers along the top and bottom of 6-inch wide, embroidered lace. The gun pocket measures 4.5-inches wide by 4.5-inches deep, to fit a variety of firearms. It costs $70.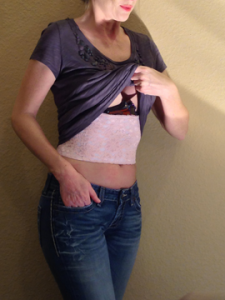 The corset comes fitted with 6-inch-wide elastic that fits below your bra line. A padded pocket holds and conceals your firearms. Made of a breathable, waterproof material, the corset keeps perspiration away from your gun and allows for an ambidextrous draw. According to the manufacturer, it will accommodate a variety of gun sizes.
From Gun Goddess:
You may not expect a corset to be comfortable, but you'll be surprised! This lace is super-soft and comfy. And the holster positions the gun so snugly against your body that even the most petite ladies will see excellent 'concealability.' Just keep in mind that this is a corset, designed to cinch the waist in, so it will be a snug fit.

It's perfect for runners! This one costs $89.
Measuring instructions are included at Gun Goddess, and holsters come in red, white, nude, black and black-on-nude.
Regardless of the holster, perfect practice is imperative to feeling confident with this method of carry.
So which, of the 3 options, would you prefer for your carry needs? Tell us, and we'll pick a winner on Fri., Aug. 9. The winner will receive a $50 gift certificate from Gun Goddess to use toward the holster of her choice, or to use for any of the other fine products at the online shop that features fun and feminine shooting accessories, apparel, and gifts for women and men.
About The WON

The Women's Outdoor News, aka The WON, features news, reviews and stories about women who are shooting, hunting, fishing and actively engaging in outdoor adventure. This publication is for women, by women. View all posts by The WON →
The Conversation