Leslie Shaw wins WON and a Girls with Guns' Montana Silversmiths' belt buckle!
The icing on the cake always matters, and that's how we consider our accessories. What's on your belt these days? You know, the one you wear around your favorite pair of jeans? What if you attached a Girls with Guns belt buckle made by Montana Silversmiths? Since the recent announcement of a partnership between GWG and Montana Silversmiths, Jen Adams and Norissa Harman are busy shipping this exquisite line of silver accessories.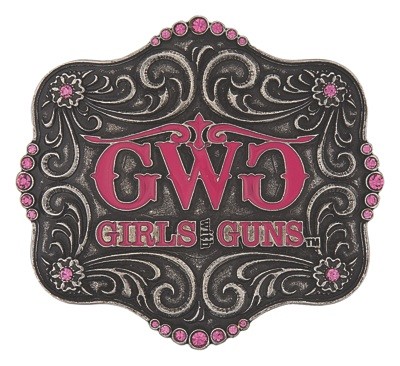 An antiqued pewter finish highlights the beautifully intricate details of the filigree vines framed around the Girls with Guns trademark name and GWG logo. Glossy pink lettering sets a feminine contrast to the edgy dark silver coloring. A flower set with a pink crystal stone sits in each corner of the buckle, as 4 sets of 5 pink stones each trim each side of the scalloped shape buckle. The buckle fits on a standard 1.5-inch belt swivel.
Other features includes a zinc alloy base, nickel electroplate, pink epoxy paint, pink-colored cubi zirconia and protective coating to prevent tarnishing.
Retail value is $42.
Visit http://www.gwgclothing.com/montana-silversmith/montana-silversmith-buckle.html.
If you want to win WON, just tell us which pair of jeans in your collection would best show off this beautiful buckle. Contest ends Friday, Dec. 13, 2014.