Bodie finds 5 essential gear items for the lady hunter
Bodie is our official gear reviewer for The WON, and we sent her out today on the floor of the SHOT Show, in full-lady-hunting-gear-mind mode, to find you 5 must-have items.
The 2014 SHOT Show is well underway in Las Vegas, Nev., where hunting industry leaders have gathered to debut their latest and greatest outdoor gear and apparel. I embarked on a bit of a treasure hunt and scoured the show floor today, finding 5 essential new items for the lady hunter.They say, "What happens in Vegas, stays in Vegas." Well, these 5 items are just too good to keep here and must be shared with the world.
1. I was very excited to find that Próis Hunting and Field Apparel for Women is branching out from its traditional camo clothing and introducing the Próis Adventure Pants. The Adventure Pants will become available in late summer 2014, hopefully in time for my planned African safari. The pants will be available in both stone and olive colors, perfect for hot African plains. Made of a stretchable, lightweight polyester/spandex blend, the Adventure Pants also will wear well for a day at the shooting range, summertime fishing adventures, and early season, high elevation hunts. MSRP: $129.99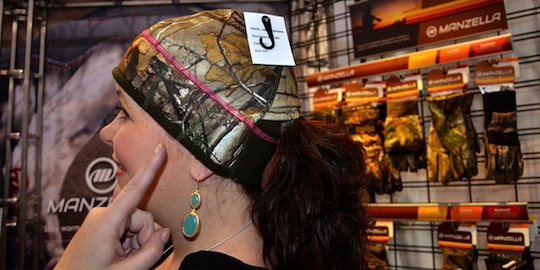 2. I have a head full of thick hair that is difficult to pull back and secure under a beanie cap on cold days. Fortunately, Manzella will be introducing the Ladies Ranger Beanie in August 2014, just in time for the fall hunting season. What sets the Ladies Ranger Beanie apart from other beanies is an expertly placed slip-through hole in the back from a pony tail. The one-size fits all beanie will be available in both Realtree Xtra and Mossy Oak Break-Up Infinity patterns. Crafted from a 4-way stretch, anti-microbial power fleece, the hat is comfortable, practical and affordable. MSRP: $22
3. As an avid archer, I admit I am guilty of bringing my cell phone into the blind on occasion to keep me occupied when things get slow while bowhunting. However, most shooting gloves do not work well with my smartphone, which leads to nothing but frustration. This August, however, Manzella will also be introducing the Bow Ranger TouchTip bowhunting glove, with an exclusive bow release collar. These precision-fit gloves, made to fit a woman's hands, will be available in sizes small, medium and large. The gloves will be offered in both Realtree Xtra and Mossy Oak Break-Up Infinity patterns and are compatible with all touch-screen phones. Constructed from a 4-way stretch, anti-microbial power fleece, with Control Trax® palms, the gloves offer maximum grip while not sacrificing comfort. MSRP: $30
4. It is difficult to find clothing that is warm, dry, scent-proof and silent in the woods. Thankfully, Stormkloth II has come to the rescue with the introduction of its women's jacket and pants featuring Scent-Lok scent-free technology. Now available at many major outdoor retailers nation wide, the jacket and pants are offered in most Realtree patterns and are available in sizes small through double-extra large. The set's 4-way stretch, 100-percent polyester fleece material is highly water resistant and breathable, and lined with the Scent-Lok odor controlling system to help eliminate human odor. The Stormkloth II jacket offers underarm zippers for temperature control, and a cinch waist for customizable fit. Jacket MSRP: $199.95; Pant MSRP: $199.95
5. Every hunting girl needs a little bling; I prefer mine with a sharp edge.The shine and polish of the Gerber 39 Series Sheath Folder knife fits the bill. Available this May, the 39 Series Sheath Folder will uphold Gerber's tradition of innovative design in a quality product. The knife features a 420HC stainless steel 3-inch blade and nickel-plated zinc handle. When fully extended, the overall knife measures 7.1 inches and weighs a well balanced 6.3 ounces. The 39 Series Sheath Folder comes with a unique genuine leather sheath, but, should I chose to carry it freely, the knife also boasts a sturdy pocket clip. This beautiful knife is practical enough to meet my daily carry needs – both in and out of the field. MSRP: $105
About Michelle Whitney Bodenheimer

An experienced huntress, Michelle Whitney Bodenheimer has pursued big game, upland birds and waterfowl throughout North America and Africa. Although Michelle loves to hunt and shoot (both rifle and bow), her biggest passion in life is sharing her love for the outdoors with others. Michelle is the dedicated gear review columnist for Women's Outdoor News, in a column called "Her Gear." Michelle's writings and photography also have been published in a number of outdoor journals, including On Target, Lady Angler, The Gun Dog Journal, The Shooting Channel and African Hunting Gazette. Michelle has been a repeat contributing guest on Outdoor GPS,a live hunting and fishing television program broadcast on Comcast SportsNet NW. When Michelle is not writing, she is serving her time as an outdoor educator. She is an active volunteer for the Oregon Department of Fish and Wildlife (ODFW) Outdoor Skills Program. Her primary responsibilities with ODFW are serving as a shotgunning coach and dog handler/guide for ODFW's upland bird hunting clinics. Michelle also teaches regularly for Women in the Outdoors (WITO) and Becoming and Outdoors Woman (BOW) programs. She serves on the Pro Staff team for Cabela's, as well as for the NW Ladies Hunt Camp, an educational outreach program hosted in conjunction with the NRA's Women on Target Program and Extreme Desire TV, and is a member of the field staff for Próis Hunting and Field Apparel for Women. A current member of a number of national conservation organizations, Michelle is a life member of the Rocky Mountain Elk Foundations, as well as a life member of the National Rifle Association. She also served as a past director for the Southwest Washington chapter of Safari Club International. Take caution, however, if Michelle invites you along on a hunt. Having been stalked by a cougar and attacked by a cheetah, she tends to live life a bit on the wild side. View all posts by Michelle Whitney Bodenheimer →
The Conversation