Tracy made the ultimate sacrifice and now her story is being talked about around the world. Please see below.
Sunday, I (Tracy) was named to the Olympic Team! I cannot think of any greater honor in the world, save one… Lanny fell ill during the trials and was unable to race enough of the races she needed to qualify for the Olympic Team. She is having a stellar year and I for one want to see where she can take it…what heights she can climb to. So, in honor of friendship, cooperation, and sacrifice I declined my spot on the Olympic Team. This freed up a spot so that Lanny could be named to the team.
Tracy and Lanny will be appearing on the Today show tomorrow as well as a few other shows throughout the day. Please feel free to tune in and share our story.
– Today Show (during 7:30-8am block) live in studio w/Tracy, via Skype with Lanny in Italy
– CNN's New Day (aprox 8:40 ET) live in studio w/Tracy, crew to connect with Lanny in Italy
– NBC SportsDash (12:30 ET) live in studio interview w/Tracy (NBC SportsDash is an NBC Sports TV show that is partnered with Yahoo! Sports. It airs daily Monday-Friday live from 12:00-1:00 EST, hosted by NBC Sports' Dave Briggs and Carolyn Manno)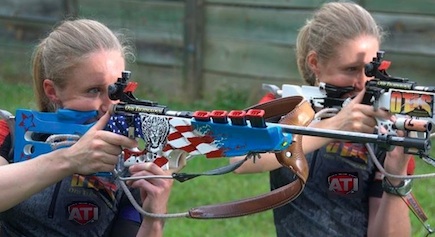 Follow the biathletes at
http://twinbiathletes.com