'The Outdoor Option' co-star Shannon Reaser cheers for the new family outdoor show
No doubt, you've seen this outdoor TV show template many times over: a dad and his son or sons go hunting or a dad and his daughter go hunting. What about a dad and his son and his daughter hunting or fishing together — all on the same show?
"The Outdoor Option" launched in early January 2014 on the Pursuit Channel and The Sportsman Channel and features Dan Reaser and his son, Danny (21), and daughter, Shannon (16).
Sometimes, Grandpa Cecil joins them, to make it a trifecta generational hunt.
We asked Shannon Reaser about her life as a TV personality.
The WON: How did your dad sell you on the idea of doing an outdoor TV show?
Shannon: My dad didn't have to "sell" me on getting involved in "The Outdoor Option" TV show. When the producers asked me, I knew I wanted to be involved because I love spending time hunting and fishing with my dad and brother more than anything else in the world. It's who we are and what we do — the only real difference now is that we have cameras capturing and sharing it.
The WON: What's your role in the show?
Shannon: My role is co-host along with my dad and brother.
The WON: What's your favorite outdoor activity?
Shannon: My favorite outdoor activity is deer hunting with my Ten Point crossbow! I must admit that I have lots of close seconds, though, because I love to do it all when it comes to outdoor activities. Turkey, pheasant and duck hunting with my dad and brother (along with my Grandpa too when possible) are way up on my list of favorites, along with fly-fishing for trout!
The WON: What is something you've recently learned as a result of being on the show, that you wouldn't have learned?
Shannon: What I've learned the most about as a direct result of my involvement with the TV show are the many real-world aspects of everyday business. My dad is a very good businessman, so we run "The Outdoor Option" just like the other businesses he's started and grown. He always says, "Sweetheart, 'The Outdoor Option' is a start-up business."
The WON: Where is the show taking your family this year for adventures?
Shannon: Our show takes us to many cool places this year! We started January 2014 deer hunting in Mexico and traveled to Arkansas for some incredible duck and pheasant hunting. We also mixed in the ATA and SHOT shows. February takes us rabbit hunting in Tennessee, to the SCI National Convention, to the Harrisburg, Penn. outdoor show plus two Ohio SCI Chapter banquets. In March and April we shift gears to turkey hunting in Florida, Tennessee, Kentucky, Ohio along with saltwater fishing in Florida. The balance of the year, we have trips planned in Texas, Ohio, Arkansas, Colorado, plus 2 to 3 Canadian provinces. It's going to be a very busy year balancing my schoolwork and cheerleading along with my involvement with our show — but I love being busy.
The WON: Where do you see yourself in the outdoor industry in a few years?
Shannon: My goal is to use the platform of "The Outdoor Option" to inspire and motivate other young girls to get out in the outdoors so they, too, can enjoy it! I also see myself growing into a role as a mentor and teacher to other young girls!
The WON: Why should people watch your show?
Shannon: People should watch our show first and foremost because it's extremely well done and very entertaining. People will connect with our show personalities and enjoy feeling like they are going along with us on these great outdoor adventures. Lastly, I believe "The Outdoor Option" is a mirror image of the millions of Americans that have chosen the outdoors as their option, just like we have.
Watch "The Outdoor Option" on the Pursuit Channel on Mondays at 9:30 p.m. EST, Thursdays at 12 p.m. EST and again at 3:30 p.m. EST, and Fridays at 5 p.m. EST. The show also airs on the Sportsman Channel On Mondays at 11:30 a.m. EST, Tuesdays at 4:30 p.m. EST, Fridays at 4:30 a.m. EST and Saturdays at 7:30 p.m. EST.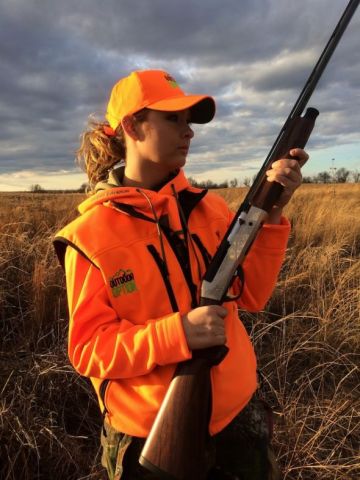 About "The Outdoor Option"
The Outdoor Option is produced by Dannyboy Productions, LLC, with 13 original episodes for the 26 week run during Q1/Q2 2014. The Outdoor Option website is: www.theoutdooroption.com , Facebook: the outdoor option and Twitter: @outdooroption
For interviews and more information contact:
Pat Doyle, Executive Producer, patdoyle19@gmail.com, 615-925-2771
About Barbara Baird

Publisher/Editor Barbara Baird is a freelance writer in hunting, shooting and outdoor markets. Her bylines are found at several top hunting and shooting publications. She also is a travel writer, and you can follow her at https://www.ozarkian.com. View all posts by Barbara Baird →