Mule Deer Foundation welcomes Próis Hunting Apparel founder Kirstie Pike to Board of Trustees
Salt Lake City, Utah — At their February board meeting, the Mule Deer Foundation board of directors voted to add Kirstie Pike, the founder and CEO of women's hunting apparel manufacturer PrÓis Hunting & Field Apparel for Women, to the board. Pike immediately started a 3-year term.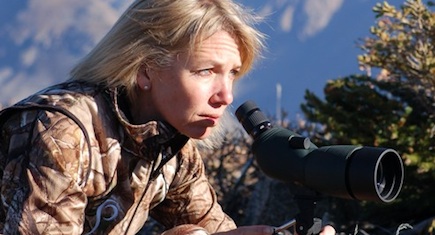 "We are thrilled to have Kirstie's skill and energy on the MDF Board of Directors," said Jim Steadman, chairman of the Mule Deer Foundation board. "In the six short years since Kirstie started PrÓis, her company has filled an important niche in the hunting industry. She has a strong leadership background as well as tremendous connections and we know that she will bring those qualities to MDF."
Pike started PrÓis in 2008 in her hometown of Gunnison, Colorado where she has hunted mule deer all of her life. Her company taps into the growing market of female hunters allowing her to interact with avid outdoorswomen and she will be bringing that knowledge, and her love of mule deer hunting to the board.
"Being from Colorado, and especially the Gunnison Basin, I have a great appreciation for the mule deer populations in western Colorado and support the management and conservation efforts that MDF pursues," Pike noted. "Through my work with my business I have gained a leading edge on connecting with women who are interested in hunting, shooting and conservation. This has provided me a great insight on what women want and I feel that this could help bolster the women's presence and membership in MDF."
Prior to starting her company, Pike was an emergency and trauma nurse at Gunnison Valley Hospital and an active 4-H leader. Her years of experience in professional and volunteer leadership positions have provided her with expertise in strategic planning and fiscal oversight that she plans to bring to the MDF board.
About MDF
The Mule Deer Foundation is the only conservation group in North America dedicated to restoring, improving and protecting mule deer and black-tailed deer and their habitat, with a focus on science and program efficiency. MDF is a strong voice for hunters in access, wildlife management and conservation policy issues. MDF acknowledges regulated hunting as a viable management component and is committed to recruitment and retention of youth into the shooting sports and conservation. Get involved at www.muledeer.org or call 1-888-375-3337.
About The WON

The Women's Outdoor News, aka The WON, features news, reviews and stories about women who are shooting, hunting, fishing and actively engaging in outdoor adventure. This publication is for women, by women. View all posts by The WON →