7 options for protective eyewear
I see a variety of protective eyewear at shooting events. Lenses and frames in different shapes, sizes and colors. What makes one pair better than another? Lucky for me, I met up with the following shooters to get their opinions.
If you look past the blinders that Vera Koo attaches to her glasses (to help maintain downrange vision and avoid peripheral distractions) you can see her colorful lenses.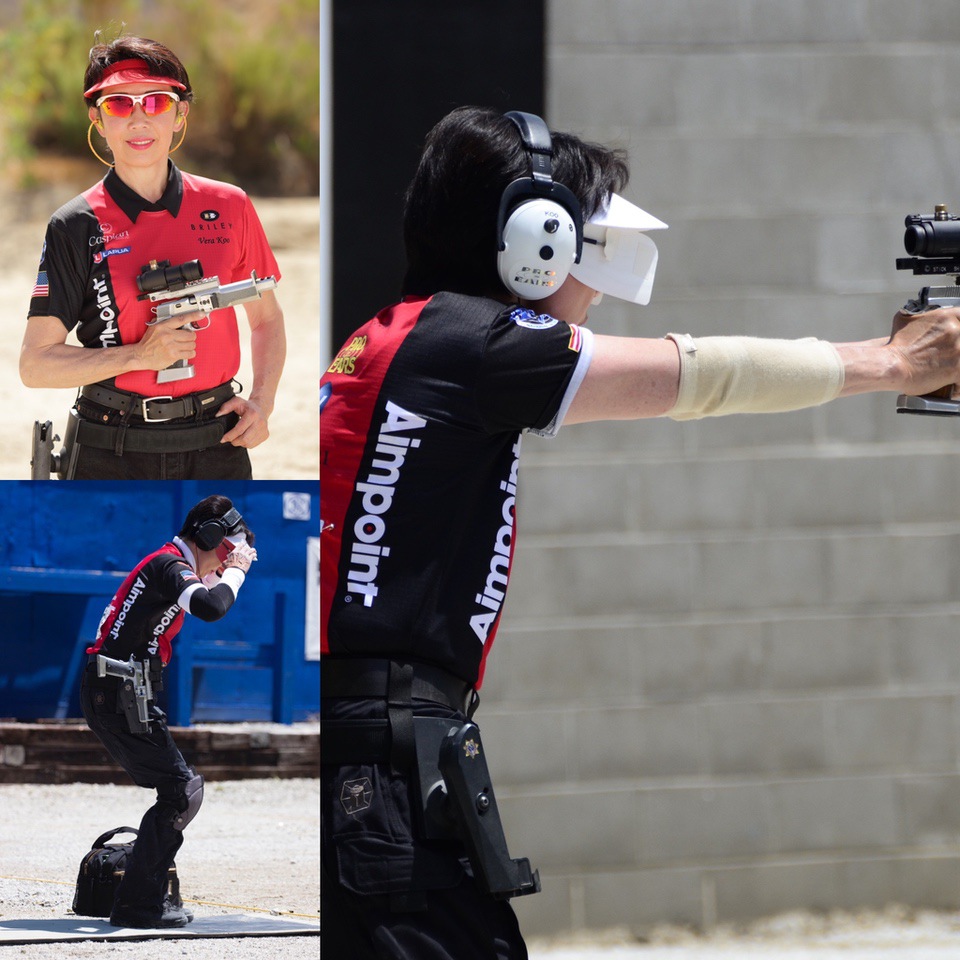 "I wear Maui Jim eye glasses. When I went to see my optometrist for my annual eye examination, I noticed frames on display that could accommodate extra-large lenses. They were exactly what I needed for the progressive type of prescription. And, at the same time, they accommodate shooting from the prone position," said Vera
Vera's optometrist offset the focal points higher in the lens in order for her to see clearer – whether it's from an offhand shooting position or a prone shooting position. According to her optometrist, Dr. Lessani, "The frame is a Maui Jim frame called Freight Train #326 ($319). However, the lenses are not from MJ because they will not do a tint like that, so we sent it to our lab and the lenses are Varilux Physio progressives in Trivex material with Zeiss pure-coat anti-reflective coating with an Orange 3 tint."
Vera said, "The deep orange color lens works so well for me with my Aimpoint scope on my Bianchi Gun. The color accentuates the red dot, which helps me see better. These glasses give me clarity for superior vision."
When Brooke Sevigny is shooting on the range, she wears her Oakley Men's Radar Path protective eyewear ($180). "I have 2 pairs: dark lenses and clear lenses. This is easier than switching out the lenses every time the light changes. With 2 pairs, I know the shade each time I put them on; it's either going to be dark or clear. They also have great limbs with rubber grips that sit on each side of my hat and do not slide around. The lenses protect my eyes, keeping brass from falling in and the nose piece is extremely comfortable. I have been wearing these same glasses for nearly 3 years now, without replacing any parts; they are very durable," said Brooke.
NYX Sport Carbon ($46) with purple lenses is the brand for Tiffany Piper. When asked why, she commented, "I love the shades of purple that they have, which helps draw my eye to my red dot scope better. They also have a movable nose piece that I can adjust when going prone."
Although, the best part is the price for Kim Hobart's Allsafe Visio Safety Glasses from the NRA Program Materials Center, there are other reasons why she loves them. "I like the protection offered from their wraparound style. They allow me to transition from sunny to overcast without changing lenses, yet provide the protection I need from the UV rays. The Equalizers also are lightweight and breathable, so I don't have any issues with the lenses fogging up during hot days. They survive drops quite well, and if not, they don't break the bank!" said Kim.
Diana Hufstedler loves her Smith & Wesson's Equalizers from Tractor Supply. Although they also come in gunmetal grey, she prefers the red frames with amber lenses. "They are lightweight and the red matches my rig. I also like the color of the lenses — makes everything look happy," said Diana.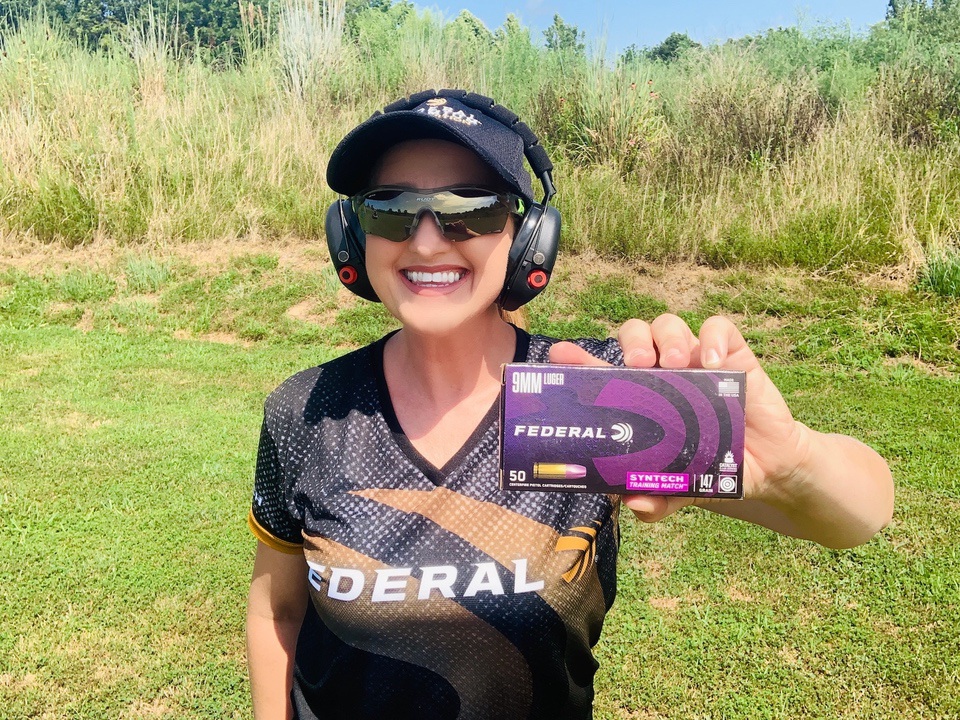 Julie Golob has been a fan of Rudy Project shooting protection for a long time. "They not only provide suitable protection for my eyes when I am on the range (a number one priority), but they also have an excellent variety of frame and lens options. My favorites, at the moment, are the Ability, Genetyk and Airblast models. All feature a single lens that gives me a full, unobstructed view of the course of fire. The adjustable nose piece helps me fit them perfectly to my face. I have an assortment of lens color options to choose from, as well. Of course, you want to look good, too! Rudy's are not only stylish for the range, but for around town, too," said Julie.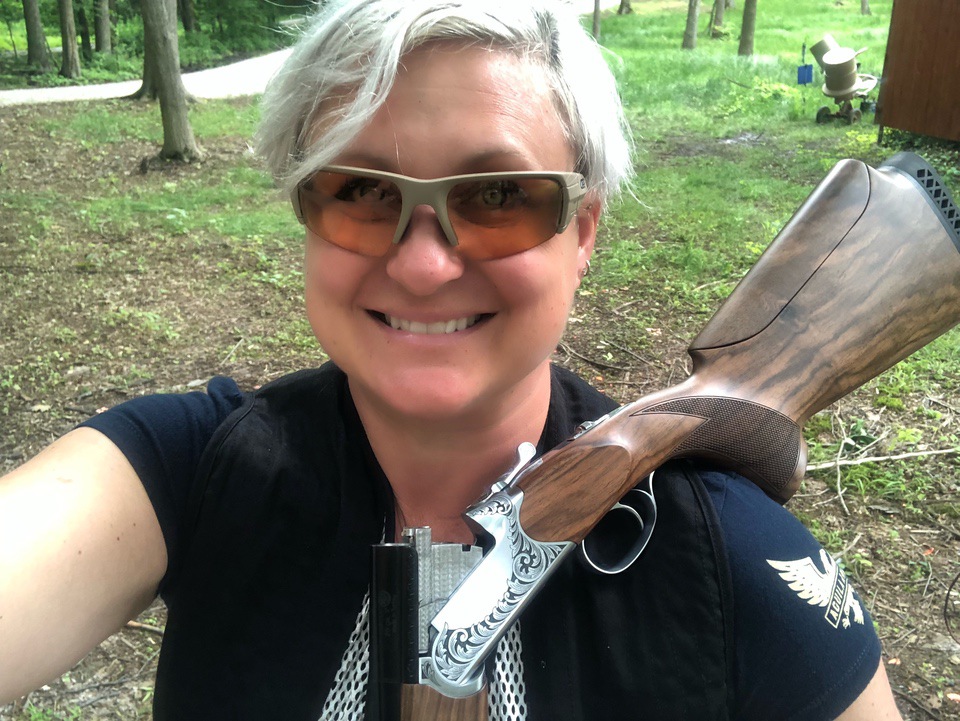 As for me, I have to admit, there are 2 brands of eyewear I like to wear to the range. When actively competing or teaching, I wear my ESS Crossbow Suppressors 2X+ Deluxe Eyeshield glasses ($130) when I have on earmuffs or cups. The slim temple arms fit comfortably under my ear protection. The same kit also contains Crossbow frames, hi-def copper, clear and smoke gray lenses. With zero pressure points, both frames offer great fits and don't slip on my nose.
Other times when I am at the range, as a spectator, I wear my Bobster Scarlets ($29.98) with a tortoise shell frame. These lightweight wraparound style sunglasses are safety rated and most of all, stylish.
This post was refreshed in 2023, and originally appeared in 2014.
About Michelle Cerino

Michelle Cerino, aka Princess Gunslinger, entered the firearms industry in 2011 when Cerino Training Group was established. She immediately began competing in both 3-Gun and NRA Action Pistol, becoming a sponsored shooter. Michelle is currently a columnist and Managing Editor of Women's Outdoor News, as well as owner of Pervenio LLC. She also manages social media for Vera Koo and GTM Original. Michelle encourages others to step out of the comforts of home and explore. View all posts by Michelle Cerino →
The Conversation