A different angle: ICAST 2014 — from a woman's perspective
The staff of "Ladies, Let's Go Fishing!" (LLGF) News Casts scoped this year's ICAST trade show in Orlando, FL to seek new fishing products for women. Held July 15-18, the 57th International Convention of Allied Sportfishing Trades (ICAST), produced by the American Sportfishing Association (ASA), showcased innovations in fishing gear, accessories and apparel. With 11,000 representatives and media from the global fishing industry in attendance, the show had plenty to offer.
The staff came to the show looking for market trends. In addition to the emphasis on lighter rods and reels with attractive color schemes, here is what we observed.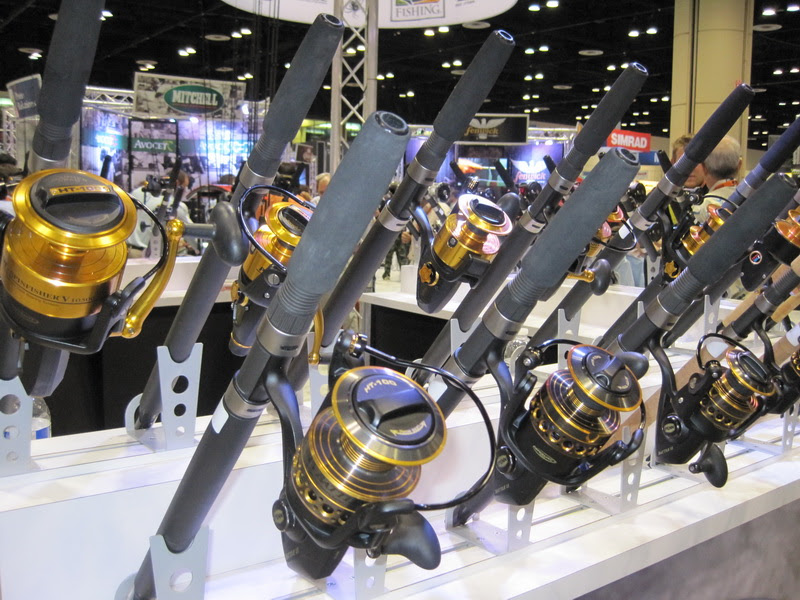 New Penn Battle II reels and more. (Ladies, Let's Go Fishing photo)
We noticed an exploding market for fishing kayaks, paddleboards and accessories. Manufacturers are paying attention to women's physical strength by offering light weight craft. The fly fishing market continues to take a serious look at the women's sector.
We saw a growth in compact underwater cameras due to increasing numbers of anglers who want to share the thrill of the catch with video.
There was an abundance of exhibits with fishing buffs and cooling mechanisms built into neck wear and hats, indicating growth in the market of anglers concerned about protecting their skin from the sun's harmful rays.
Clothing manufacturers have stepped up to the plate with functional and attractive clothing for ladies. "Women want clothing that keeps them cool or warm with a woman's fit," commented Betty Bauman, Founder of "Ladies, Let's Go Fishing!" Universities. "They don't want to feel like they are wearing their husband's shirt."
The latest data on fishing was announced at the show, targeting women for market growth. Recognizing that women control 80 percent of the family recreational budget, the industry is keeping lady anglers on their radar.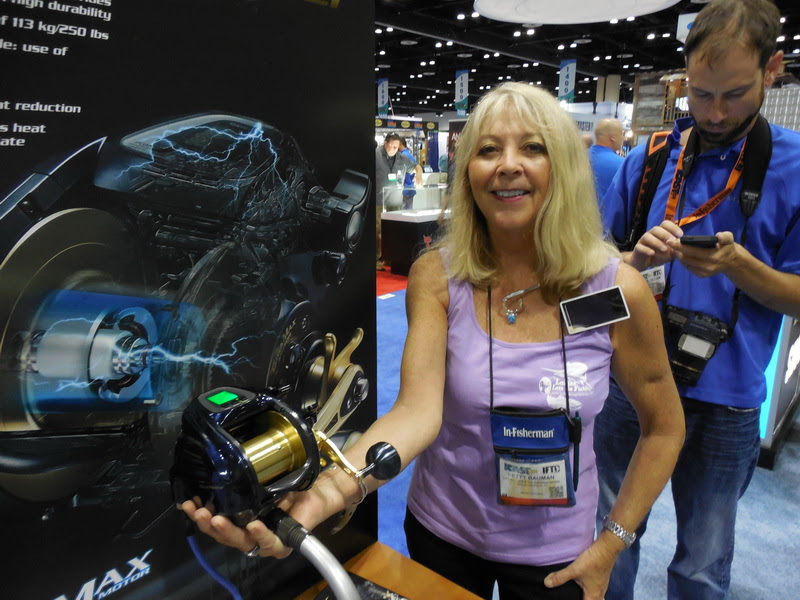 Shimano Beastmaster (Ladies, Let's Go Fishing photo)
New statistics on Anglers:
While fishing remains as one of the most popular outdoor activities in the nation, new statistics on the numbers of women in fishing indicated women represent an expanding emerging market for the sport of fishing, according to the 2014 Special Report on Fishing produced by the Recreational Boating & Fishing Foundation and the Outdoor Foundation. Here are some of the facts presented:
Overall – Fishing lost participation but continues to attract new anglers
Although almost 46 million Americans, or 15.8 percent of the U.S. population, participated in fishing in 2013, for the first time since 2010 the sport of fishing lost participants. While 8.7 million new or former fishing participants joined the sport, 9.9 million left. This equates to a loss of 1.2 million fishing participants at 21 percent.
Women represent an emerging market of low hanging fruit
Of the 8.7 million new participants in a historically male-dominated sport, Americans who tried fishing for the first time or returned to the sport in 2013 skewed heavily female. Though females represent fewer than one-third of current fishing participants, they represent more than 47 percent of those interested in fishing. 42.9 percent are in the 45-plus age bracket. The report cited females as a growing group of fishing participants.
Hispanics a target market
The industry is also targeting Hispanics, who represent 17 percent of the nation's total population but only 7.7 percent of fishing participants. More than nine percent are interested in picking up a fishing rod for the first time, which is on pace with all Americans considering fishing participation.
Saltwater Participation
Saltwater fishing ranks second to freshwater with 11.8 million participants, mostly in the South Atlantic region of the U.S. of which 34.4 percent are female, 65.6 percent are male. 37.7 percent are in the 45-plus age bracket.
Economic Impact
Fishing contributes $125 billion to the nation's economy.
Resources that would make it easier to fish
There were four resources cited in double digit percentages: Easier and more affordable access to boats and fishing equipment, mobile guides that can be accessed on the water and fishing lessons.
"We have found hands-on instruction helps enables women to cross the threshold into fishing," commented Bauman, who specializes in fishing universities for women and teens. "Once they become familiar with the equipment and fishing terms they are more likely to participate. An on-water fishing experience helps seal the deal." Bauman added she is pleased at the numbers of Hispanics and minority women who attend.
With so many innovations to mention in one article, below are some of the new products the staff was able to view.
AFTCO Manufacturing Co., Inc. – Myriad of attractive womens clothing and shorts
Avet Reels – Pink and purple color reels
Betts Tackle, Ltd. – They are exploring pink cast nets
Blue Marlin Fishing Tackle Ltd. – New to ICAST, nice fighting belts with built in harness straps, blue and silver light spinning and conventional reels
Boomerang Tool Company – Lightweight pliers and snips with lights and new functions
Cortland Line Company Inc. – Braided fly line, Command Series mono
Costa – Adding yet more beautiful styles to their womens line, plastic lenses/508P mirrored lense.
Dermatone – A variety of SPF levels, application methods and sizes.
DryCase -LLC Vacuum seal dry bags for electronics
Eagle Claw Fishing Tackle – New Trokar saltwater circle hooks
Fathom Offshore, Inc. – Offshore fishing products, apparel and headware.
Flambeau Products Corporation – Soft sided tackle boxes in feminine colors, terminal tackle files with Zerust, a file folder-type organizer for tackle compartments
Flying Fisherman – New aviator and wrap around lenses at affordable pricing, new 3 and 4 piece Passport rods with carrying cases great for flying
Frogg Toggs – Cooling wraps that can be fastened around the neck, hats and visors with built in cooling, new breathable rain gear
Gary Yamamoto Custom Baits – Plastic diving baits & new soft plastic colors
Glacier Glove – Ladies fishing gloves
GoPro – Go Pro Studio for easy video editing, grabs still photos from video
Hook & Tackle Outfitters – New womens Peninsula rip stop nylon, anti stain, anti rip UV 45+ with a lot of ventilation, full neck protection
Hook Safe – Covers for lures that fastens to the rod eye
Hoo-Rag – Fishing buffs in every color and style under the sun
Humminbird – Fully Customizable Onix with touch screen
Hydro Glow, Inc. – New LED floating lights and dock lights
JVC – Compact waterproof cameras
Johnson Outdoors – New camo color and 12′ Talons, fold down Talon brackets; Old Town Predator XL kayak won best of show, has power/propeller option and electronics console; new Humminbird, Ulterra trolling motor with remote with many functions including hands-free deploying and retracting the trolling motor
Koppers Fishing & Tackle Corporation – Hard bodied shirmp with flexible legs – look real
Lil Anglers – Kid's fishing rods
Logic Lures, LLC – Universal cutting tool/ceramic scissors & inshore lures
Madrone – Stylish hats with sunglass pockets
Maxima USA – Ultra Green braided line
Mustang Survival, Inc. – Elite inflatable PFD with slim profile, breathable back mesh, built for speed and comfort
Native Sun Sports – GetReel….GetFish! – Hats, visors, tee shirts
O. Mustad & Son Americas, Inc. – New series of saltwater rigs and Hook Kits for starter anglers, Ultrapoint Kaiju strong hooks for the big fish
Patagonia – A plethora of womens technical and fashion clothing. Soul Patrol Shirt with breathable insets, Drop Seat durable waders that can be easily unfastened at the back.
Penn – Battle II spinning reels, Spinfisher Long cast reel, Lever drag reels, rods and more
Piranha Rod Rack – F359 Rod rack to organize and store rods
Plano Molding Company – Marine Sportsmans Trunk for dry storage
Pure Fishing, Inc. – Pflueger spinning reels come in a larger size
RapalaWilliamson – Surface Pro, Popper Pro and new knife sizes, Rapala BX Waking Minnow, new colors
Real X Gear – Visors and hats with built in cooling, hand held fogger to keep you cool, armband waterproof holders for cell phones, neck coolers, portable usb device charger with speaker
Reel Adrenaline Energy Drinks – New Docktail bar holds bottles and cups, fits in rod holders and has other attachments.
Scientific Anglers – New Sharkwave fly line
Seaguar – Pink Hydro glow line for Breast Cancer Awareness and Thread Lock Hollow Core Line
Shimano American Corporation – New mini cam for underwater video, Beastmaster compact and light electric reel, fits in your hand
Skinzit – Fish skinning machine pulls the fish skin off the fish
Smith Optics – ChromaPop blue and brown mirror lenses, Dockside sunglasses, new frames
Star Brite – Mold and Mildew Fast Release eliminates odors from the source, Screen Cleaner and Protector for electronic devices and Hull Cleaner Spray
Star Rods – Star Stellar Life Boat rods and Paraflex trolling rods
Sunsect Inc. – Sunscreen and insect repellent combined in one
TTI-Blakemore Fishing Group – PFD for rods, lures, hooks and UV spray protection for line and reels.
Vicious Fishing – Sunglasses, ladies apparel & headware and the All Around Towel for every use home or boat.
Vigor Eyewear – Eyeglasses with flexible frames
WASPcam – Action Sport Camera – Waterproof cam with wristband monitor and control
WaveSpin Reels – New Vision 6500 spinning reel for surf casting or offshore fishing only 18 oz.
Wilderness Systems – Rod 115 X Max kayak, removable fish finder compartment, adjustable sit on top seat, rod holders and more
WileyX Eyewear – Climate Control sunglasses, can withstand heavy impact, glare-cutting vision
Yo-Zuri America, Inc. – Several new inshore lures, new jointed lure for bait-like action
What we did not see: Pink buckets or buckets in colors.
To view a selection of informal-style videos taken, visit http://www.you
Frog Toggs rain gear.

(Ladies, Let's Go Fishing photo)
tube.com/playlist?list=PLgRIV_GlEQcN2yEELK17-Zp3_REZY1oH5.
Other video highlights are on www.icastfishing.org.
ICAST 2014 Best of Show awards. These products will be available soon at retailers.
– Overall – Johnson Outdoors Watercraft – Predator XL
– Freshwater Rod – Duckett Fishing – Micro Magic Pro
– Saltwater Rod – Shimano American Corporation – Terez Stand Up
– Fly Fishing Rod – G. Loomis, Inc. – PRO4x Short Stix
– Freshwater Reel – Pure Fishing, Inc. – Abu-Revo Beast
– Saltwater Reel – Pure Fishing, Inc. – PENN Battle II Spinning
– Fly Fishing Reel – 3TAND, LLC – TF-70 Sealed Fly Reel
– Hard Lure – SPRO Corporation – BBZ-1 Rat
– Soft Lure – Okuma Fishing Tackle Corporation – Savage Gear 3D PVC Crab
– Lifestyle Apparel – Pelagic, Inc. – 4TEK Fish Finder Boardshort
– Technical Apparel – STORMR – Fusion Bib
– Boating Accessory – Johnson Outdoors – Minn Kota Ulterra Trolling Motor
– Boats – Johnson Outdoors Watercraft – Predator XL
– Combo – Lew's Fishing Tackle – American Hero Baitcast Combo
– Electronics – Johnson Outdoors – Humminbird ONIX 8SI
– Eyewear – Costa – Hamlin – 580P Mirror Lenses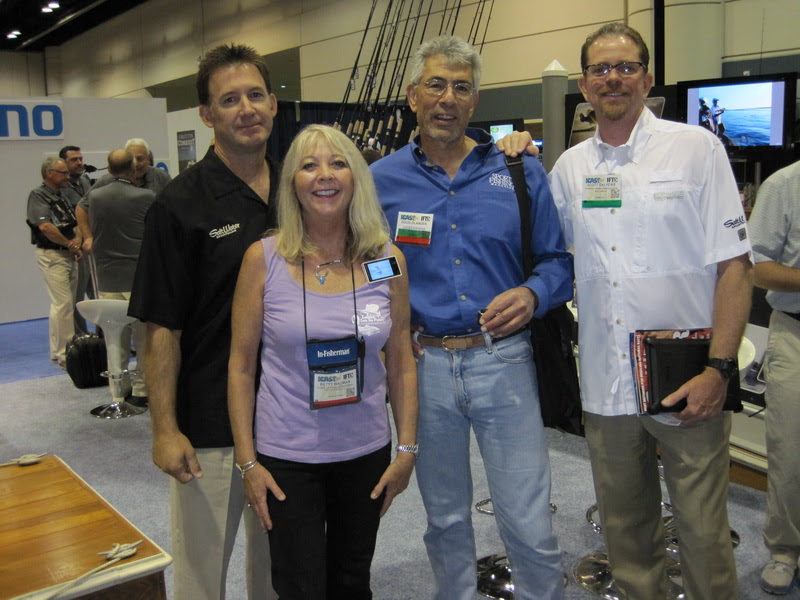 Doug Olander, third from left with the Sport Fishing Mag crew.

(Ladies, Let's Go Fishing photo)
– Fishing Accessory – Lit-Industries, LLC – Lit Coolers
– FishSmart Tackle – Cuda Fishing Tools – Cuda Grip & Scale
– Fly Fishing Accessory – Plastica Panaro SRL – M2300 – Fly Caddy
– Footwear – Columbia Sportswear – Megavent PFG
– Giftware – Helter Skeletons, Ltd. – Authentic Skeletal Articulation
– Kids' Tackle – ZEBCO Brands – ZEBCO Splash Combos
– Line – Pure Fishing, Inc – Berkley IronSilk
– Tackle Management – ENGEL U.S.A. – UC30-RH
– Terminal Tackle – Eagle Claw Fishing Tackle – TroKar TK619
– Additional: Homer Circle Fishing Communicator award winner – Doug Olander, Editor of Sport Fishing Magazine
ICAST 2015 will be held at the Orange County Convention Center, Orlando, Fla., July 14 – 17, 2015. For complete ICAST information, visit ICASTfishing.org.
About "Ladies, Let's Go Fishing!" News Casts
"Ladies, Let's Go Fishing!" News Casts are provided to more than 8,000 graduates and women interested in learning about fishing at the multiple "Ladies, Let's Go Fishing!" Universities in Florida. The Universities are weekend events where women learn, practice and go fishing from charter boats as well as attend networking parties. For many women, it is their first introduction to saltwater fishing. Held in conjunction with support from the Florida Fish and Wildlife Conservation Commission with Federal Aid in Sport Fish Restoration, plus industry sponsors and donors, the organization is launching a national chapter program to expand the opportunities nationwide. For more information visit www.ladiesletsgofishing.com, email info@ladiesletsgofishing.com or call 954-475-9068.
About The WON

The Women's Outdoor News, aka The WON, features news, reviews and stories about women who are shooting, hunting, fishing and actively engaging in outdoor adventure. This publication is for women, by women. View all posts by The WON →
The Conversation