Jennifer Miller wins federal duck stamp art contest
Jennifer Miller, an artist from Olean, New York, is the winner of the 2014 Federal Duck Stamp Art Contest. The announcement was made September 20 by U.S. Fish and Wildlife Service Deputy Director Rowan Gould at the annual art contest, held at the Service's National Conservation Training Center in Shepherdstown, West Virginia.
Miller's acrylic painting of a pair of ruddy ducks will be made into the 2015-2016 Federal Migratory Bird Hunting and Conservation Stamp, or Duck Stamp, which goes on sale in late June 2015. The Service produces the Federal Duck Stamp, which sells for $15 and raises about $25 million each year to provide critical funds to conserve and protect wetland habitats in the National Wildlife Refuge System for the benefit of wildlife and the enjoyment of people.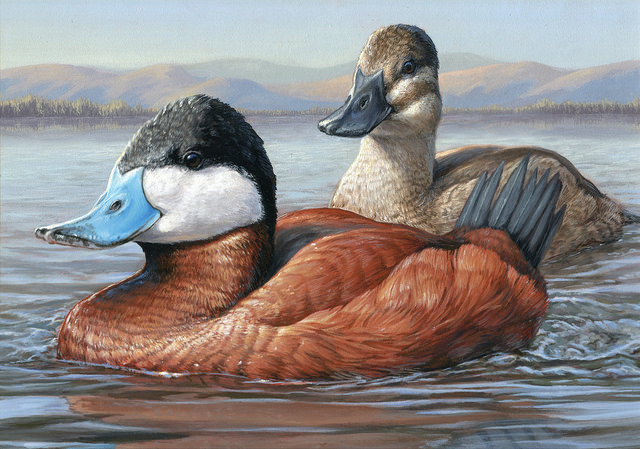 Ron Louque of Charlottesville, Va., placed second with his acrylic painting of a red-breasted merganser.
Frank Mittelstadt of Beaver Dam, Wis., took third place with his acrylic painting of a Canada goose.
Of 186 entries in this year's competition, 17 entries made it to the final round of judging. Eligible species for this year's Federal Duck Stamp Contest were the brant, Canada goose, northern shoveler, red-breasted merganser and ruddy duck.
"I am continually amazed by the talent of these artists, and I congratulate Jennifer Miller on her win," said Gould. "People talk about how art can change the world, and the Duck Stamp is perfect example. You just need to look at the more than 6.5 million acres of waterfowl habitat protected by funds provided through the purchase of the stamps for proof of the power of this art."
"The Federal Duck Stamp is one of this nation's most successful conservation efforts," said Jerome Ford, the Service's Assistant Director for Migratory Birds. "Buying a Federal Duck Stamp is the simplest way to help save our nation's disappearing wetlands and ensure ducks, geese and thousands of other species of birds and other wildlife don't lose their homes."
The judges for this year's Federal Duck Stamp Contest were: Gloria Erickson, chair of the Nebraska Environmental Trust Board; Delwin Benson, professor and extension wildlife specialist in the Colorado State University Department of Fish, Wildlife and Conservation Biology; George Petrides Sr., founder of Wild Bird Centers of America Inc.; Peter Anastasi, a retired employee with the Federal Duck Stamp Program; and Terry Miller, a wildlife artist who works primarily in the medium of graphite.
Waterfowl hunters age 16 and older are required to purchase and carry the current Federal Duck Stamp. Conservationists, stamp collectors and others also may purchase the stamp in support of habitat conservation. A current Federal Duck Stamp can be used for free admission to any national wildlife refuge open to the public.
Ninety-eight percent of the proceeds from sale of the $15 Federal Duck Stamp go to the Migratory Bird Conservation Fund, which supports the purchase of migratory bird habitat for inclusion into the National Wildlife Refuge System. You can contribute to conservation by buying Federal Duck Stamps at many national wildlife refuges, from the U.S. Postal Service or online at http://www.fws.gov/duckstamps/stamps.htm.
Electronic files of the winning artwork can be downloaded from http://www.fws.gov/duckstamps. A gallery of all 2014 Federal Duck Stamp Contest entries is at:http://bit.ly/1qwTOMS.
About The WON

The Women's Outdoor News, aka The WON, features news, reviews and stories about women who are shooting, hunting, fishing and actively engaging in outdoor adventure. This publication is for women, by women. View all posts by The WON →