TeamWON competes in World Championship Squirrel Cook-Off
TeamWON competed in the World Championship Squirrel Cook-Off in Bentonville, Ark., on Sat., Sept. 13. Columnist Marti Davis, Jackie Thompson (our graphic designer) and I decided to "showcase" a dish of squirrel by smoking it, and then serving it 2 ways: on a bed of exquisite lettuce, with pine nuts, gorgonzola and a light citrus-based dressing and also, as a Hawaiian slider, with Jicama slaw.
We're not sure where we placed, but we know it wasn't in the top 3. Two restaurants and a guy with green chili sauce claimed the first 3 spots.
The World Championship Squirrel Cook-Off is held annually in downtown Bentonville. Proceeds go to a local children's charity. We thought you'd enjoy seeing some of the things that we saw while there. And, thanks to the Bentonville CVB, for wonderful hospitality during our stay.
If you love the outdoors, antiques shops and if you're in the least bit curious about the history of the Walton (er, Walmart) empire, Bentonville is the perfect place for a getaway. If you want to stay in a lovely cottage, check out the Downtown Bentonville Cottages, especially, the Meadowlark Cottage.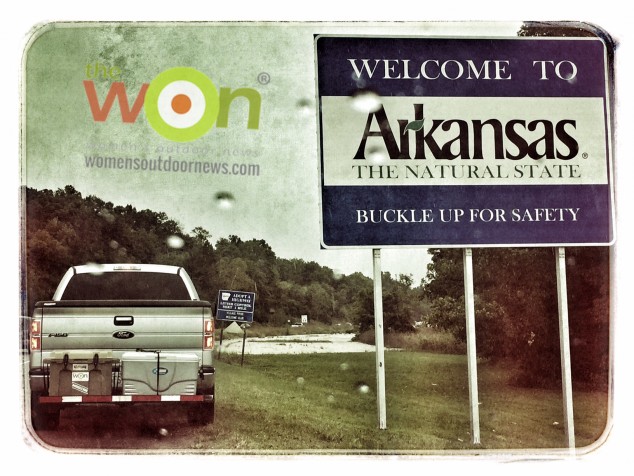 Nothing like traveling with 30 squirrels, a smoker and a truck load of booth items.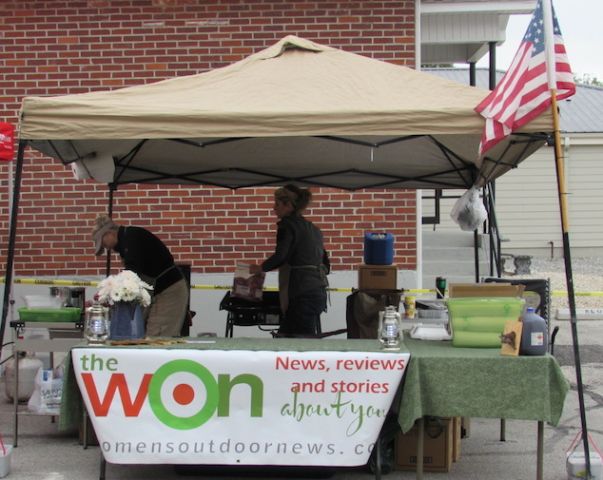 Marti is no stranger to working at festivals and thanks to her cache, we even had an American flag flying over our workspace! #Merica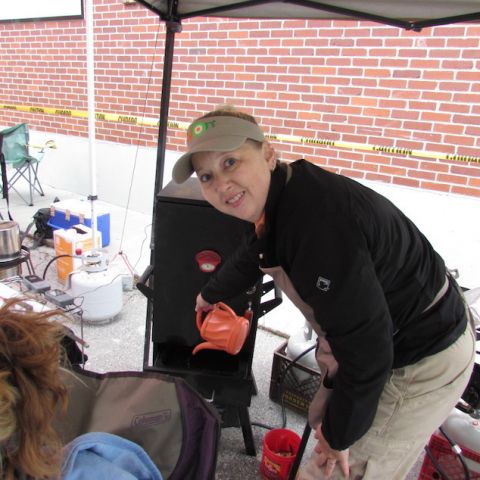 Marti fired up the smoker early, but we had to wait to start the actual preparing till 9 a.m. She pulled #37, out of 39 contestants, which gave us a lot ot time to work with the squirrel meat.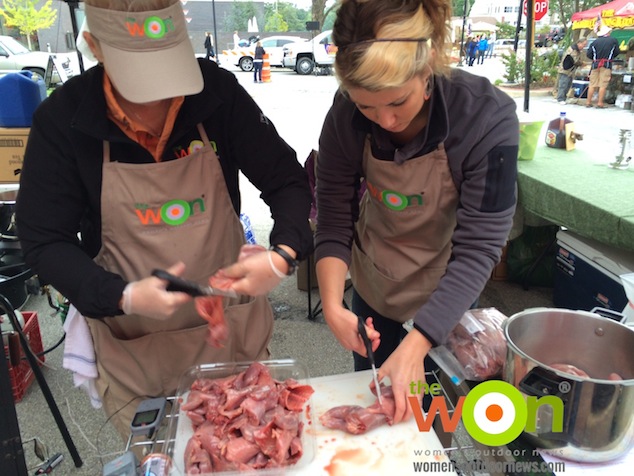 Chief Cook Marti and her assistant, Jackie, pressure cooked, then pulled 30 squirrels, then put them in the smoker and started on the side dishes. We had about 3-1/2 hours to complete the process, from start to plate.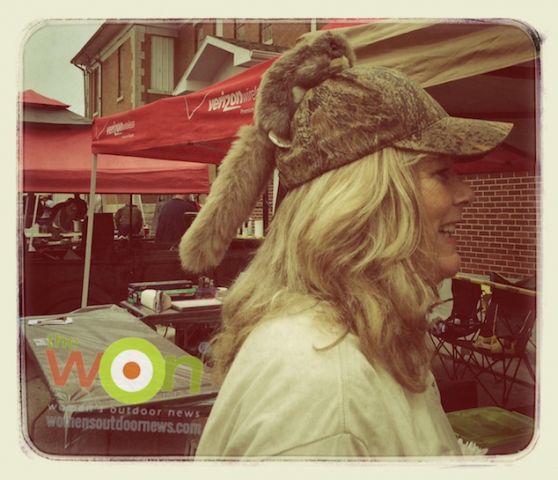 With a festival atmosphere, the squirreliness in folks started appearing. This woman sold several of these hats, mostly to children.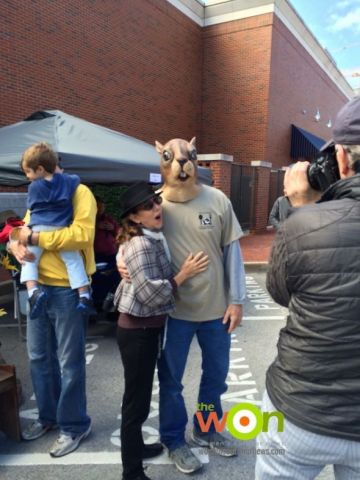 Men wore squirrel masks, and random women wanted to have their photos taken with them! We loved talking to many men and women about women who hunt, fish, shoot and live adventuresome lives outdoors.
Our neighbor, Tim of "Kuppla Knutz," served fried squirrel ravioli to the masses. The girl in the glasses examines the contents of the ravioli.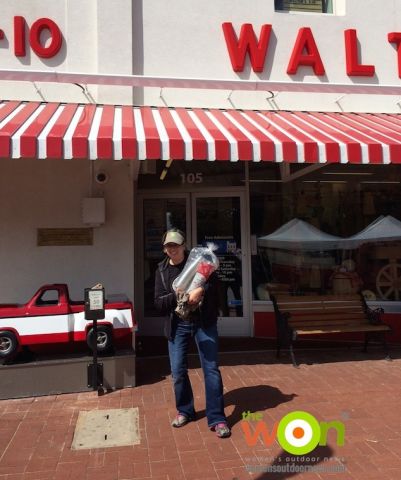 Meanwhile, Babbs handed out sweet tea in WON-logo stadium cups. When she ran out of the cups, Joe Wilson (festival founder) suggested that she head over to the WalMart Museum, and they graciously provided 100 more cups. She served 24 gallons of sweet tea.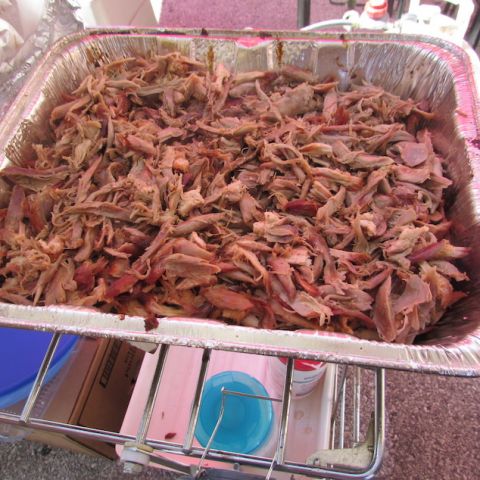 And … voila! The results. Succulent smoked squirrel. Marti placed bacon and seasoned pork tenderloin on a rack above the squirrel, and then, added a bit of the pork to the combination. The rules allowed for up to 20% of a different meat.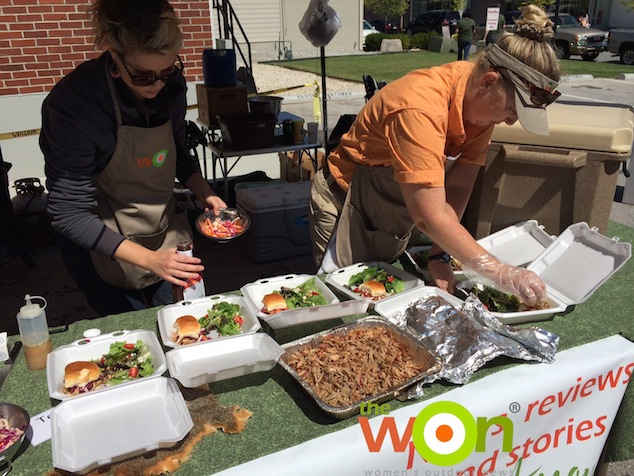 Ready for the judges. We served the leftovers to the waiting masses, who said they LOVED the flavor. Two women from New York City could not believe the dish contained squirrel. They came back to talk to us a few times during the event.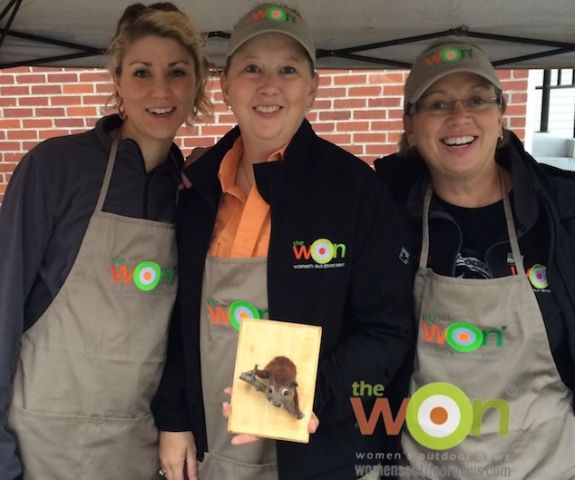 I could not have asked for a better team. We enjoyed the entire experience, from start to finish. We all agreed that the competition served its main purpose — to educate the public about the importance of hunting and serving wild game in a delicious style.
Check out our Jicama slaw recipe.
Check out our Facebook album about the competition.
About Barbara Baird

Publisher/Editor Barbara Baird is a freelance writer in hunting, shooting and outdoor markets. Her bylines are found at several top hunting and shooting publications. She also is a travel writer, and you can follow her at https://www.ozarkian.com. View all posts by Barbara Baird →
The Conversation