Babbs in the Woods: Tracey and the Tikka T3 Lite
The story of a girl and her first hunting rifle begins as a love story. When my son went to work at an oil refinery in Louisiana a few years ago, he hooked his old jeep up to the back of a U-Haul and drove on down to Dixieland. The jeep sported a bumper sticker that read, "I love G.R.I.T.S," which stood for "Girls Raised in the South." Two years later, he married the girl of his dreams from New Orleans.
During the past few deer hunting seasons, my son has been teaching my daughter-in-law, Tracey, how to hunt. She always borrowed his gun, and complained about how it didn't fit her. This young lady, with a degree in finance and an MBA, studied her options for a hunting rifle. She chose her first hunting gun before last year's deer season, and took it out in the Ozarks of Missouri, on our family's place that we call "the ranch."
Here's the story of how she came to hunt and why she is absolutely delighted with her choice of a Tikka T3 Lite.
Tracey's hunting history
I didn't have any experiences before the ranch. My family has a fishing camp in Port Sulfur, La., where I spent a lot of time on the water, fishing, crabbing, shrimping — which is kind of like hunting. What you catch depends on weather, time, moon phases, tides, bait and location. It was there that I also shot my dad's guns. I couldn't tell you what kind they were, but my aim was always pretty good.
I've been hunting since 2007. The first year I went hunting with my boyfriend (now husband), I wore a too-large camo jumpsuit, poorly insulated clearance snow boots, borrowed a gun that was too heavy for me AND had a broken ankle. I don't remember exactly what appealed to me about hunting that first year. Maybe I was trying to impress the boy (Adam). Maybe I wanted to see what all the hype was about. It was cold … and I was up way too early.
But, I was hooked.
The only time I missed a season since 2007 was last year when I was 8 months pregnant.
Why she got hooked on hunting
Now, the appeal is sitting out in the woods. I love watching the squirrels chase one another. Busting flocks of turkeys. Planning and plotting the perfect spot. And of course, spending time with my husband. I still like to hunt with him. But now that we have 2 kids, our time in the woods — watching animals and sitting in complete silence — is even more special! And yeah, I still want to impress the boy!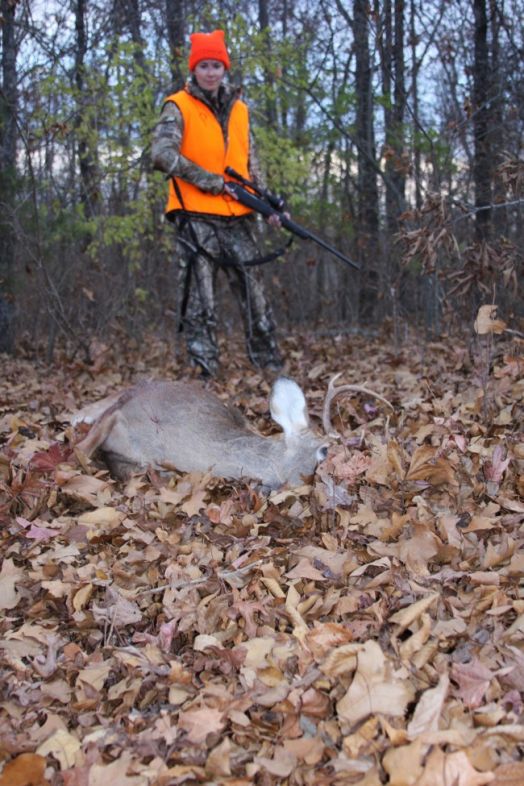 Why the Tikka T3 Lite?
I shot my husband's new England Handy rifle in .270, Remington 700 in .30-'06 and Winchester model 70 in .270. I shot and missed a deer with the Winchester. All 3 guns were too heavy for me.
The Tikka was much lighter than other rifles, making it easier for me to lift and hold. I also felt more confident since it was MY gun. I wasn't borrowing one of my husband's rifles. This one was researched and bought because it was the best fit/caliber for me.
Tikka T3 Lite Specs

Tracey chose a 7mm-08 Rem/9.5 inches/3 in magazine, 1 in chamber

21 calibers available
Left-hand model available
Overall weight without accessories – 6-3/16 pounds
Overall length– 42-½ inches
Barrel length – 22-7/16 inches
Rate of twist – for the 7mm-08 Rem, 9.5 inches
Bolt – 2 locking lugs, pluger ejection
Magazine – detachable sign row synthetic magazine
Optical sight attachment – 17 mm dovetail rail
Stock – black synthetic stock
Trigger – single stage trigger, adjustable pull 2 to 4 pounds
Safety – 2-stage safety
Sights – no open sights, optional sights available
Manufactured in Finland
And the scope?
The scope was great. I could easily see through it in the early morning. In fact, it was about 6:30 a.m. when I shot my first deer. The sun had not fully come up yet. My husband helped me research scopes and found a few that he thought would be good. From there, I chose the Lady Leupold 3-9×40 because of the slight pink detail, and of course, the Leupold name. MSRP: $299
The story of Le Petit Buck
I put on mascara that morning, because I was confident that was the day I would get a deer and have my picture taken. It was cold and we left the ranch around 6 a.m. We found a spot in the woods, looking down toward the valley. As soon as I was able to see through my scope, Adam started using a grunt tube. What seemed like seconds later, I heard something over my left shoulder. The 8-point buck came in closer and stopped directly behind me, roughly 20-30 yards uphill. It was the perfect broadside shot. I didn't hesitate. He ran a few yards and stopped.
[Editor's note: Tracey made an off-hand shot while seated and turned 180 degrees, at an uphill target. She later credited the lightweight of the Tikka and the highly effective scope for her success.]
I had Le Petit Buck, because his rack is so compact, mounted in a European style on a beautiful piece of walnut.
The Tikka T3 Lite MSRP: $579.99
About Barbara Baird

Publisher/Editor Barbara Baird is a freelance writer in hunting, shooting and outdoor markets. Her bylines are found at several top hunting and shooting publications. She also is a travel writer, and you can follow her at https://www.ozarkian.com. View all posts by Barbara Baird →
The Conversation