Chelsea Shotgun and Bun Club Wraps Up Successful Year
We thought you'd enjoy this message from our friends across the pond, the Chealsea Shotgun and Bun Club. Looks like they are wrapping up this past year with a big, fat bow! ~ Barbara Baird
We love you girls, our members are at the absolute heart of the Club and each and everyone one of you contribute to the continued success of the Club and we're SO grateful! It's been such a huge year for the S&CBC and it's all down to you girls! Here's to an even bigger an better 2015 and sooo many more ladies getting in to shooting, making some fantastic friends and having our cake and eating it! You're all such an incredible group of ladies and you make me very proud!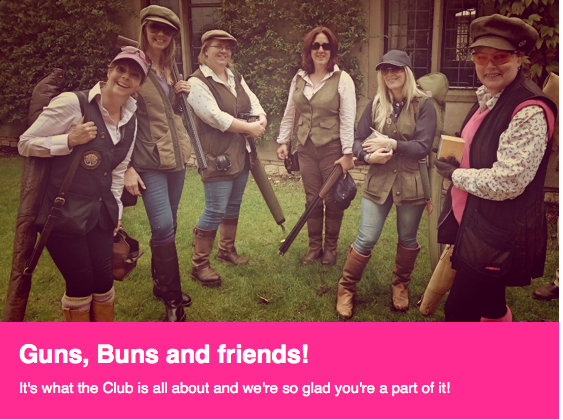 So, a little update. We're putting together the calendar for next year, with more dates being added all of the time, we're planning on more coaching days for next year, more socials and lots of other fab things!

Lots of you may know that we've teamed up with some amazing companies to offer exclusive S&CBC discounts – do have a look at our 'Members Benefits' page for some awesome savings (perfect for Christmas shopping!).
We'll be publishing our leaders on the website this week for S&CBC Points, our fab little loyalty system which gives you prizes! If you're not already signed up – do get in touch! Watch out for the monthly updates and free point giveaways.

Have a great week and thank you SO much for being such fantastic members.
So much love and happy shooting,
Victoria
About The WON

The Women's Outdoor News, aka The WON, features news, reviews and stories about women who are shooting, hunting, fishing and actively engaging in outdoor adventure. This publication is for women, by women. View all posts by The WON →