Nikki G is the Winner – Colt Pocketlite Mustang/LaserMax Giveaway (and Other Great Gifts!)
We are happy to announce Nikki G won our Colt Pocketlite Mustang/LaserMax giveaway, which started on Black Friday. This was a fantastic giveaway that easily totaled $1,000, because not only did it include a Colt Pocketlite, but also many items intended to round out this holiday package gift to you.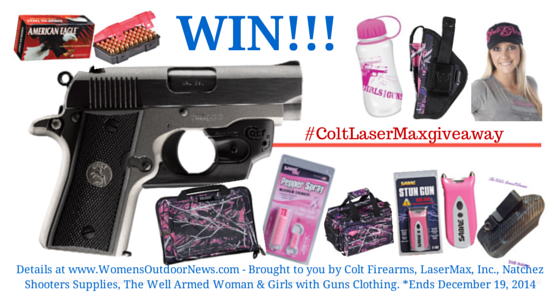 For example, Natchez Shooters Supplies donated Sabre Red maximum strength pepper spray, Sabre 800,000 volt stun gun with LED light, 2 MUDDY GIRL range bags (mini and deluxe), an Extreme Muddy Girl holster and … if that's not enough … 2 boxes of Federal American Eagle .380 ACP for your new gun.
Our pals at Girls with Guns Clothing donated a way cool bucket cap and water bottle for your range time, and our friend, Carrie Lightfoot, of The Well Armed Woman, donated an IWB holster.
I purchased this gun recently, and I made a little video of some of my first shots of it at the range — about 5 yards from my target. This is not the first time I've shot this gun, though.
Flashback to … SHOT Show Media Day 2013.
I met the guy that engineered the new Colt Mustang Pocketlite and he told me about the stainless slide and alloy frame. He pointed out the improved grip angle. I dry fired it. I like it. Then, I loaded it and went for a headshot right off the bat at about 15 yards. Ping. Not a problem. "Do that again, said the man." Ping, ping, ping, ping. I took it out a little farther … 25 yards. Ping ping ping.
Such a nice balance. In the redesign, the Mustang got a stainless steel slide with an electroless-nickel finished aluminum frame. It looks like a little 1911 and just feels tight. The magazine release is on the frame behind the trigger, just like on the 1911. If you can run a Colt 1911, you can run this little pony, chambered in .380. It'll fit in your pocket, on your ankle, in your purse …
With the LaserMax red laser, if you will train with it, you should feel that extra confidence in low-light conditions should the need arise to draw this gun. The laser is easy to manipulate and if you, again, train to use it, turning it on should become part of the routine.
MSRP: $837 for gun and laser combo
The giveaway ends on Fri., Dec. 19, at 5 p.m. CST. Enter here.
About The WON

The Women's Outdoor News, aka The WON, features news, reviews and stories about women who are shooting, hunting, fishing and actively engaging in outdoor adventure. This publication is for women, by women. View all posts by The WON →
The Conversation