6 Wee Shooting Accessories
Imagine an event in Las Vegas with more than 1,600 exhibitors, booth space covering 630,000 net square feet and an attendance of nearly 64,000 people (the second highest ever). That event just happened last week —  the Shooting Hunting Outdoor Trade Show (SHOT). While there, I searched for products that I would like to share with you throughout the next few months in my column, which is now sponsored by Galco Gunleather. The following are 6 little shooting accessories that will make life a wee bit better on the shooting range.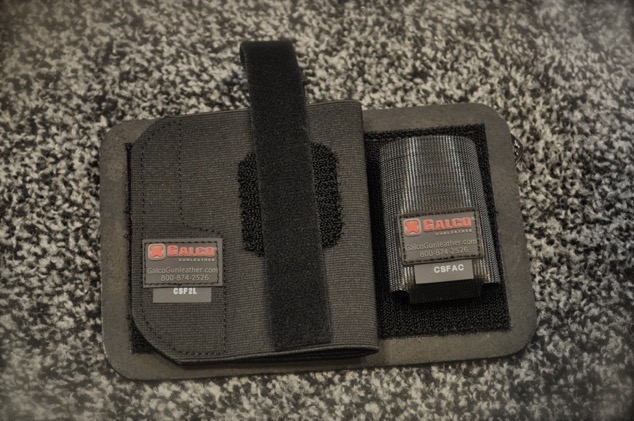 Galco Carrysafe
I love all my purses that are made specifically for concealed carry. However, sometimes I need to use a computer or messenger bag with no separate pockets. Luckily, while perusing the Galco booth, which may I add exudes the smell of fine leather, I found the solution for my pocketless purse/tote problem. The newly improved Carrysafe is a nylon holster that attaches to a backing plate with Velcro. Using the attached metal clip, it can be adjusted to any height. With 3 holster sizes to choose from, and an accessory carrier that could be used for a spare magazine or flashlight, it is the perfect addition to everyone's concealed carry routine.
The Carry Safe is available for purchase from Galco's online store.
MSRP: Carrysafe Gen 2, $49.95; Carrysafe, $34.95; Carrysafe Accessory Carrier, $19.95
Otis Ear Shield
The words "No batteries required!" are music to my ears, especially when it has to do with ear protection. Otis Technology introduced a brand new type of ear protection, the Ear Shield. Claiming to be more effective than electronic ear muffs, these ear devices use a patented sound reduction chamber. When I put them on, they formed a seal around my outer ear canal. They are lightweight, adjustable, won't interfere with stocks and are collapsible for easy storage. I cannot wait to try these out on the range.
The Otis Ear Shield will be available in 2015 at otistec.com.
MSRP: 26 decibels, $19.99; 31 decibels, $24.99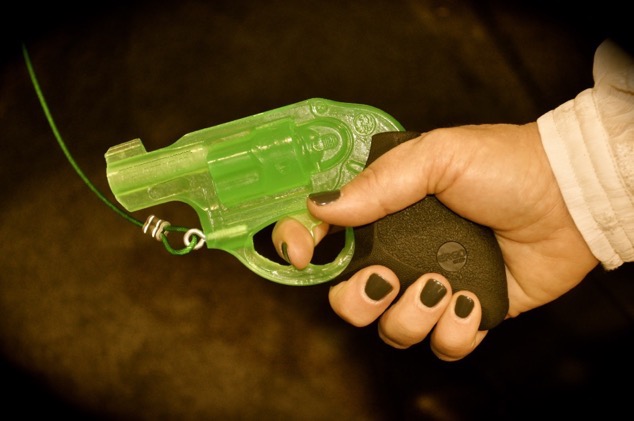 Delta Grip by Ergo
I will admit, the Delta Grip looks a little odd, but boy, does it make shooting a J-Frame revolver easy. While gripping the revolver with 1 hand, I pressed out and easily made a well-aimed shot. The grip feels very natural and comfortable and I'm sure will aid in recoil.
The Delta Grip by Ergo is available online and in stores.
MSRP: Delta Grip for S&W J-Frame Revolvers, $24.99; Delta Grip for Ruger LCR/LCRX Revolvers, $29.99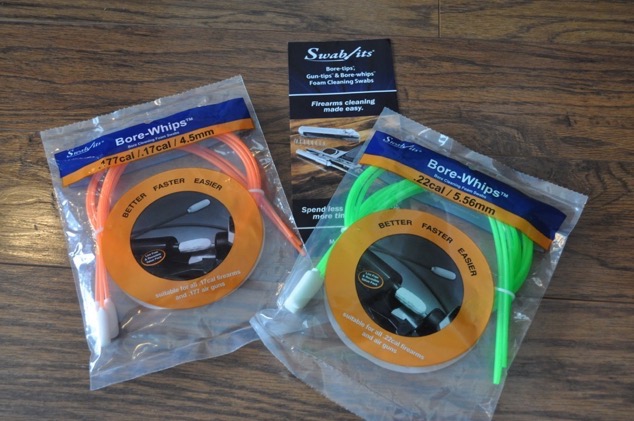 Bore-whips, by Swab-Its
When it comes to cleaning guns, I love the words washable and reusable. As I rounded a corner, while strolling through the SHOT Show aisles, those words grabbed my attention. The friendly people of Swab-Its added a new piece to the company's firearm cleaning line, the Bore-whips. Because of the brightly colored handles, I had complete control. The pull-through design made it easier and quicker to clean a rifle barrel at the booth. And, did I mention the lint-free, fiber-free swabs are washable and reusable?
Bore-whips Cleaning Swabs are available online at Swab-Its in packages of 3.
MSRP: .177/4.5mm Bore-whip, $10.99; .22CAL/5.56mm Bore-whip, $10.99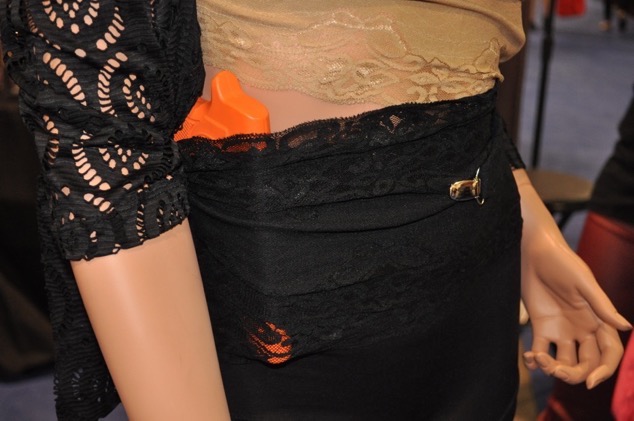 Lethallace
Noticing a group of people listening intently in front of a booth, I walked over to investigate. There stood a life-size mannequin with 5 full-size guns, holstered on her body. And, here's the amazing part – the same type of holster held each gun. Lethallace is a universal concealed carry holster that gives the wearer 5 different ways to conceal her gun. Made of high quality, washable fabric, the holster is easily worn in various positions. I suggest viewing the video online and then, practice putting the holster on in the various positions to determine what works best for you.
The Lethallace holster is available online and available in black, nude, pink and purple.
MSRP: $57.99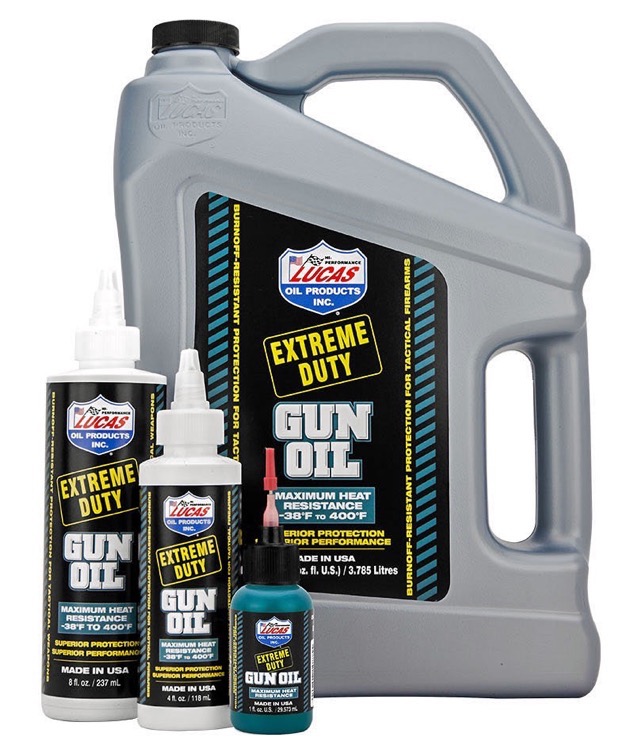 Lucas Gun Oil
At the Cerino household, we are somewhat picky about the oil we use on our firearms and still haven't found something we love. Hopefully that will change. Brand new, at SHOT Show this year, is Lucas Gun Oil. Yes, the same successful Lucas name you might recognize from the car-racing scene. If it can make oil good enough for a racecar, it must know the business. Right? I am planning on testing the product over the next few months, so I will be sure to update you.
Lucas Gun Oil is available online.
MSRP: Lucas Extreme Gun Oil, $5.95 (1 oz.); Lucas Extreme Gun Oil, $9.99 (4 oz.); Lucas Extreme Gun Oil, $14.99 (8 oz.)
Bonus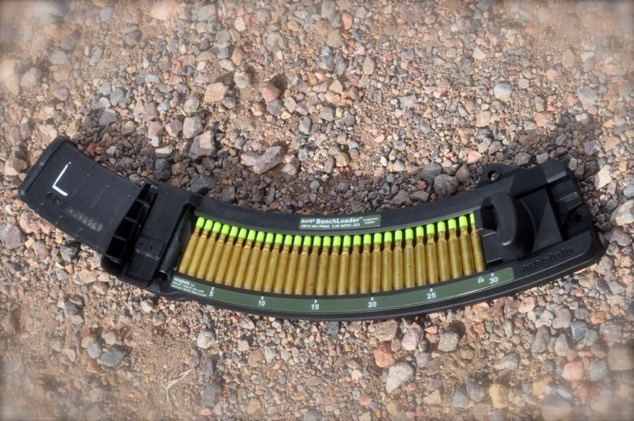 The Range BenchLoader by Maglula
OK, so it's not that small, but I really love it! Besides, I had to go big before I went home.
The AR15/M4 5.56/.223 Range BenchLoader is a heavy-duty, 30-round magazine loader. A single-stroke loading action allows me to load 30 rounds easily and painlessly into the magazine. Its round counter markings take the guesswork out of how many rounds I'm putting in. This is especially helpful during a 3-Gun match, when my magazine holds more ammunition than is allowed.
The AR15/M4 5.56/.223 Range BenchLoader by Maglula will be available later in 2015.
MSRP: $165
About Michelle Cerino

Michelle Cerino, aka Princess Gunslinger, entered the firearms industry in 2011 when Cerino Training Group was established. She immediately began competing in both 3-Gun and NRA Action Pistol, becoming a sponsored shooter. Michelle is currently a columnist and Managing Editor of Women's Outdoor News, as well as Event-Staff for CZ-USA Field Sports. She also manages social media for Vera Koo and GTM Original. Michelle encourages others to step out of the comforts of home and explore. View all posts by Michelle Cerino →
The Conversation