Tate Wins a Signed GWG Camo Hat and Hunting Gloves
Tate wins a signed Girls with Guns' (GWG) baseball cap and a pair of hunting gloves. Oh no, we're not talking about any old baseball cap. This one? It's been to Africa and back with Norissa Harman and Jen Adams, proprietors of Girls with Guns Clothing and stars of the new television show, Universal Huntress, on the Sportsman Channel.

The hat is made in Mossy Oak Infinity and actually went with the huntresses to Africa last year during the filming of their show. It came back unscathed and unworn, and is ready for their signatures and then, on to you, the lucky winner. MSRP: $19.99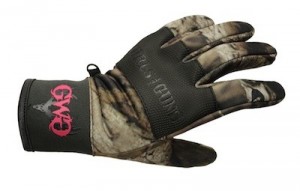 Also, Norissa and Jen want you to have their favorite hunting gloves from their new line of camo — a midweight glove with stretch fleece Neoprene and Spandex cuffs. The gloves feature an Amara leather palm treatment, a silicone grip and SmartPhone sensitive material, so you can text and use your phone afield. MSRP: $24.99
This giveaway ends on Fri., Jan. 9, at 5 p.m. EST. One winner will be notified and has 14 days from the end of the contest to supply shipping address.
[contesthopper contest="20840″]
About The WON

The Women's Outdoor News, aka The WON, features news, reviews and stories about women who are shooting, hunting, fishing and actively engaging in outdoor adventure. This publication is for women, by women. View all posts by The WON →