Women of SYREN: Tanya Faulds
In this new series at The WON, we will meet women who shoot SYREN (and also, Caesar Guerini) shotguns. We're delighted to kick off these profiles with Tanya Faulds, a professional clay target shooter, who lives in the south of England with her husband, Olympic Gold medal shotgunner Richard Faulds.
"I started shooting when I was about 14 when my father was a gamekeeper, but he had the opinion that 'girls don't really shoot' … So, it wasn't very often that I used to get the chance. When I was about 22, I started working for a gun shop/shooting ground and started taking regular tuition," said Faulds.
Soon after her lessons commenced, she started competing with friends. Then, she met her future husband, Richard, at a charity event and jumped right into the deep water of a World FITASC (Fédération Internationale de Tir aux Armes Sportives de Chasse) Championship event (this was before she'd prepped with a FITASC event).
Faulds shoots a custom fitted Guerini Summit Ascent made prior to the inception of the SYREN brand. As a ProStaff shooter, Guerini custom modified the stock to fit Tanya. "It is a gun that really suits my style, with the slightly raised rib, it gives great visibility and point-ability," she said. Faulds especially likes its custom stock, and believes most stocks are too long and too flat for most women shooters.
Not too long after Tanya began competing with her custom fitted Guerini, the development of models with configurations made specifically for women, and SYREN a new division of Caesar Guerini and Fabarm was born. Available as part of this new Women's only division, SYREN currently has 9 models available and all tailored to the woman shooter right off the shelf. "The new SYREN lady's model is fantastic and a great move forward for ladies in the shooting world; it gives them something which has been targeted directly at the female market with specific changes to the stock and balance which is key for us."
Her 3 highlights in shooting competitively include the following:
Silver Medal in Ladies at the British Open Sporting Championship in 2014
Winning the European Side by Side Championship 4 times (2005, 2006, 2013 and 2014)
Qualifying for the Professional Sporting Clays Association )PSCA) Tour in America for 2015
Why do you shoot competitively?
Faulds said, "I say that it is something that women can do just as well as the guys can. I think a lot of ladies are put off as the shooting world is very male dominated, especially in the U.K. So, quite often, there's no real incentive for girls to take up the sport, especially if their partners/husbands don't shoot."
Faulds believes the best way for women to get into the shooting sports is to take professional advice, "rather than just having a few shots with hubby's gun, which will invariably be too long, kick like a donkey and put you off forever."
"A good coach – be it man or woman –will ensure that you get started in the right manner which will make you enjoy the sport much more," added Faulds.
Off the Range
"When I'm not shooting, I like to spend as much time with my 3 kids as possible. We spend so much time away from home that when we are home, they come first. We go to the cinema or days out; they like horse riding, fishing. My 2 girls (Lauren and Chloe, 17 and 14) enjoy typically girly stuff and Charlie (7) likes riding his quad bike, playing football, building Legos, etc., so there's always something to be doing with them," said Faulds.
All the Faulds' children are "keen on shooting." They like to participate at the Faulds' school and cheer on their parents at competitions.
As well as being a full-time mom, Faulds runs the Owls Lodge Shooting School with her husband, and also does security work.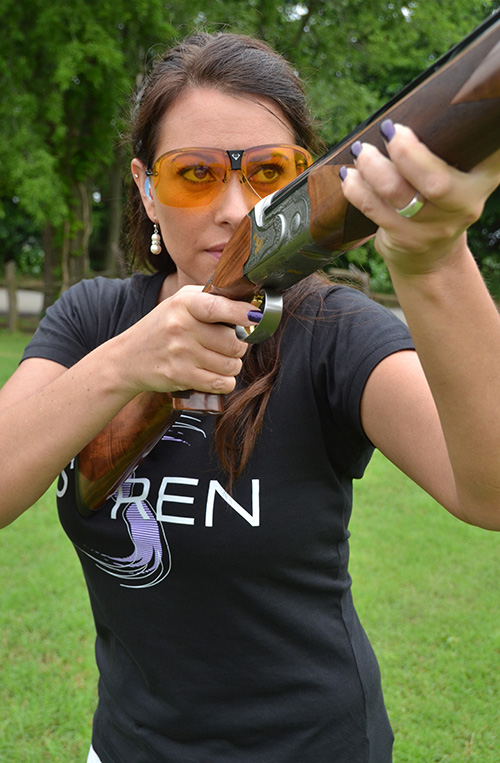 His and Her Shooting Tips
"The main thing I've learnt from Richard is to be 'poker-faced' when competing. Never let people know your thoughts, then they find it very difficult to play mind games with you when you're in competition. … Also, to keep going until the last shot is fired, never give up, as if you are finding it difficult then chances are everyone else will be, too. You only ever get out what you put in," said Faulds.
As for what she thinks Richard has learned from her throughout their years of competing together: "I think Richard has learnt a few tricks from me, on the psychological side of things … To say the right thing at the right time is very important and can make a massive difference during the course of an event. We bounce off each other quite well and both enjoy watching each other shoot well and succeed. Also, you need to be there for one another when things don't quite go as planned – if you fall off the horse, get straight back on."
Follow the Faulds
This year looks to be a very busy one for Tanya and Richard. They will be competing in Dubai in late February, then the World English Sporting Championships in Florida in April, plus PSCA events across America and the US OPEN and National Championships again.
Follow Richard and Tanya Faulds on Facebook and Twitter.
About Barbara Baird

Publisher/Editor Barbara Baird is a freelance writer in hunting, shooting and outdoor markets. Her bylines are found at several top hunting and shooting publications. She also is a travel writer, and you can follow her at https://www.ozarkian.com. View all posts by Barbara Baird →