Ask Marti Davis: How to Buy a Gun at an Auction 101
In this installment of "Ask Marti Davis," she details how to buy a gun at an auction. And, Marti ought to know, since she's not only married to an auctioneer, but also works at gun auctions several times a year.
Recently I saw an ad for a gun auction. Is it difficult to buy a gun at an auction? What do I need to know about buying guns at auction?
Betty from Bangor
Dear Betty,
It's good that you're asking this question before you find yourself in the middle of a hot bidding streak. There are a few steps that I recommend, especially since I'm married to an auctioneer, that will help you get the best deal at a gun auction.
Check out the flyer
Most reputable auction companies will post a listing of sale guns in their upcoming auction. The first thing I would do is go to the auction company's website and print off the list of guns it will be offering at the auction. Go through the list and see if there are any guns you might be interested in purchasing.
Do your homework
If there are any guns you're interested in purchasing, then do your homework before the day of the auction. Check several of the online gun auction sites and see what similar guns are bringing. Another good resource for checking used gun prices is the Blue Book of Gun Values. This book is published each year as a guideline for current gun values. The Blue Book can also be purchased as an app. You need to decide what you are willing to pay before you go to the auction, and put that number either on your downloaded copy of the sale list, or in your phone somewhere.
If you haven't ever attended an auction, you might recruit a friend that has to go along with you and do the bidding for you. It can be a little overwhelming to a newcomer.
Auction day
Most gun auctions will have a viewing prior to the start of the auction. This is when you need to take the time to thoroughly inspect and look over the gun you are interested in bidding on. [ALWAYS check to make sure the gun is unloaded. This is a mandatory move for every time you pick up a different gun. Always point it in a safe direction, too.] At this point, you might want to check the reference guide again, because guns are sold in levels of conditions. Now that you've surmised the condition of that firearm, you can predetermine how much you'll bid on it.
Most guns sold at auction are sold as is/where is, which means once the auctioneer says, "Sold!" it is the high bidder's gun – regardless of condition. The only time where this might not be the case is if the gun is being sold "subject to approval" or with a "reserve." If the auction is advertised as an absolute auction, then that means whatever the high bid is, the gun will sell. If it's listed with a reserve, that means that the seller has set a predetermined minimum bid that the gun must bring in order to sell that gun.
You'll want to dry fire, if possible, rack a slide back, pump it, or whatever applies. Look to see if any accessories or extra chokes or parts come with the gun, too.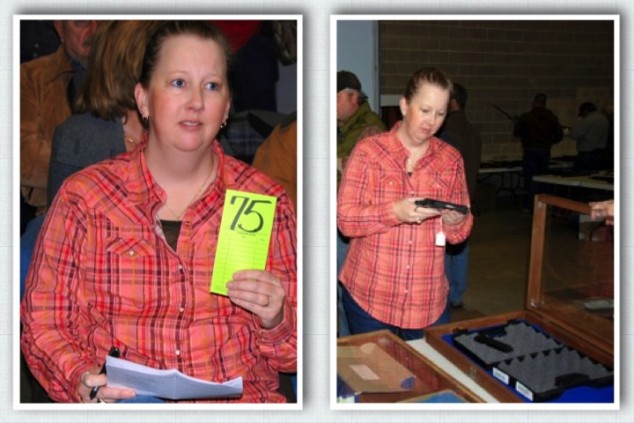 Bidding
First off, don't be afraid to bid. If you don't ever raise your hand to bid, you won't get a gun bought. Make sure the auctioneer or a ringman sees that you're bidding. A lot of people like to make bids by winking or just a slight nod of their head, and a lot of bids are missed because of these preferences. Make eye contact with the auctioneer or the ringman and raise your hand or bidder card so there is no doubt you are bidding.
Secondly, know when to stop bidding. If you've done your homework before the auction and inspected the gun, you should already know how much you are willing to pay for the gun. Don't get caught up in the fast pace and a bidding war. If you do, you will overpay for a gun and come to regret it.
Read the fine print
Always read the fine print and understand the terms of the auction. Some auctions charge a buyer's premium. A buyer's premium means that you will pay a set percentage on top of your high bid. This means that if you were the high bidder at $1000 and there was a 10% buyer's premium, you would pay a total of $1100. The auction company might have to charge sales tax on the guns also, but this should all be disclosed prior to the auction, along with forms of acceptable payment – cash, check and credit card. Some companies accept credit card, with a convenience fee being charged. All of these factors need to be considered when determining how much you are willing to bid for a gun.
Absentee bidding
If there is an upcoming auction with a gun you're interested in, contact the auctioneer before the sale. Most companies will allow you to inspect a gun and leave an absentee bid. This can also be done over the phone. A reputable auctioneer will give you a proper description of the gun and will handle your absentee bid for you.
Auctioneer
Remember, the auctioneer is there to represent and work for the seller. His #1 job is to get the gun to bring as much money as possible. That is how he gets paid. Most auction companies charge the seller a pre-arranged percentage to sell their items.
Just like any other business, there are good and bad auctioneers. Make sure the auctioneer and the auction company's sale you're attending has a good reputation. If so, you won't have anything to worry about when the gavel drops and you leave with a new-to-you firearm.
About Marti Davis

Marti Davis is a staff member for Browning Trail Cameras, WoolX and Mossy Oak. She is an authority on most types of hunting in North America, and very active in mentoring the next generation of young hunters. View all posts by Marti Davis →