Registration Now Open for March Becoming an Outdoors-Woman, Louisiana
The Louisiana Department of Wildlife and Fisheries (LDWF) will open registration Jan. 30 for 125 participants in the 27th Becoming an Outdoors-Woman (BOW) Workshop set for March 27-29, 2015.
Women throughout Louisiana and neighboring states can participate in this educational, hands-on outdoor skills workshop at Camp Grant Walker in the rolling hills of central Louisiana. Women 18 years of age and older who like the outdoors are encouraged to sign up for this three-day workshop.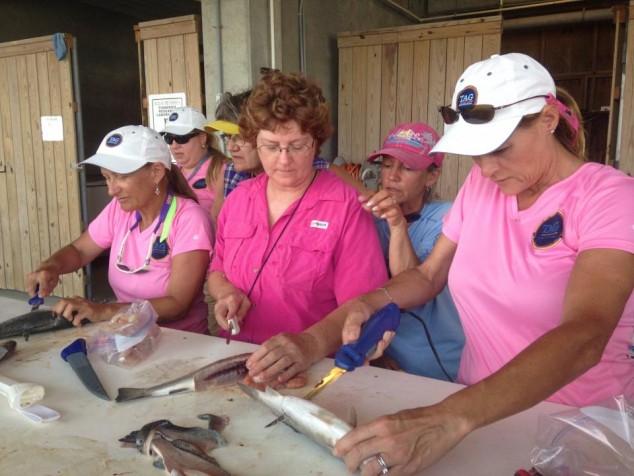 The $200 registration fee (check or money order only, made payable to the Louisiana Wildlife and Fisheries Foundation) which must be submitted with the registration form provides for instruction in four classes, program materials, use of demonstration equipment, lodging, meals and a T-shirt.
Participants can enroll in four classes from a selection of more than 30 topics. These subjects include deer management and hunting, shotgun, rifle, handguns, fly-fishing, kayaking, camping, archery, rappelling, fishing, boating/trailering, compass skills, outdoor photography, camp cooking and more. Expert instructors donate their time and skills in classes taught in and around the nearby streams, lakes, wooded ridges and forest trails at Camp Grant Walker.
Natural resource scientist Christine Thomas of the University of Wisconsin founded the Becoming an Outdoors-Woman program. She completed a survey in 1991 entitled "Barriers to Women Participating in Hunting and Fishing." It indicated that lack of instruction and encouragement were the main obstacles for women interested in learning more about the outdoors.
To receive a registration form contact Dana Norsworthy in Monroe at dnorsworthy@wlf.la.gov, (318) 345-3912 or Chad Moore in Minden at cmoore@wlf.la.gov, (318) 230-4352, or you can download the form from the LDWF website at http://www.wlf.louisiana.gov/becoming-outdoors-woman. The forms will not be available until Jan. 30, 2015. A completed registration form and registration fee must be returned by mail to the address provided on the form. Hand delivered forms will not be accepted.
Please review the new registration process and the course descriptions prior to filling out the form. Registration will be accepted until the workshop is full. All forms received after the workshop is full will be placed on a waiting list in case of cancellations. Fees for those who are not part of the 125 workshop group will be returned.
Join the fun and be one of those 125 women in the woods. Register for the Becoming an Outdoors-Woman Workshop and become skilled in something that you always dreamed about doing.
*Editor's note: Becoming an Outdoors-Woman is sponsored by LDWF and is a registered trademark, not to be confused with the Women in the Outdoors program sponsored by the National Wild Turkey Federation.
Read more: http://www.ammoland.com/2015/02/registration-to-open-jan-30-for-becoming-an-outdoors-woman-workshop/#ixzz3QglBkwUe
Under Creative Commons License: Attribution
Follow us: @Ammoland on Twitter | Ammoland on Facebook
About The WON

The Women's Outdoor News, aka The WON, features news, reviews and stories about women who are shooting, hunting, fishing and actively engaging in outdoor adventure. This publication is for women, by women. View all posts by The WON →