Holster Fashion Show a Great Way to Educate and Entertain
If you're looking for a way to introduce more women to the concept of shooting a firearm and carrying concealed, you might consider hosting a holster fashion show, which, as we found last weekend at the Firearm and Fashion Expo in Branson, Mo., appeared to be a great way to educate and entertain. The weekend's events felt the brunt of yet another winter snow and ice storm that swiftly moved into the southwestern portion of the Ozarks on Friday afternoon and basically shut down travel.
For the few souls left at the Expo (including Yours Truly), the show must and did go on. Our models appeared and we worked with a small, although enthusiastic, crowd who came out to support this fund-raising effort for the Southwest Missouri Chapter of The Well Armed Woman (TWAW). Pictured below are a few of the holsters we showed onstage, and yes, that's our Marti Davis in the mix. After the show, the audience could ask questions and examine the holsters that had been brought out from behind stage. We even auctioned a few of them off to raise money for TWAW's non-profit status fund.
Notes from the Show, with other holsters, too
A special thanks goes out to Stacy Bright, a firearms instructor and Concealed Carry trainer in southwest Missouri, who planned and then, coordinated this event. These are her show notes.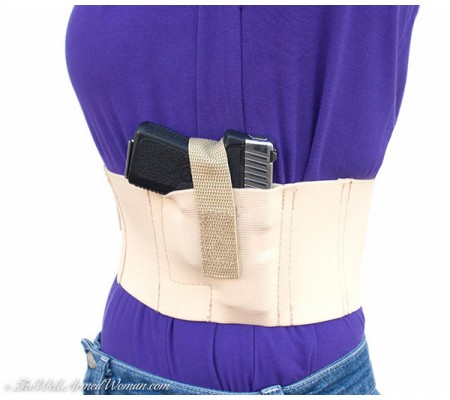 BELLY BAND – This woman's belly band holster is made by The Well Armed Woman and is one of the best and most versatile holster options for women. It is exactly what we need to effectively carry our firearms with the variety of clothing styles we wear. THE MOST comfortable belly band there is and THE ONLY BELLY BAND MADE FOR WOMEN! Women have shorter waists than men, so the typical 5″ or wider belly band can be cumbersome and uncomfortable. Finally a belly band holster designed for women. The Well Armed Woman Belly Band is made from top quality comfort elastic for all day wear. It is a comfortable 4″ wide and is available in both Natural and Black. It features multiple holsters and pockets for spare magazines or other items comes with removable retention straps. Universal, fits most all Firearm models and is Latex free.
MSRP: $40.99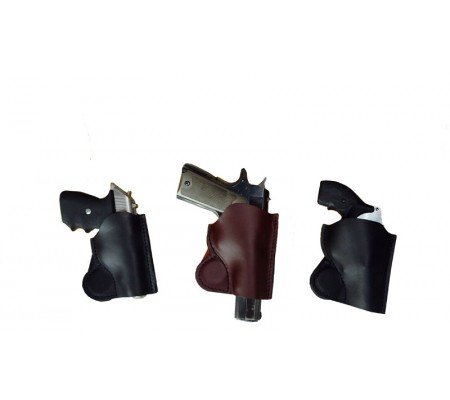 MAGNETIC HOLSTER – This holster is IDEAL for lighter weight pants/ sweatpants or skirts with no belt. The features a very body hugging design which is ideal for women as it lays very close to the hip with no handles jutting out. The magnet is amazingly strong so the holster does NOT slip! It also can be molded to your gun for a custom perfect fit. (Comes with complete and very easy directions) It also has a built in sight channel. It can be ordered for right or left handed shooters. These amazing holsters can be molded and formed to YOUR gun or used as is perhaps for multiple gun models of similar size. Can be worn on the waist on ALL kinds of pants/shorts and skirts including In The Pants and On The Waistband. Can be used as a pocket holster with its very sleek design. Use it in your car on any metal surface. Use it on the side of your bed – attach to metal bed frame. You can wear this holster IN THE PANTS TOO! Just buy the opposite side draw because you will turn it around to wear inside the pants. So… If you are right handed and want to wear it in the pants, order the LEFT HANDED model.
MSRP: $50.99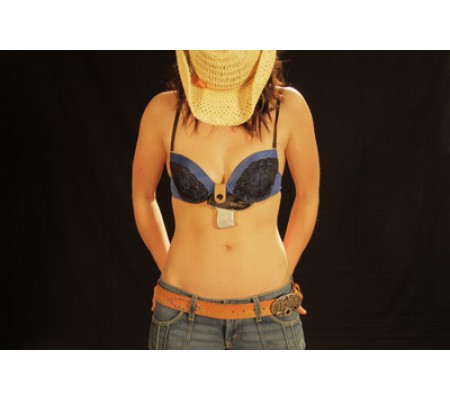 THE FLASHBANG – The Flashbang is a thermo-plastic, molded clamshell that snaps into place over small pistols and revolvers. It tucks underneath a bra band, where it is secured in place by both the band itself and a soft suede strap that snaps around the center portion of the bra between the bra cups. The open-bottom design of the holster allows the gun to be drawn simply by pulling straight down on the grip of the gun, while the suede strap keeps the holster securely attached to the bra. To draw the gun, use your weak-side hand to pull the hem of your shirt away from your body. Then pull straight down on the firearm with your shooting hand. Because of the way the Flashbang holster is made, the trigger guard is fully covered until the gun is pulled away from the body while at the same time allowing a full grip on the firearm. The Flashbang bra holster comes with three straps of different lengths to accommodate the majority of bras. Each strap has a directional snap that allows you to quickly put the holster on and take it off, but prevents the holster from being forcibly removed or accidentally knocked loose. ** Note: the Glock 26 & 27 are LARGER sub compact pistols and therefore, require 'bigger bust' to be able to conceal comfortably and properly. You will need to dress around these guns i.e. wear looser shirts etc. more than the other models due to the size of these pistols. Keep that in mind.
MSRP: $44.99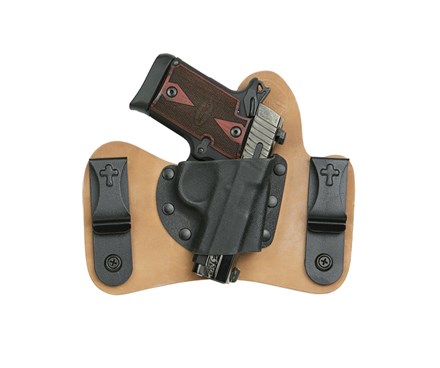 CROSSBREED MINITUCK IWB – The cleverly designed CrossBreed® MiniTuck® features the same comfort and concealability as the larger SuperTuck®; but on a smaller scale for compact carry pistols. This holster is ideal for deep concealment of a smaller pistol or for those with a smaller body frame. Designed exclusively and patented by CrossBreed® Holsters, the MiniTuck® is hand molded to fit each specific firearm listed. It features premium leather backing with a molded and mounted kydex pocket and includes a "combat cut" standard on each holster. Versatile for carry options, the MiniTuck® may be worn comfortably with or without your shirt tucked in – based on your personal carry style. Powder coated steel belt clips are modular, enabling you to adjust cant AND ride height. Three different leather selections and additional clip choices allow each individual to choose the combination of options that they prefer for their personalized, handcrafted holster.
MSRP: Base Price $67.75
THE AVA – Meet AVA, another Flashbang Holster – a leather and thermoplastic hybrid made to be worn inside the waistband. It features a soft, leather back piece that conforms to your shape. The back piece is lined with a rich, deep purple suede for comfort. It is also cut down to be smaller than the traditional men's style hybrid holsters, to better fit a woman's body- but guys love the Ava too! The clips are super-strong to hold the holster in place with or without a belt. They are adjustable and can be raised or lowered to create a total of NINE different cant and depth combinations! Totally customizable!! The AVA can be worn many different ways, so you can find the carry that works best for you and is most comfortable!
MSRP: $59.99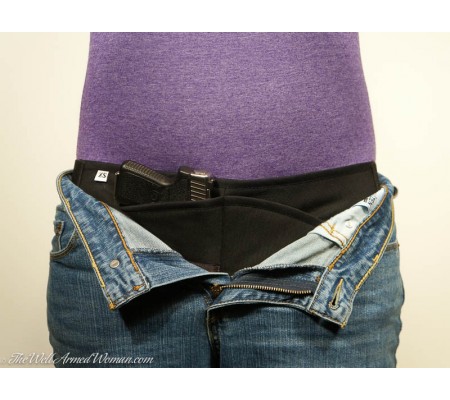 THUNDER WEAR PISTOL POUCH – The Well Armed Woman Pistol Pouch by Thunderwear was designed by a wearer, for a wearer. It provides a stable platform for the most comfortable, concealed carry possible. We anchor the weight around the hipbones, (not on the soft tissue of your waist). This distributes the weight of your firearm (and the tactical reload) evenly around the hips at the center of gravity. The firearm is worn in the front, on the centerline. This way it will not interfere with normal or rigorous physical activity, such as running or climbing comfortable. When you sit down, the firearm fits down in between your legs. "Sensitive" body parts are well out the way of the firearm. Worn on top of the underwear, under the pants or skirt.
MSRP: $47.99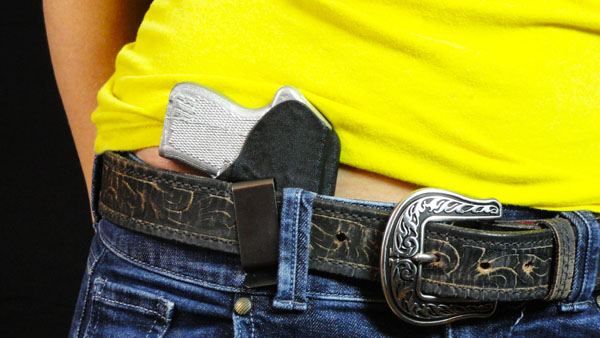 THE BETTY – From the creator of the Flashbang Bra Holster comes an in the pants holster that allows you to carry like a women. A tuck-able inside-the-waistband thermo-plastic holster with adjustable cant. Ideal for carry with or without a belt on any type of clothing with an accessible waistband. Can also be used to clip inside a purse, or to the top of a cowboy boot (with appropriate cover garment). (NOTES ON THE BETTY): Unlike the Flashbang which is another clamshell type holster which "snaps" tight around the gun, The Betty should be a little bit looser when you put it in the holster when it is off your waistband. Because it relies on the "tension" created between your body and your pants to get it to the right tightness, it will be a looser fit prior to clipping it to you pants and tightening the waistband. If it were completely tight before you put it on and tightened your waistband – it would be so tight you could not draw the gun from it. I hope this makes some sense; it's a hard thing to describe!!
MSRP: $44.99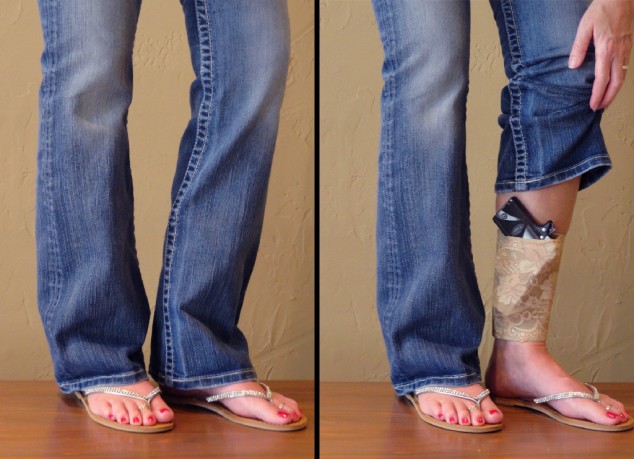 FEMME FATALE ANKLE – This ankle holster from Femme Fatale is covered in luxurious lace and features a hidden pocket to securely hold your handgun. The 5″ wide pocket accommodates a variety of firearms and allows for ambidextrous wear. The design also allows for the firearm to be positioned so that it is within the contour of your leg for more complete concealment. The closure is a single row of hooks & a single row of eyes. A hidden plastic shield between ankle and gun provides additional comfort.
MSRP: $40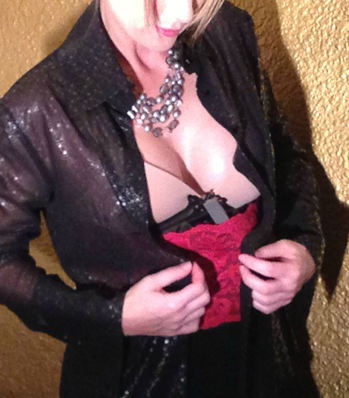 FEMME FATALE CORSET – Luxurious, embroidered lace covers 6″ wide corset elastic which fits comfortably just below your bra. A padded pocket in the front conceals your firearm, and the tension of the garment keeps it snug. The pocket is lined with a breathable, waterproof material to help kee perspiration and body oils off your gun. It accommodates a variety of gun sizes and allows for ambidextrous draw. The back has lingerie hook and eye closures, with three rows of eyes for a perfect fit. You may not expect a corset to be comfortable, but you'll be surprised! This lace is super-soft and comfy. And the holster positions the gun so snugly against your body that even the most petite ladies will get excellent concealability. Just keep in mind that this is a corset, designed to cinch the waist in, so it will be a snug fit. Holster pocket is roughly 5″ deep and 7.5″ wide to allow you the option to angle the firearm to your preference. Fits a variety of firearm sizes from sub-compact to full-size.
MSRP: $89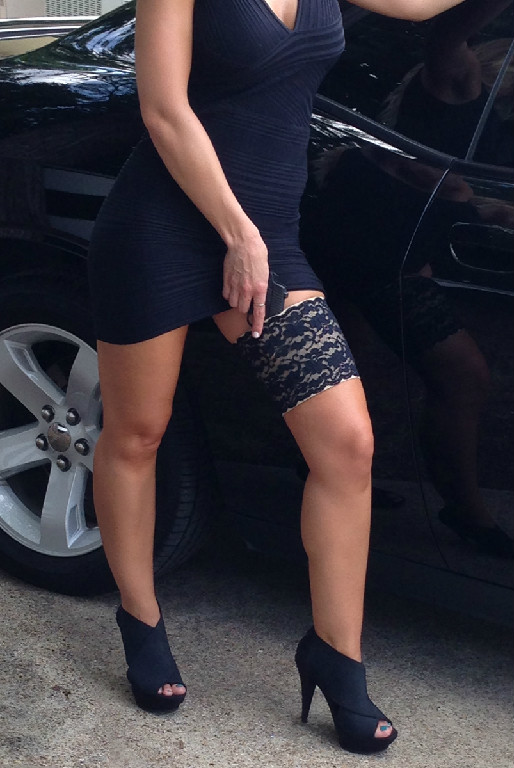 FEMME FATALE THIGH – This feminine thigh holster from Femme Fatale features 6″ wide, luxurious, embroidered lace. Silicone grippers along the top and bottom edges keep the holster securely in place. No need for an uncomfortable garter belt! Pocket is roughly 4.5″ deep and 4.5″ wide, to accommodate a variety of firearm sizes. What about Kilt-wearers? Yes, we can custom-make one for you in man-thigh size, without the lace! The holster was positioned lower on the thigh in the images, to allow for modest photography. You will want to push the holster up much higher. The holster will work on either leg – adjust to figure out what placement and height works best for you.
MSRP: $70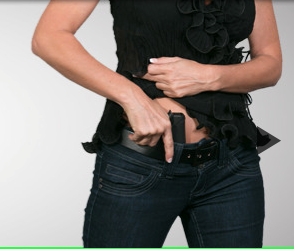 STICKY HOLSTER – These original holsters are IWB (In the waist band) holsters for concealed carry. The smaller sizes also work well for in the pocket use. The construction of the holster uses the pressure from your clothing waistband to secure both the holster and the gun. They don't come with clips or loops to secure it in place, as the outer "sticky" skin adheres to your waistband, undergarments and/or your skin. Sticky holsters has also developed these holsters into a modular system, where you can use it IWB, in the pocket, on your ankle using our ankle rig and for police officers.TAGUA IWB – This very versatile holster can be worn inside the waistband or on the belt. Being ambidextrous, it allows for left and right. Doubled stitched for strength and durability leather lined for added protection of your guns finish. Belt slots fits up to 1 1/4″ wide belts.
Prices vary.
CROSSBREED PURSE DEFENDER – Another member of the CrossBreed Modular family: The Purse Defender is designed to go inside your favorite purse or hand bag, so you don't have to buy a special conceal carry purse if you don't want to. The Velcro® Brand Fastener-lined Kydex panel fits securely in your purse or other bag, and keeps the gun and purse stabilized. This means that it will not spill over or cause your purse to tip like many purse holsters on the market today. Combined with our handcrafted modular holster, the Purse Defender ensures your firearm is safe, secure and always in the same spot in your purse or bag. The Purse Defender system comes complete with the L-Shaped panel, and a CrossBreed® Handcrafted Modular Holster. (For use with your own purse.)It is available in left or right hand and for a wide variety of small to medium sized handguns. The Purse Defender measures 9″ wide x 6″ tall with the base of the assembly being 3″ wide. The Purse Defender and modular holster come complete with Crossbreed's "Two Week, Try it Free Guarantee" and our Life Time Warranty.
MSRP: From $49.95 (small) and from $52.95 (large)
ON YOUR SIDE OWB – These outside the waistband holsters are made of kydex and molded to your specific firearm. Because it is so slim, it sits close to your body allowing a cover garment to conceal it easily. It rides comfortably while standing or sitting down and drawing and reholstering are simple and easy. Available in many different colors/patterns for both men and women!
Prices vary.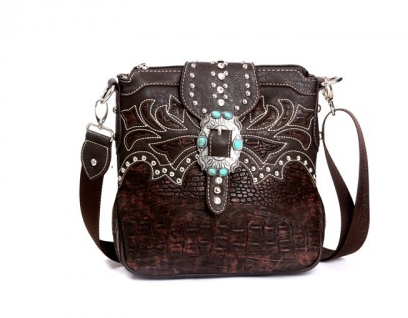 MONTANA WEST PURSES – Made of leather, this handbag has a zippered pocket on the back to conceal the handgun (8.5 x 5), and a single compartment divided by a medium zippered pocket. Also has zipper enclosure for the entire purse, a smaller zippered pocket on inside back, 2 open pockets on the inside front, and a cell phone pocket and a zippered pocket on the back. Comes in various styles and colors.
Prices Vary.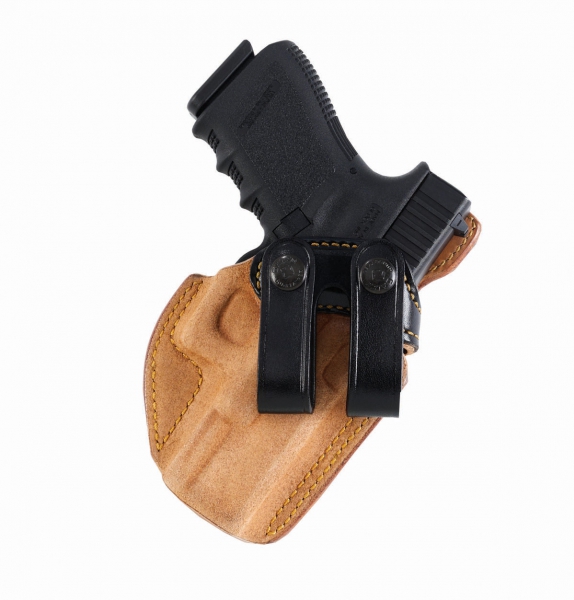 GALCO ROYAL GUARD – The Royal Guard™ offers the ultimate in comfort, durability, and versatility. Worn inside the pants, it allows real-world concealment of even a large defensive pistol. Made with the rough side of the leather facing out for the greatest degree of stability, the Royal Guard's innovative design creates a smooth leather pocket reinforced for sturdiness and protection, while also permitting unrestricted movement and easy reholstering. Combat grip accessibility, essential for speed, rounds out this most versatile of inside the pants holsters. Constructed of premium natural color horsehide, the Royal Guard fits 1 3/4″ belts, with an optional belt channel that fits 1 1/4″ belts. Made for semiautomatic pistols and double-action revolvers, the Royal Guard is available in right or left hand designs in natural finish.
MSRP: $136.95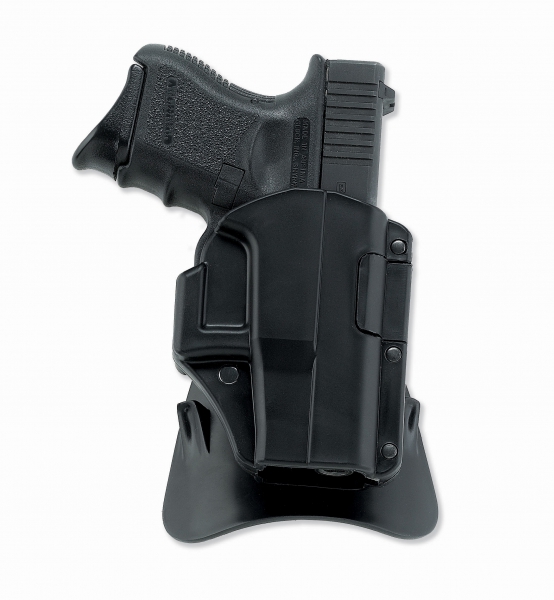 GALCO M4X MATRIX – Offering a high level of security but an extremely fast draw, the M4X ALH™ is the latest addition to Galco's Matrix™ holster line. Galco's patented locking device retains the pistol until the ergonomic and intuitive thumb-release lever is depressed, instantly releasing the pistol for a quick, smooth draw. Constructed from the same injection-molded thermoplastic as the other Matrix holsters, the M4X also maintains the same fierce durability and dependability. The locking mechanism has endured torture tests involving thousands upon thousands of draws, and is well-suited to hard, real-world use. The slight forward cant allows a fast and comfortable draw, while pulling the handgun in tight for good concealment.
MSRP: $44.95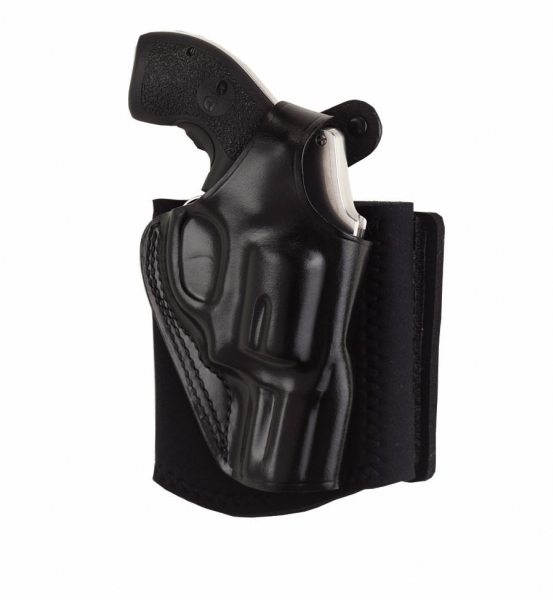 GALCO ANKLE GLOVE – The Ankle Glove's wide neoprene ankle band and Velcro closure offer extended wearing comfort and unmatched security. Additional comfort is provided by sheepskin padding between the holster and ankle. It also features a reinforced thumb break for speed of draw and detailed molding for firearm retention. The Ankle Glove may be worn with or without the optional adjustable calf strap (sold separately). Constructed of premium saddle leather stitched to a neoprene band, the Ankle Glove accommodates ankles up to 13″ in circumference. Made for semiautomatic pistols and double-action revolvers, the Ankle Glove is available in right or left hand draw in black finish
MSRP: $104.95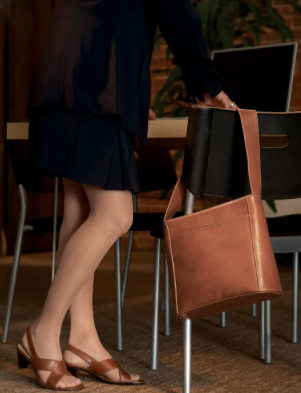 GALCO DEL HANDBAG – This is the go anywhere bag, crafted from full-grain, glove-tanned leather. The fully lined, divided main compartment includes a pocket for a cell phone, glasses, PDA, or other accessory, along with a zippered pocket for small items. An easily accessed outside front pocket offers additional storage for frequently used items. The strap is wide at the shoulder for additional comfort, with a solid brass, trapezoidal buckle. The Del's™ self-contained side-entry holster compartment accommodates most small and large-frame defensive handguns. Like all Galco handbags, it features a locking zipper for added security.
MSRP: $339.95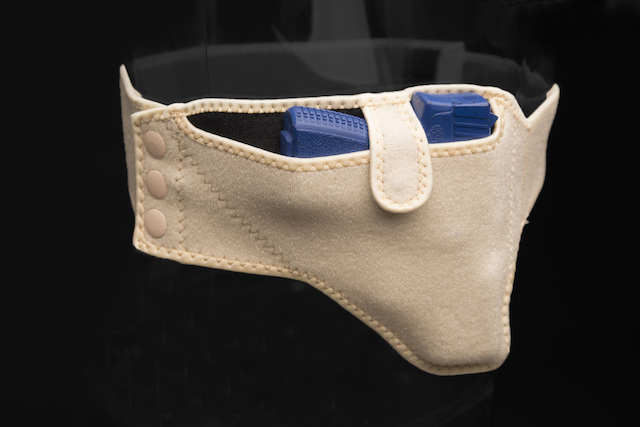 PISTOL WEAR TRUMP CARD MINI-HOLSTER– The versatile, unisex, concealment holster for concealed carry with casual, athletic, or professional dress attire. Designed for comfortable under arm carry, inside the waistband (IWB) carry or outside the waistband (OWB) carry. The Trump Card MINI concealment holster is very comfortable and it can accommodate a variety of concealed carry positions. It includes a unique multi-location adjustable support strap for under arm carry use. The strap can be placed anywhere on the concealment holster system to achieve the best fit for the user. Fits subcompact handguns less than 5.25 inches in length.
MSRP: $44.95
As you can see, there are many options for carrying concealed. Please feel free to let us know which ones you prefer and why.
About Barbara Baird

Publisher/Editor Barbara Baird is a freelance writer in hunting, shooting and outdoor markets. Her bylines are found at several top hunting and shooting publications. She also is a travel writer, and you can follow her at https://www.ozarkian.com. View all posts by Barbara Baird →
The Conversation