Bodie's Turkey Hunting Essentials for Women
In April, I had the pleasure of spending a week turkey hunting with 6 amazing ladies from across the country. The group, organized by Becky Lou Lacock of Becky Lou Outdoors, convened in Mound City, Kan., to pursue Eastern wild turkeys on a semi-guided hunt with outfitter Wheeler's Whitetails. Although I am an experienced upland bird, waterfowl and big game hunter, I am an admitted novice when it comes to calling in a big gobbler. This trip presented the perfect opportunity to learn from the other women in the group and find out from the them more about turkey hunting essentials for women.
The Vest
Amber Brandly, huntress and co-owner of 2VetsArms, recommends the Cabela's Women's Tat'r Turkey Vest for turkey hunting adventurers. Brandly favors the Tat'r Turkey Vest because it can carry everything she needs for the day. She says, "It has lots of storage and the most comfortable seat I've found on a vest. Comfort is important in the field." Brandly put her Tat'r Turkey Vest to work in Kansas as she packed out a beautiful, hybrid bearded hen taken on the second day of our hunt.
As a member of the Cabela's Pro-Staff team, I also carry the Tat'r Turkey Vest and agree with Amber's sentiments. The vest, made specifically to fit a woman's frame, is extremely comfortable. With fully adjustable shoulder and waist straps, it is easy to find the perfect fit. The front waistband boasts two large pockets to fit slate and mouth calls, as well as a shockcord-closing pocket designed to fit a box call. An external pocket on the rear of the vest is sized to fit a water bottle, although I find it also fits my Thermacell quite nicely.
The Cabela's Women's Tat'r Turkey Vest is made in Cabela's Zonz Woodlands camo pattern and is available in 2 sizes: S/M and L/XL. The vest is available for purchase at Cabela's online store and retail locations nationwide. MSRP $99.99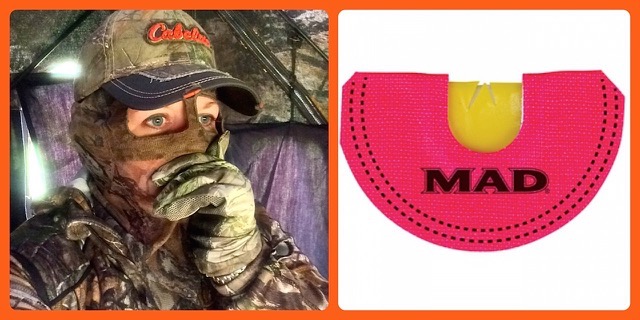 The Call
Prior to my trip, Flambeau Outdoors sent me its new MAD Pink Panther Diaphragm Call to test in the field. The Pink Panther is designed with a small frame to fit a lady's smaller pallet. Clearly designated trim lines helped me fine-tune the call, finding the perfect fit to the roof of my mouth. It didn't take much practice before I was able to work the call, producing a clear, realistic sound.
On the first morning of my hunt, offering up a simple cluck, the Pink Panther helped me call in a large bearded hen to just under 15 yards. With the hen in site I put my 20-gauge shotgun to work, tagging my first Eastern wild turkey!
The MAD Pink Panther Diaphragm Call is currently available from select retailers. Contact Flambeau Outdoors to locate the retailer nearest you. MSRP: $7.99
Insect Repellant
The best offense is often a good defense. With this in mind, I treat all my hunting clothes, vest, boots and other gear with Sawyer's Permethrin Premium Insect Repellant before packing for any hunting trip; this turkey trip was no exception. One 24-ounce spray bottle is sufficient to treat 4 complete hunting outfits, with each treatment lasting up to 6 full weeks. From prior experience, I know this easy to use, odorless spray helps keep pesky mosquitoes and ticks at bay.
After the successful harvest of my bearded hen, my guide assisted me with taking pictures of my prize. When we were done with our impromptu photo session, the guide picked several fresh ticks off his legs. His finds made me nervous as I had a bad experience with ticks just this past summer. Thankfully, my forward thinking and use of Sawyer's Permethrin spray worked. Although I had been sitting directly on the ground in the same area as my guide, I did not have a single tick on me (nor did I find on any me the balance of the trip.)
Sawyer's Permethrin Premium Insect Repellant is available in a variety of sizes ranging from 6-ounces to 24-ounces, and can be purchased from major retailers nationwide. Find a local retailer here. MSRP: $17.99 (24-ounce spray)
The Camo
Kara Jo Lorenz, president of the Camo & Pearls Chapter of the National Wild Turkey Federation, also found success on our hunt. She credits a portion of her hunting accomplishments to the Ultra Long Sleeve Shirt from Próis Hunting and Field Apparel for Women. "The shirt offers a perfect fit," Lorenz comments, "and I appreciate that it comes in camo patterns as well as solid black. I can wear camo if I am in the field, but black helps me blend in if I am sitting in a blind."
Fully camouflaged in the Ultra Long Sleeve Shirt, Lorenz successfully called in what is perhaps a record-Eastern killed by a woman in the state of Kansas. The big tom weighed in at 19.2-pounds, with 5 beards totaling 38-inches in length, and 1 5/8-inch spurs.
The Próis Ultra Long Sleeve Shirt comes in Realtree AP, Realtree MAX1 and Black, is available in a variety of sizes, ranging from XS to XL. The Ultra Long Sleeve Shirt can be purchased directly from the Próis website. MSRP: $56.00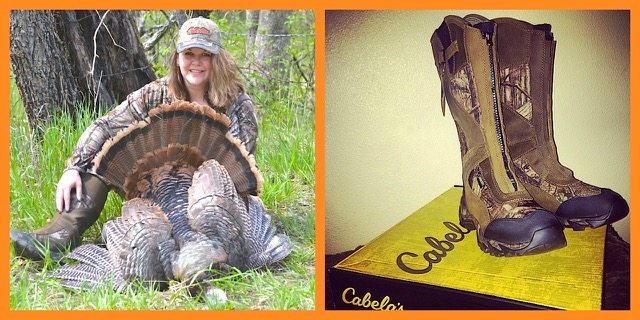 Snake Boots
Prior to my trip, Cabela's provided me the Women's Pinnacle Zipper Snake Boot to keep me protected in the field. The majority of my hunting adventures are in the Pacific Northwest, where snakes are not generally a concern. However, snakes must be contended with in Kansas.
Each time I've worn the Pinnacle Snake Boot, I have been impressed by its comfortable fit, which required no initial break-in period. The soles provide sufficient traction, and the uppers zip snuggly closed, leaving enough room to keep pant legs tucked in without unnecessary bunching.
Huntress Jody Geistweidt, of Texas, is accustomed to hunting in snake territory and provided me with sound advice. "Where I hunt turkey there is a lot of thick brush and a lot of snakes. It's a safety thing," Geistweidt warned. "Snake boots offer necessary protection. You'll need them." I didn't realize until the second morning of my hunt how appreciative I would be for Geistweidt's advice.
Walking out of my blind for lunch, a commotion just off the trail caught my attention. A hen turkey was tussling with a snake! I am not certain why the hen was battling the serpent, nor was I able to positively identify the species, but I was thankful she had alerted me to snakes in the area.
Shortly after returning from lunch that same day, I was joined by several turkeys walking in on the same path. It wasn't but a few moments after spotting the birds that I pulled the trigger and shot a rather large jake. After my morning encounter with the snake and the hen, I was overly cautious as I approached to tag the bird and gather him up from the field. Although the snake I had spotted was likely not poisonous, there are a number of venomous species in Kansas, of which any hunter should be aware.
The Cabela's Women's Pinnacle Zipper Snake Boot, offered in Mossy Oak Break-Up Infinity, pattern, is available in women's sizes 6 through 10. The Pinnacle Snake Boot is available for purchase at Cabela's online store and retail locations nationwide. MSRP $199.99
The Right Mindset
According to huntress Kimberlee Snyder, of Virginia, "Patience is the most important thing to bring on a turkey hunt, although it is the one thing you can't buy at the store." Snyder proved patience pays off — after sitting in a blind for a day and a half before finally calling in a big gobbler. After watching the beast work the area and strut for over half an hour trying to impress an approaching hen, Kimberly took a clean shot at the 26.5-pound bird, that boasted a 10-1/2-inch beard and 1-1/4-inch spurs. Snyder commented that she, "could have given up earlier, but I didn't, and it sure paid off!"
What essential gear do you take with you in the field turkey hunting?
About Michelle Whitney Bodenheimer

An experienced huntress, Michelle Whitney Bodenheimer has pursued big game, upland birds and waterfowl throughout North America and Africa. Although Michelle loves to hunt and shoot (both rifle and bow), her biggest passion in life is sharing her love for the outdoors with others. Michelle is the dedicated gear review columnist for Women's Outdoor News, in a column called "Her Gear." Michelle's writings and photography also have been published in a number of outdoor journals, including On Target, Lady Angler, The Gun Dog Journal, The Shooting Channel and African Hunting Gazette. Michelle has been a repeat contributing guest on Outdoor GPS,a live hunting and fishing television program broadcast on Comcast SportsNet NW. When Michelle is not writing, she is serving her time as an outdoor educator. She is an active volunteer for the Oregon Department of Fish and Wildlife (ODFW) Outdoor Skills Program. Her primary responsibilities with ODFW are serving as a shotgunning coach and dog handler/guide for ODFW's upland bird hunting clinics. Michelle also teaches regularly for Women in the Outdoors (WITO) and Becoming and Outdoors Woman (BOW) programs. She serves on the Pro Staff team for Cabela's, as well as for the NW Ladies Hunt Camp, an educational outreach program hosted in conjunction with the NRA's Women on Target Program and Extreme Desire TV, and is a member of the field staff for Próis Hunting and Field Apparel for Women. A current member of a number of national conservation organizations, Michelle is a life member of the Rocky Mountain Elk Foundations, as well as a life member of the National Rifle Association. She also served as a past director for the Southwest Washington chapter of Safari Club International. Take caution, however, if Michelle invites you along on a hunt. Having been stalked by a cougar and attacked by a cheetah, she tends to live life a bit on the wild side. View all posts by Michelle Whitney Bodenheimer →