Marti Davis Afield: Turkey Gear that Works
Marti Davis took a bunch of new turkey gear afield on her annual turkey pilgrimage to southern Illinois. She did not feel disappointed, and tells you why this gear works. As a bonus, she added a few tried-and-true gear pieces that she will never leave home without, too.
A while back I told you all about some new gear that I was looking forward to putting to the test in the spring turkey woods. Here's the 411 on some of those items and a few more.
Recently I spent my spring vacation over in Pinckneyville, Ill., turkey hunting on a friend's family farm. The birds were henned up pretty bad and what little bit they were gobbling was only on the roost. My game plan was to go to a known roost area; set up my decoys and wait them out. Patience was one of the keys.
The fourth morning of my hunt, I set up on the edge of a big field with a hen and a strutter decoy set out in front of me. I heard one gobble before the birds flew down. Even though I couldn't hear them, I knew they had to be in the area with me. So, about every 15-20 minutes I would call to remind them I was still there and waiting. Finally, a little before 11 a.m., I looked down along the tree line to see a hen feeding my way, with a long beard in tow. When they got about 60 yards from me, that long beard broke away from the hen and came running in to fight my strutter decoy. When he got about 2 steps from the decoy I dropped the hammer on him. The mature gobbler weighed 21 pounds, had a 9-½-inch beard and 1-½-inch sharp hooks.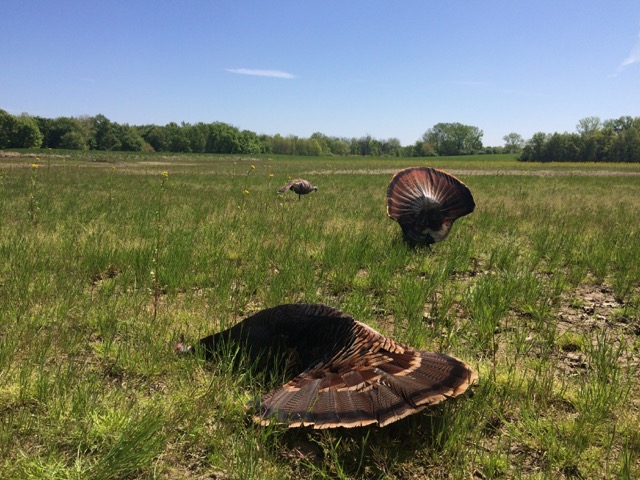 Miss Purr-fect
The Miss Purr-fect is a new portable 3D hen decoy from Montana Decoy. This realistic looking hen is constructed of feather cut fabric and printed from a live turkey photo. The head on Miss Purr-fect can be posed in either a feeding, breeding or looking pose. The best thing is that she compresses nearly flat to fit neatly in your turkey hunting vest without bulk. MSRP: $49.99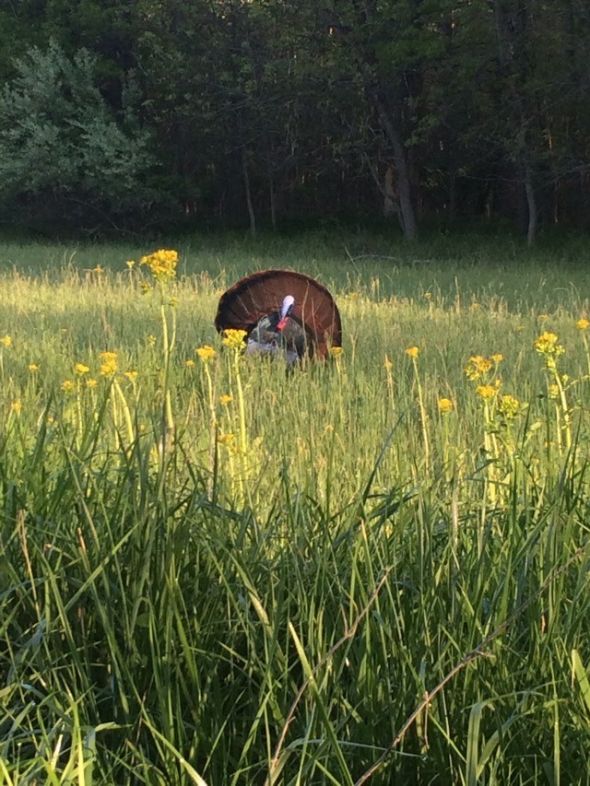 I paired Miss Purr-fect with Papa Strut, Montana Decoy's 3D strutter decoy. This decoy also compresses nearly flat to make it fit neatly in your vest. Photo printed from a live turkey, this tom, as reference above, will draw those dominate birds in. I usually set this strutter up either on top of a hen decoy or a few steps behind her. When the other toms see this combination, they come on in looking for a fight, but in reality they're just getting into range for you to knock them out. MSRP: $49.99
FOXPRO Crooked Spur turkey calls
Like most turkey hunters, I like to carry a variety of turkey calls in my vest. FOXPRO came out with a line of turkey calls this spring. I prefer pot calls and diaphragm mouth calls. So this spring I took the Crooked Spur slate pot call (MSRP: $59.95) along with the Crooked Spur combo set (MSRP: $24.95) of mouth calls and the Pink Fang (MSRP: $12.95) mouth call.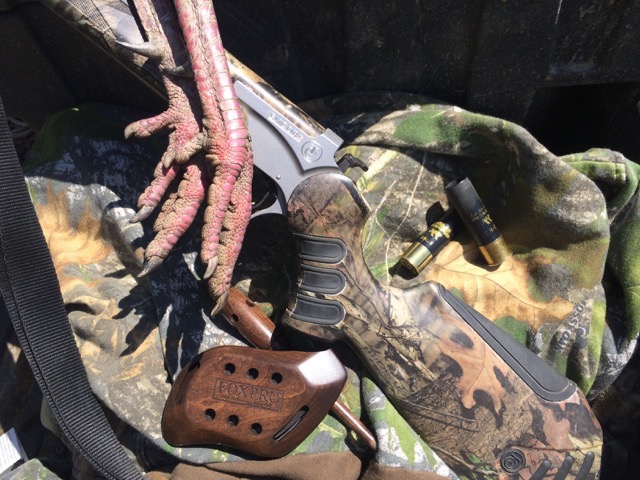 The Crooked Spur slate is not shaped like your usual pot call. I like its ergonomic shape because you may hold it in either hand, and it's small. But, don't let its size fool you. Sound ports on the top and bottom of the pot for increased sound allow those sweet soft tree yelps and calming purrs to travel a good distance.
The Crooked Spur series mouth calls have a printed design, making it easy to see which way to insert them; in addition the calls come in unique colors to easily distinguish which call you're choosing. These mouth calls can give you a variety of tones, pitches and realistic sounding calls.
For those hunters needing a smaller framed call, I'd recommend the Pink Fang, such as our Bodie used over in Kansas recently; it has a narrower frame than the others.
WoolX premium wool base layers
WoolX is a company I recently heard good things about and I received a set of Merino wool midweight base layers just in time for my turkey hunt in southern Illinois. You wouldn't think you'd need base layers in the Midwest for a spring hunt. But, most mornings started out in the mid- to high-30s and I was happy I had these base layers to test out.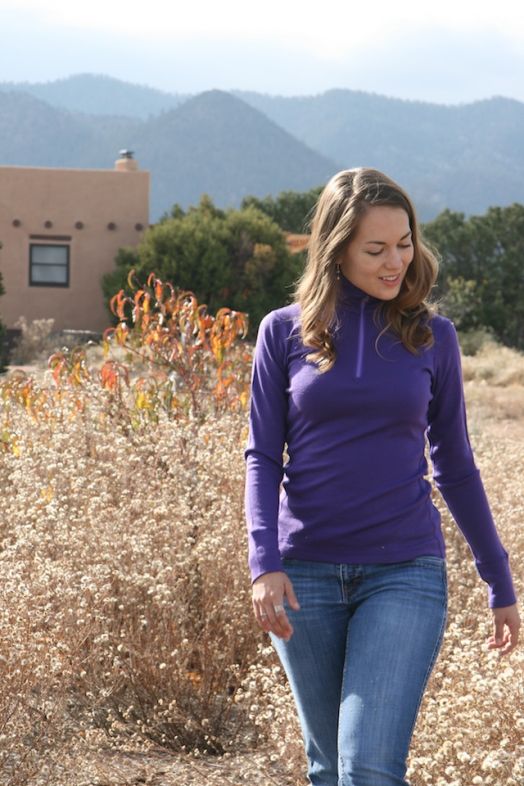 I wore the X-Plorer midweight top (MRSP: $89.99) and thermal underwear bottoms (MSRP: $89.99), in addition to the neck gaiter (MRSP: $34.99) and the socks. (MRSP: $22.99) All of these pieces are made from 100% Merino wool. When you mention wool, most people think scratchy and uncomfortable. These WoolX products are anything but uncomfortable. They feel soft, smooth and absolutely do not itch. I also appreciate the ease of care attached to this outdoor apparel. All of these pieces can safely be washed and dried without any shrinkage.
In addition to the WoolX women's midweight line, it also offers a heavyweight base layer line. I've heard they are also coming out with a women's lightweight line later this year.
Other proven turkey gear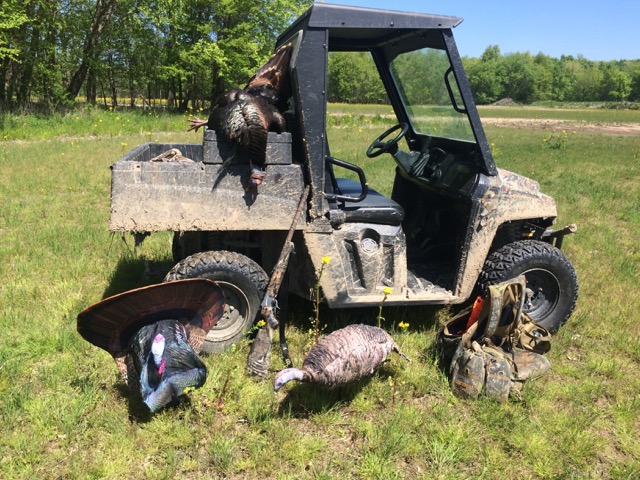 In addition to these great products listed above, I've listed a few other pieces of gear that helped me tag that great big bird.
*Winchester Long Beard XR turkey loads, 12 gauge, 3-inch shells, #5 shot size. The combination of tight patterns and extended range make for a great turkey shell – one of the many reasons I trust Winchester ammunition. MSRP: $19.99 for a box of 10.
*Mossy Oak Camo in Obsession is a great pattern for spring when everything is green. In fact I blended in so well that deer wandered within 15 yards of me while turkey hunting from the ground.
*Thompson/Center Arms Encore Pro Hunter with the 24-inch, 12-gauge turkey barrel and extended turkey choke. This has been my turkey gun for several years. In fact, I have a semi-automatic shotgun, but I keep coming back to my ol' reliable T/C. Paired up with the Winchester XR loads, the dynamic duo can make longer shots on those birds that hang up a little farther. MSRP: $892
*Bushnell Elite 10×42 binoculars are always in my pack, no matter what season I'm hunting. The o-ring seal makes them waterproof, fog proof and dustproof. I love the clarity and comfort of these rugged binos. MSRP: $699
*Cabela's Tactical Tat'r Kickstand turkey vest is one of the most comfortable vests I've used. The metal frame kickstand lets you set up anywhere. In addition to the 3-inch bottom cushion, the back also comes padded for comfort. There are plenty of pockets for calls, shells and such. In addition there is a large pouch on the back for stuffing decoys. MSRP: $139.99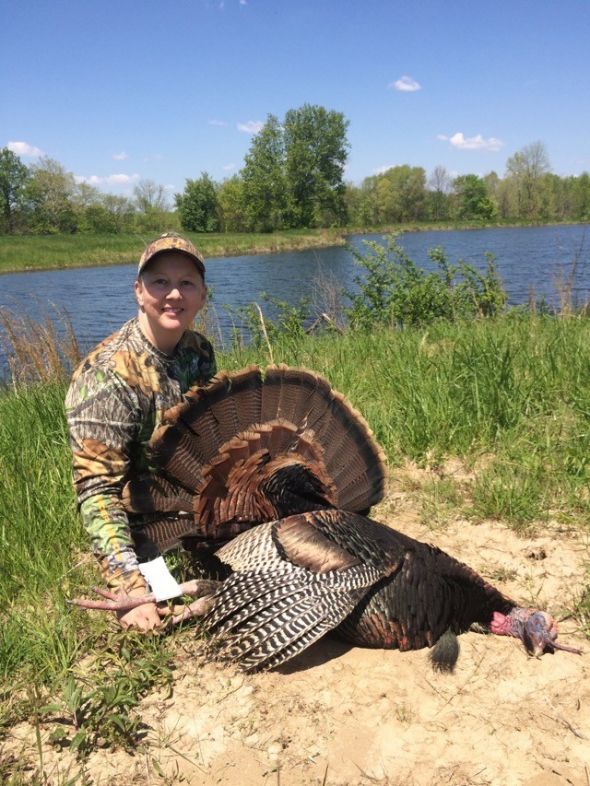 About Marti Davis

Marti Davis is a staff member for Browning Trail Cameras, WoolX and Mossy Oak. She is an authority on most types of hunting in North America, and very active in mentoring the next generation of young hunters. View all posts by Marti Davis →