Meet the First Lady of BladeSports, Jessica Elias
Have you ever attended a competitive cutting event? If not, you might soon have an opportunity to do so. BladeSports International Inc, a Texas non-profit corporation, promotes knife safety, provides workshops and competitive cutting events for its members, and informs and educates the public with regard to the safe use of a knife as a tool. And if you're lucky, you might get to meet the "first lady" of BladeSports, Jessica Elias.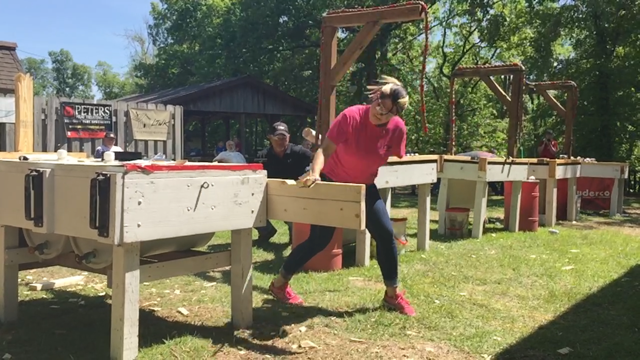 What in the wide world of knives is BladeSports?
Competitors use an approved knife with the blade length being 10 inches measured from the front of the handle to the blade tip; the overall length being 15 inches, measured from the back of the handle to the blade tip; and the blade width being 2 inches measured at the widest part of the blade.
This timed event, which involves both power and finesse, begins with competitor chopping a 2×4 in half. This is then followed by cutting any of these items: hanging ropes, rolling golf balls, full bottles of water, cans, tennis balls, drinking straws and more.
This past May, the Ozark Folk Center State Park in Mountain View, Ark., hosted the Nationals for the BladeSport competition. For the first time in the competition's history, a female competed at the national level. Yes, Jessica Elias did so well she will now compete for the World Championship at the Blade Show in Atlanta, Ga., from June 5 to 7. I had the opportunity to chat with the 29-year old, who hails from Wintersville, Ohio, and find out more about this sport.
Michelle: When did you get involved in the sport and why?
Jessica: A year ago when I started working for L.T. Wright Knives as a creative director, my boss, LT, asked me if I would like to train and get certified to cut in a competition. We both thought it would be a good idea to surround myself with as many things as I could to learn more about the knife industry and people. So I decided to train and compete in the cut.
Michelle: Do you have a practice/training routine?
Jessica: Training is hard with my schedule, so I usually practice after work 3 times a week when it gets closer to a competition. I try to work on more of the harder cuts as often as I can. Usually those are the cuts that require finesse or more hand/eye coordination – such as as the straw cuts or ball cuts. Then. every other time, I will work on the 2×4 and bottle cuts.
Michelle: What is your favorite part of this sport?
Jessica: Oh, the people! Everyone is just so wonderful. The people involved with BladeSports are compassionate about the sport and what they are doing. They not only love to cut and show their knives off, they also are more then happy to help out another cutter or do whatever it takes to grow the sport.
Michelle: What is your favorite stage of the competition?
Jessica: Who doesn't love the water bottle cut? … To take your knife and slice right through a bunch of lined-up water bottles is so awesome! You get to see not only water flying everywhere, but also just how sharp that knife of yours really is.
Michelle: Do you think more women should consider getting involved?
Jessica: Yes, of course I do. This sport is more then just about strength by hitting a 2×4. This sport is about skill, technique and finesse also. These are some traits that most women can excel at easily. I would love for more women to be involved.
Michelle: How would they get started?
Jessica: An individual who is 18 years or older can attend a school to become certified or do individual training with a certified instructor. This process has to be completed in order to cut in a BladeSports competition. More information is available at www.bladesports.org. Trainers will teach you about everything you need to know, most importantly about safety. They teach you proper ways to cut and go through the whole course. At the end of the training, the trainers will certify each new cutter and BladeSports will keep records of that so you can go on to different cuts around the world if you would like.
Michelle: What do you like to do in your free time?
Jessica: Free time? I like to stay busy so I do not have too much free time. I am usually bouncing around to go see my friends and family; they all mean so much to me. I love to work on things around my house that will keep me busy for days. What I love to do most of all is go with my boyfriend and to ride our quads. We love to go either out on the trails behind our house or go to Renegade Ridge (a ride throughout the year that is held close to our house), or get out to our local sportsman's club to ride and have a picnic.
Visit L.T. Wright Handcrafted Knives.
About Michelle Cerino

Michelle Cerino, aka Princess Gunslinger, entered the firearms industry in 2011 when Cerino Training Group was established. She immediately began competing in both 3-Gun and NRA Action Pistol, becoming a sponsored shooter. Michelle is currently a columnist and Managing Editor of Women's Outdoor News, as well as owner of Pervenio LLC. She also manages social media for Vera Koo and GTM Original. Michelle encourages others to step out of the comforts of home and explore. View all posts by Michelle Cerino →