July is a special time for fans looking to follow one of the world's most physically demanding races. There are epic climbs in the mountains to look forward to, incredible battles between protagonists during each stage and complex tactics and teamwork. Plus it passes through the spectacular rugged beauty of the Alps. No, we're not referring to the Tour de France but another race, even more demanding and just as exciting – the Red Bull X-Alps.
Here are 10 reasons why you need to follow the race and bookmark your browser to Red Bull MOBILE Live Tracking. And clear your diary – the race starts on July 5.
1. The best desktop distraction invented yet – Live Tracking. A race this tough and this long means seriously gripping competition and drama. Red Bull MOBILE Live Tracking lets you follow the action in real time while a constantly refreshed news feed provides the latest images, videos and updates from the race and athletes from 05:00 to 22:30 every day. Choose your view between 3D routes in Google Earth or with topographical mapping. You can also see weather overlays, thermal hotspots and analyze tracks in more detail with the time-slider. Warning! Live Tracking is seriously addictive! Watch it here.
2. Powertraveller Prologue. New in 2015 is a one-day prologue on July 2 in which athletes take part in a hike-and-fly battle around the spectacular lakes and mountains of Fuschl am See in Austria's Salzburgland region. It's a unique chance to experience the race up-close and is set to be a real spectacle for fans. The first three athletes each gain an additional Led Lenser Nightpass and a five-minute headstart on the main race start on July 5.
3. Its appeal is its simplicity. Every kilometer has to be covered by human power, whether running on foot or paragliding in the air. Says race mastermind Hannes Arch: "You start in Salzburg and whoever arrives in Monaco first wins. That's it. It's about body and soul, not hundreds of rules and regulations."
4. Athletic performance to inspire and humble. Consider this: athletes race for 17h 30m every day for up to two weeks and cover phenomenal distances daily. In 2013 Toma Coconea (ROU) hiked 115km in a day, while both Christian Maurer (SUI1) and Clement Latour (FRA1) flew an incredible 190km non-stop. Check out the infographic for more rad stats.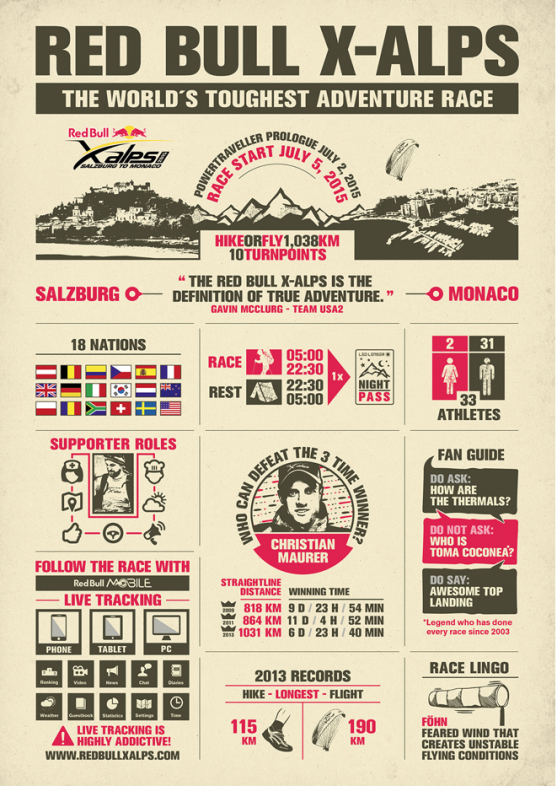 5. Be taken on a wild ride across Europe's most spectacular scenery. If you have a soft spot for dramatic, sky-piercing mountains and traditional alpine culture then the Red Bull X-Alps 2015 will blow your mind. The race route covers some of the most stunning peaks and valleys across Austria, Germany, Italy, Switzerland and France. Take a ride along the route in this 3D animation and discover the 10 Turnpoints here.
6. It's not all muscle and lung power. No other race requires such a high performance in so many different skill areas, such as mountaineering, paragliding and decision-making under stress. It's arguably more physical than the Tour de France, yet involves a level of strategic ability comparable to an America's Cup sailing race.
7. It's a team race that celebrates the values of comradeship. Also like a sailing race, each athlete has a tactician working furiously behind the scenes, plotting routes, measuring conditions and giving flight and weather advice and more – the supporter. But their job is much more: "I'm motivator, mum, dad, cook, meteorologist, team-mate, driver, masseur, Sherpa and sometimes the guide," says SUI2 supporter Martin Muller. Discover why supporters are the unsung heroes of the race here.
8. 'Chrigel the Eagle'. Sometimes a sport produces someone who is way ahead of the game, who even the other athletes look up to. Christian Maurer (SUI1) is one. He is the undisputed champion, the three-time winner and current course record holder. Even non-paragliders are amazed by what he can do in the air. Check out his winning stats on the infographic.
9. The race legend, Toma Coconea (ROU). He only speaks a few words of English but his actions speak louder than any words. Toma is the plucky underdog who has competed in every single race since 2003; he's the indomitable spirit who refuses to give up, even against medical advice. Famed for his running endurance, in 2011 he ran a total of 981km – and still came 2nd. He has the record for the longest distance hiked in a day for 2013, an incredible 115km.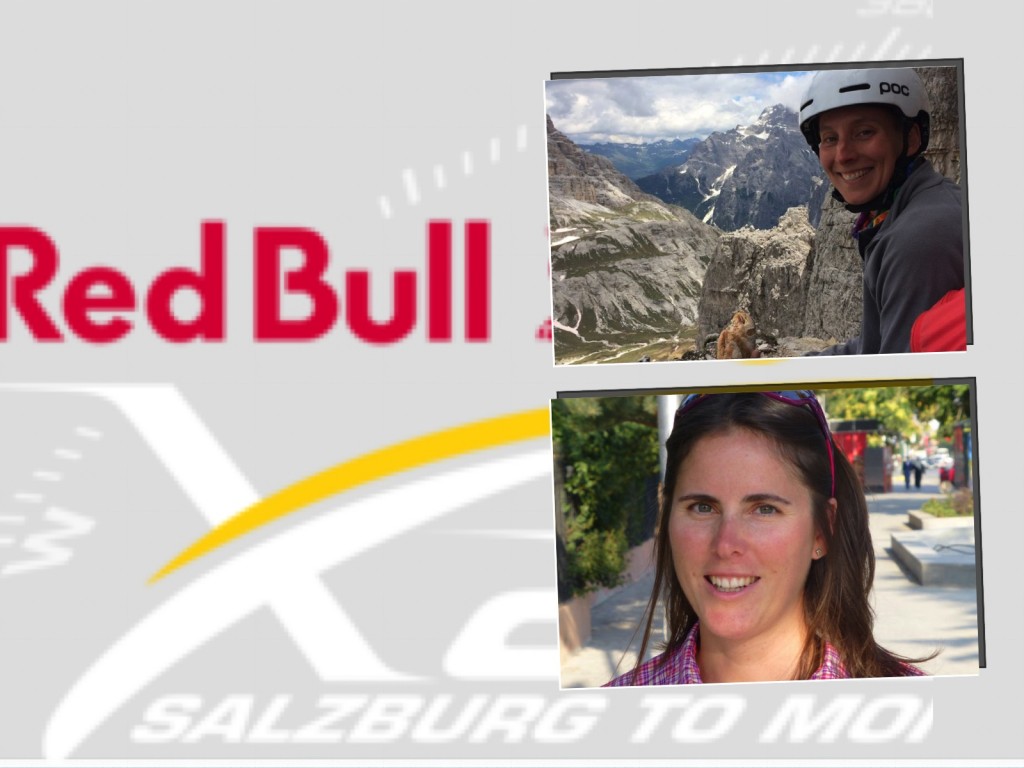 10. There's someone for everyone. With 33 athletes from 18 nations taking part, there's an athlete for everybody! From lone wolf adventurer Dave Turner (USA4) to Korean dragon Chi-Kyong Ha (KOR), from 23-year-old Nelson de Freyman (FRA4) to 52-year-old Steve Nash (GBR), there are also two women taking part for the first time in a decade, Yvonne Dathe (GER2) and Dawn Westrum (USA3). Meet the full line-up here.