Register for Inaugural GI Jane Match in Texas this October
The Fusion Action Shooting Team – FAST – is proud to host the inaugural Ladies Handgun Championship, aka the Inaugural GI Jane match! The purpose of the match is to help bring more women into the action shooting sports, while also raising money for a worthy cause. Our charity this year is Camp Cope, which helps children of veterans/active duty military personnel deal with issues related to having a parent in the military.
What: Ladies Handgun Championship aka the GI Jane Match
When: Saturday, October 17th (RO's and male staff will shoot on Friday, Oct. 16th)
Cost: $175 for female shooters (male staff will shoot free the day before, but will need to purchase a banquet ticket for $40 if attending banquet/after-party)
Where: Rosenberg, Texas at the KELLC Ranch/Area 59 Range
This event will be a USPSA-style match with six stages and two side matches. The registration fee will cover the six stages, the award/dinner banquet that evening, the after-party following the banquet, and a dogtag necklace with the shooter's name as match ID. The two side stages will be an additional small fee, and funds from the side matches will go to Camp Cope. Our theme this year is GI Jane, and the range will be decked out to resemble a military field operation. We will have a renovated hummer with a minigun on a turret at one of our side matches – the other is yet to be determined – and we hope to have other military vehicles available that day, as well.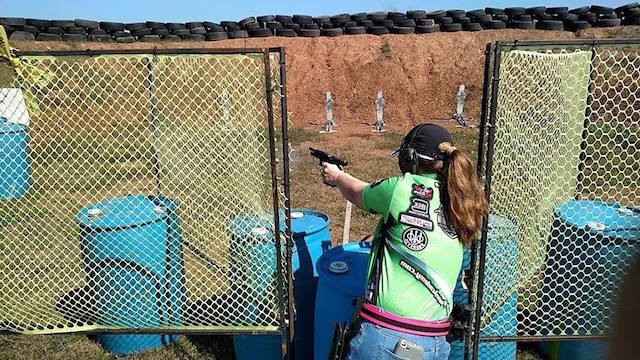 We want to stress that although "Championship" is part of the event name, this match is for ALL women who shoot, even those that have never participated in a match before. We will even have a Rookie Squad just for those ladies that are brand new and want to walk through the course and get basic assistance. The stages will be challenging enough, though, for the more experienced to have a fun run at taking 1st place. Awards, and the random prize drawing, will be presented at a banquet held at the Rosenberg Civic Center Saturday evening, beginning at 6:00 pm, and dinner is included in the registration fee, as well as a party following with adult beverages, dancing, and fun.
We will also have a photographer at the match and a bay set up for individual or group photos with your favorite gun/friend/man, etc. Photo packages will be priced and ordered separately. Sponsors to date are: Glock (two pistols and swag), Sig Sauer (one pistol), Kel-Tec (two pistols), Offhand Gear (t-shirts and gift certificates), Zip Nac (zipline tour for two), and Eggleston Bullets (ammo with colored bullets), Rebecca Creek Distillery (creating two custom cocktails for us and providing the alcohol for them), Pedernales Brewing Company (providing beer for the after-party), and we are announcing new sponsors almost every day.
Pending: Gabby Franco is working on possibly setting up a precision shooting class for ladies on Friday, the 16th, for those that can come in earlier. More details to come soon.
Contact:
Cathi Bray
www.FastShooters.com
Registration link: https://clubs.practiscore.com/ladies-handgun-championship-gi-jane-match/register
About The WON

The Women's Outdoor News, aka The WON, features news, reviews and stories about women who are shooting, hunting, fishing and actively engaging in outdoor adventure. This publication is for women, by women. View all posts by The WON →