The Pope & Young Club announces a 'Ladies Only' membership drive
Chatfield,MN – July 2015 – The Pope & Young Club is proud to announce their 2015-16 "Ladies Only" membership drive. All ladies joining the Pope & Young Club from now through March 2016 will be entered to win an Illinois Whitetail hunt with Midwest Trophy Outfitters. The drawing is open to all new female members that join before March 2016.
The hunt is a 5 1/2 day, fully guided bowhunt for whitetail deer in west central Illinois. You will hunt with Greg Guerrieri of Mid-west Trophy Outfitters, located in Fulton County, Illinois. The hunt will include all lodging and food.
You may be familiar with our records program, but did you know that we are far more than just the keeper of the bowhunting records? Did you know we have given over 1/2 million dollars to conservation programs over the last 5 years? Such programs as, DNA research of Coues' deer, Shiras moose study, elk research in Absaroka Moutains of Wyoming, the outdoor education center at the Jack Creek Preserve, the Bitterroot Elk Project, Primero Conservation jaguar research, Conservation Leaders of Tomorrow, American Wildlife Conservation Partners, U.S. Sportsmans Alliance, Kicking Bear One-On-One Camp for kids, National Archery in the Schools program and most recently, a major partnership with Scholastic 3D Archery (S3DA).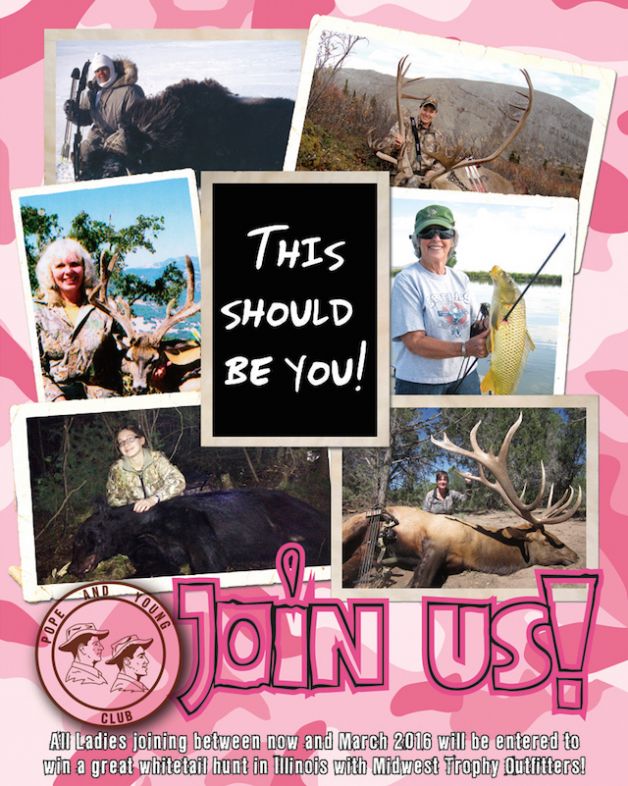 Do you want to help protect and defend bowhunting across North America?
Do you believe the culture, heritage and ethics of bowhunting should be passed down from generation to generation?
Do you believe that North American big game animals and their habitat should be maintained and managed so that future generations can experience their wild beauty?
If those issues are important to you, please join us today and help us ensure bowhunting exists for future generations. Plus, you will have a chance to win this fantastic whitetail deer hunt. Membership is only $40 and, as a member, you help us protect and defend North American big game and bowhunting across North America. General membership application: https://www.pope-young.org/members/join.asp
The Pope & Young Club is a non-profit North American conservation and bowhunting organization dedicated to the promotion and protection of our bowhunting heritage, hunting ethics and wildlife conservation. The Club also maintains the universally recognized repository for the records and statistics on North American big game animals harvested with a bow and arrow.
The Pope & Young Club • www.pope-young.org • Box 548, Chatfield, MN 55923 • Ph: 507.867.4144
Media contact Rick Mowery @: rick@pope-young.org • Ph: 989.884.3800
About The WON

The Women's Outdoor News, aka The WON, features news, reviews and stories about women who are shooting, hunting, fishing and actively engaging in outdoor adventure. This publication is for women, by women. View all posts by The WON →