Top to bottom: 5 concealed-carry holsters for summer
I started carrying concealed several years ago, and the amount of holsters to choose from baffled me. Particularly in the summer months, carrying concealed gets more difficult as we wear fewer clothes and become even more active. Here are 5 concealed-carry holsters for use during the hot summer months.
Purse holster
CrossBreed Holsters, LLC, is owned by a southwest Missouri family. While they have various models for concealed carry on the body, I recently tested one of their newest additions to their modular style holsters. The CrossBreed Purse Defender regularly sells for $52.95, and at this time, it is on sale for $42.36 via their website.
Let's face it. You cannot always carry on your body, especially in the summertime, when you might choose a tight-fitting garment. The Purse Defender is designed to fit in your favorite purse or handbag and transform it into a concealed-carry purse. The Velcro-lined Kydex 9-inch-wide by 6-inchtall L-shaped panel, with its 3-inch wide base that fits into your handbag. Attach the appropriate handcrafted modular holster to the panel and it securely holds your pistol or revolver in your purse. The Purse Defender is available in right- or left-hand models and comes in a variety of sizes to fit small- to medium- sized handguns.
I use this holster with my Smith & Wesson Shield 9mm and love the fact it can be used with any purse or handbag I want to carry. All CrossBreed holsters come with a "2 week, try it free guarantee" and a lifetime warranty. And, to make it even better, they are made in the USA. (You should think about wearing any bag in a cross-carry position for extra security.)

"Active-duty" carry
For the concealed carry holder who leads an active lifestyle, I recommend the Pistol Wear PT-ONE. I call this "active-duty" carry, even though it's billed as an outside-the-waistband holster. Barbara Baird, publisher of The WON, lent me this holster to wear for the summer months in hot, humid Missouri because it is made of a breathable belt, along with other materials that move with you. The PT-ONE is designed for those concealed-carry holders who want to carry when working out, biking, jogging or doing other fitness activities. When worn properly, the holster doesn't bounce. It can be worn with your active wear or casual clothing comfortably and discreetly, in several positions (including back carry or up high in front). It adjusts very easily and fits up to 40-inch waists.
In addition to the cushioned pouch area for your firearm, there also is an integrated magazine pouch. Another key feature is a perspiration barrier, to protect your firearm from sweat. And, the PT-ONE is hand-washable. Fortunately, Barb said I could keep the holster, and I know I'll use it all year — not just in the summer.
The Pistol Wear PT-ONE retails for $49.95.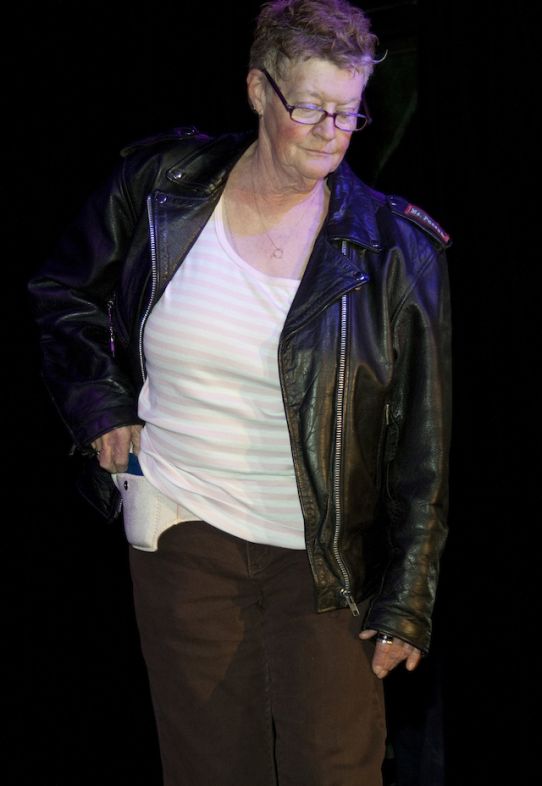 Inside-the-waistband (IWB)
Barbara also likes the Betty holster, from Flashbang. She carries her Smith & Wesson Model 642 in this IWB holster. With light retention and a super clip, the Betty can be used with or without a belt and she likes to wear a loose, summery shirt over a skirt or a pair of shorts and know that she can draw and fire quickly. This little number also fits inside a bag or hey, inside a cowboy boot. The clip can be angled as well, to fit the draw pattern you wish to perform. MSRP: $49.99
Belly Band
Galco Underwraps Belly Band is a belly band style holster I recommend and use with my LCP or my Shield (I could carry both of them in this get-up.). It retails for $59.95, is ambidextrous and comes in either khaki or black.
The Underwraps is versatile with its 2 leather handgun pockets. It can be worn low on your waistline, under your beltline or above it. This 4-inch wide belly band also offers 2 elastic utility pockets that can be used for multiple items, like an extra magazine, knife, flashlight, identification etc. You have 4 size options to choose from for this comfortable and versatile holster.
On your thigh
Femme Fatale offers the next holster on Barbara's must-get-list. She noticed it at the DIVA WOW Holster Clinic last month in Dallas, and knows this one will be the bomb for concealing a small firearm when wearing a dress or skirt. This holster comes in embroidered lace, and measures 6 inches tall. Made of corset elastic, it will hug an upper thigh for hours. Silicone grippers keep the holster in place, and a 5-inch pocket will conceal any of several small models of handguns and it comes in a variety of colors for $70.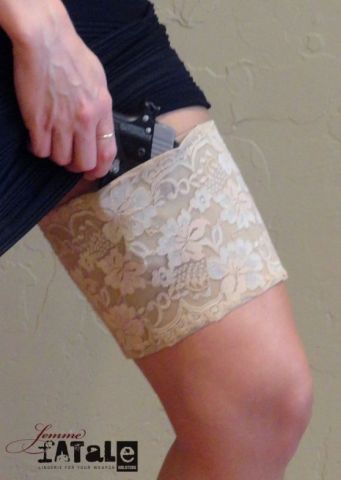 One last note, be sure to get in some practical practice drawing your firearm from whichever concealed carry holster you plan on using. Start out with an unloaded firearm, and then do some live fire practice. Always be cognizant of where your muzzle points on the draw with any holster. You hate to think that you would ever have to use your concealed gun, but be sure that you will be prepared if and when the need arises.
This Retro WON post was first published on July 30, 2014.
About Marti Davis

Marti Davis is a staff member for Browning Trail Cameras, WoolX and Mossy Oak. She is an authority on most types of hunting in North America, and very active in mentoring the next generation of young hunters. View all posts by Marti Davis →
The Conversation