WarSport Team 3-Gun Challenge
The competitive shooting industry is trying to find more ways to welcome and encourage women's and juniors' involvement in the sport. Thanks to Candace Horner's original vision, an event took place the weekend of July 11–12, 2015, that accomplished this feat. The WarSport Team Challenge was a 3-Gun team event.
The twist? Each two-person team must include either a junior or female shooter. Yes, that meant many fathers were shooting alongside their sons, daughters, or wives. (During the morning shooters' meeting, it was announced that a good divorce lawyer or marriage counselor would be recommended if necessary.)
It was 6:30 a.m. when we arrived at Woody's Hunting and Rifle Club in New Hill, North Carolina, along with 83 other teams and what looked like it would be beautiful (although hot and muggy) weather. The 2-day match would consist of 8 stages, all involving teamwork, planning and, of course, some running. Unlike most competitions, coaching among teammates was welcomed and encouraged.
At most 3-Gun matches I'm the sole female on my squad, and there may be only a handful of others in the entire match. Here, my squad of 11 teams consisted of 7 females and 5 juniors. With skill levels varying among the squad and the team members, this was sure to be an interesting event. For many competitors this was their first major 3-Gun match.
Sure, I could go into detail about how the stages were set up, explain how targets were scored and even mention the types of target we had to engage. I could tell you how 5 stages were shot the first day, and 3 the following. What's more important, though, is the sportsmanship and camaraderie that was evident between teammates and among the squads.
During all 8 stages, one team member had to tag the other person before they could proceed to their intended targets. The shouts of encouragement from other squad members really got everyone pumped up, and perhaps even pushed the team members to run a little faster.
One of the difficult parts of working as a team took place on stage 5. My teammate had to depend on me to engage a popper target with my shotgun so he could hit the aerial clays it dispersed. This involved trust, confidence and patience. The teams that were able to communicate had the most success with this stage.
The biggest difference between this match and a typical 3-Gun match were the hugs of congratulation, high-fives and cheers after each team shot the stage. Seeing everyone working together, helping each other plan stages and openly supporting the other shooters was well noticed.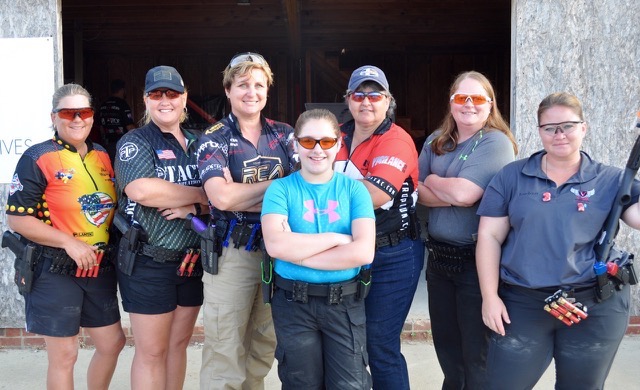 The prize table was deep, with every competitor walking the stage as a team, but choosing her prize individually. I walked away with some great product and a positive feeling about the entire match. I can't wait until next year, when I'll partner with my husband, Chris. Hopefully we won't need that marriage counselor when it's over.
About Michelle Cerino

Michelle Cerino, aka Princess Gunslinger, entered the firearms industry in 2011 when Cerino Training Group was established. She immediately began competing in both 3-Gun and NRA Action Pistol, becoming a sponsored shooter. Michelle is currently a columnist and Managing Editor of Women's Outdoor News, as well as Event-Staff for CZ-USA Field Sports. She also manages social media for Vera Koo and GTM Original. Michelle encourages others to step out of the comforts of home and explore. View all posts by Michelle Cerino →