An Open Letter to Under Armour Regarding Pink on Camo
Dear Makers of Under Armour,
I am a hunter. Thank you, by the way, for making hunting clothes for women. I love to wear your product. I've tried many other brands, and believe me, yours works for me. I love the way your product moves, wicks away moisture and keeps its shape – wash after wash.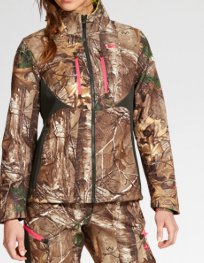 The only problem is … the pink on your camo.
And, it's not because it's a pink thing and I hate pink. It's because by adding pink accents to your otherwise all camo apparel, you cut out the ability for me to wear your camo while turkey hunting. This effectively removes a season of wear and I have to buy other camo, or alter yours. And, by the way, I don't see any light blue on your men's hunting camo.
Turkeys can see color. In fact according to Scientific American, a turkey retina has 7 different photoreceptors, as compared to a human retina's 4 photoreceptors. That's not all: "The retinas of turkeys have seven different types of photoreceptors including 1 rod and 6 different types of cones, 2 of which are actually 'double cones.' Human retinas have only 4 different types of photoreceptors consisting of 1 rod and 3 single cones." So there. See the problem? They will be able to see that little pink zipper or touch of an accent — mainly because it just doesn't blend in with our surroundings, unless we're sitting in a patch of gardenias or something.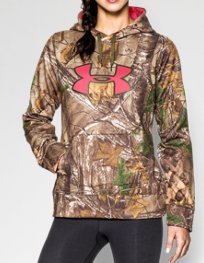 In order for me to turkey hunt comfortably in your camo, I will either have to blacken out the UA and other accents with a permanent sharpie in black, or take my UA camo to my favorite alterations lady and ask her to replace the zippers with green or brown or black zippers.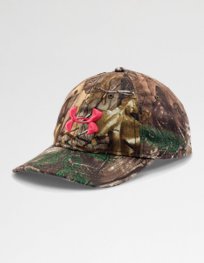 Please will you offer your camo, as I see you are doing with a few pieces of apparel, with no pink accents at all? Go ahead, and offer the pink for women who want it, but for those of us who want to wear our UA during turkey season, too, please will you consider losing the pink?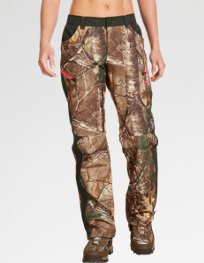 Thank you,
Barbara Baird
Publisher, Women's Outdoor News
Freelance writer for gun and outdoor publications
About Barbara Baird

Publisher/Editor Barbara Baird is a freelance writer in hunting, shooting and outdoor markets. Her bylines are found at several top hunting and shooting publications. She also is a travel writer, and you can follow her at https://www.ozarkian.com. View all posts by Barbara Baird →
The Conversation