Retro WON: The Women of Girls with Guns Clothing
If you've been reading The WON, you know that we have several partnerships with special people in the outdoor industry, and one of our strongest bonds is with Jen Adams (now O'Hara) and Norissa Harman, the women of Girls with Guns Clothing — who have been onboard and supporting us for several years. We thought you'd like to see their story. Also, we're so proud to let you know that because of their perseverance and tenacity, their line has expanded by at least by seven-fold and their GWG items are in 1,500 stores!
This is one of those real-life stories that might later appear on the Hallmark or Lifetime channel. It concerns two Northern California women who recognized a need in the marketplace for women's clothing that reveals an underlying passion for hunting and shooting.
Norissa Harman first toyed with the idea of creating a line of outdoor-theme-related women's apparel when she noticed that her husband brought home tee shirts from his hunting trips. She always thought she could do it better, and make shirts that appealed to women – starting with the fit. She confided in a friend, Jenifer Adams, about her idea. In 2009, they pooled talents and resources in Red Bluff, California, and launched Girls with Guns (GWG) Clothing.
Already working at full-time day-jobs, the women put together their show line after hours, in a garage. At first, they purchased off-the-rack garments and hats. A local screen-print company and Norissa's industrial "Happy Embroidery" machine turned out products with a purpose. Jen's job was to finish products and to apply the rhinestudded rifle, shotgun or pistol with a professional hat press.
Jen said, "Norissa is one of the most creative people I know, and I knew that both of us had the drive and ambition required to run a successful business."
At first, local orders steadily increased the workload. Friends pitched in and lent their expertise – such as a close friend who helped design the logo and also helped with the advertising and cataloging. She referred them to a friend-of-a-friend, who is a successful designer who took them to the next level designing their shirts from scratch. Now they do it all – from the fit to the logo.
A buyer from Scheels took notice of the products at a gun show in Reno and consequently, Girls with Guns' line debuted at the Reno Scheels in August 2009.
In 2010, the women heard that Sarah Palin would be attending a logging conference nearby, so they prepared a gift bag containing a brown bucket hat with a newly embroidered pink "Girls with Guns" emblem and a rhinestudded shotgun. The hat came hot off the press in the garage earlier that day, before delivering the package. Almost a year later, they received a phone call from the producers of "Sarah Palin's Alaska" TV show, asking for permission for Palin to wear that hat on the show. How could they say no?
As a result, they sold more than 300 hats in the first week after that episode aired. Palin's photo, sporting the hat, then appeared in US Weekly and twice in People magazines. Jen and Norissa asked for, and were granted, permission to call the hat the "Sarah Palin Bucket." It has been a top seller ever since.
The head buyer for Scheels Sports had been trying to get the line in all 21 stores nationwide, ever since the line debuted back in 2009. It was time for the next step, so the women began working with a manufacturing company. Sportsman's Warehouse also picked up the line in nine of their stores, and will launch into the remaining 32 in June when the 2012 Summer line launches. GWG will be found in 60 stores!
Throughout the growth process of the business, Jen and Norissa's friendship has evolved. They both hunt – more and more, and together whenever possible. In fact, earlier this year they traveled to New Zealand for a Red stag hunt. The women spotted and stalked their stags for miles. Norissa said, "I am completely obsessed with hunting and I love it!"
The line continues to reflect the women's passion and love for the outdoors, which includes multifaceted interests in fishing, hunting, shooting, snowboarding and wakeboarding.
The 2012 Summer line will be available online June 1st. Visit Girls with Guns Clothing.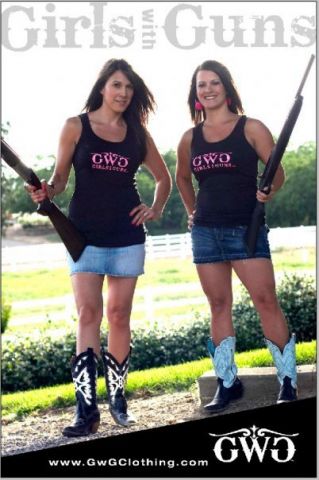 This retro WON first appeared on Sept. 12, 2010.
About Barbara Baird

Publisher/Editor Barbara Baird is a freelance writer in hunting, shooting and outdoor markets. Her bylines are found at several top hunting and shooting publications. She also is a travel writer, and you can follow her at https://www.ozarkian.com. View all posts by Barbara Baird →
The Conversation