Camo Lifestyle Series #3: Baby Camo
Lea Leggitt contributes to the series on camo lifestyle, focusing this time on the wee ones, aka, baby camo.
It's that time of year where the leaves are changing and hunting season has come around. It is also the time when we break out our hunting gear as well as our winter jackets. There are so many cute outfits out there for the little ones and I have found the ones perfect for around the house.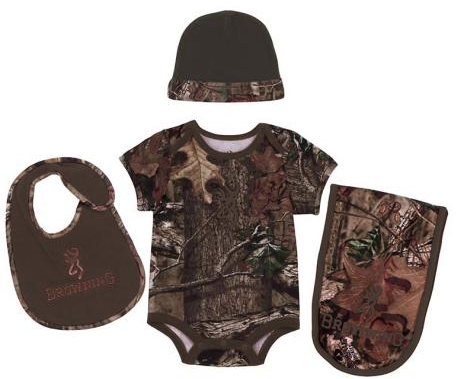 Just Camo has an adorable Browning Baby Camo 4 Piece Set. This includes a one-piece snapsuit, a bib, a beanie and a burp cloth. This set is perfect for any baby boy or girl. It also comes in a variety of different styles of camo from forest green to pink camo. ($29.99)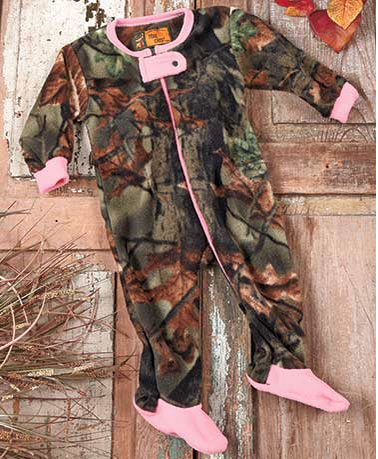 To keep the baby cozy with the upcoming cold weather look at these cute Baby Camo Fleece Crawlers from The Lakeside Collection! These come in camo with yellow or pink accents. ( $11.95)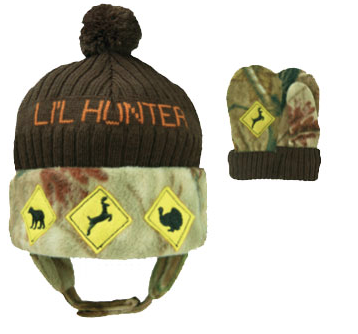 For all the youngsters going on their first adventure, this fall check out the Lil Hunter Hat & Mitten Set from Camochic.com. This is a cute set in mossy oak camouflage with pictures of a deer, turkey and bear. ($19.95)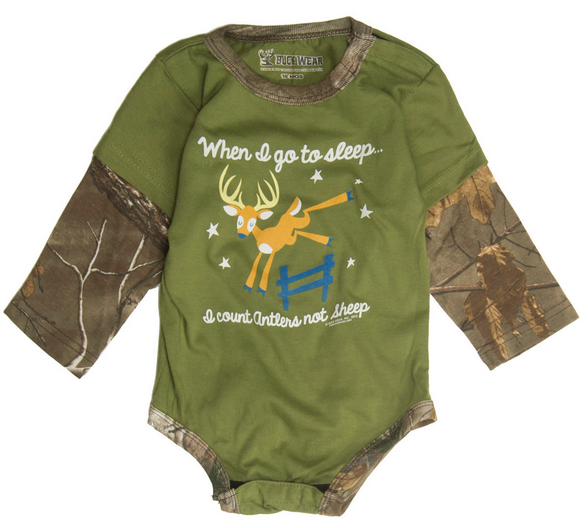 While picking out your hunting gear at Gander Mountain check out this new Buck Wear Infant Boys' Count Antlers Bodysuit. This is perfect for nap time and for putting a smile on Mom's (and Dad's) face. It has Realtree Xtra camo and is a 100% adorable. ($19.99)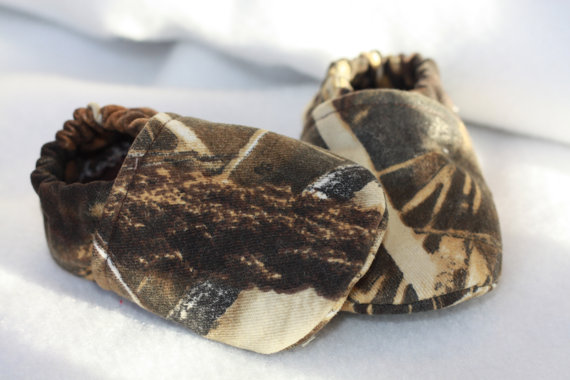 To keep little piggies warm this season there is a great store on Etsy, Mychickiest, that makes a variety of super cute Camo Baby Booties. These vary from crib shoes to waterproof with soles. They are all handmade in varieties of camouflage patterns. (Starting at $20)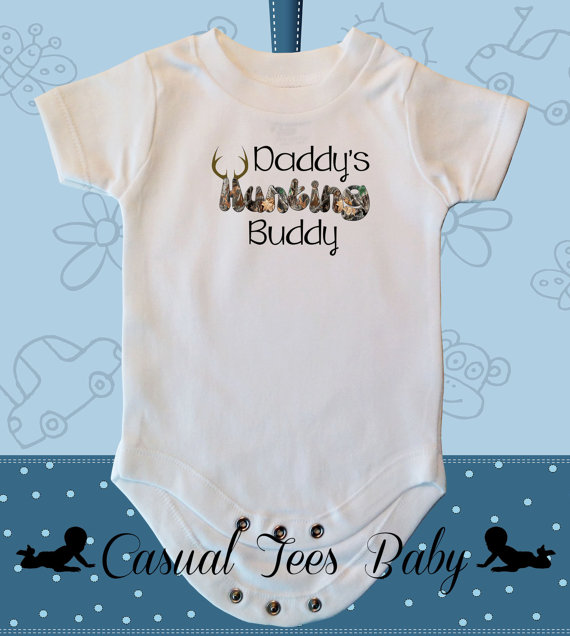 Outfit of the day for the future hunter: 2 great baby bodysuits made for any little cutie. From Etsy, Twelve20Designs and CasualTeeKids feature daddy's hunting buddy. Both are handmade and perfect for any little hunter to be.
Daddy's Hunting Buddy Bodysuit ($15) and Crawl Walk Hunt Baby Bodysuit ($14)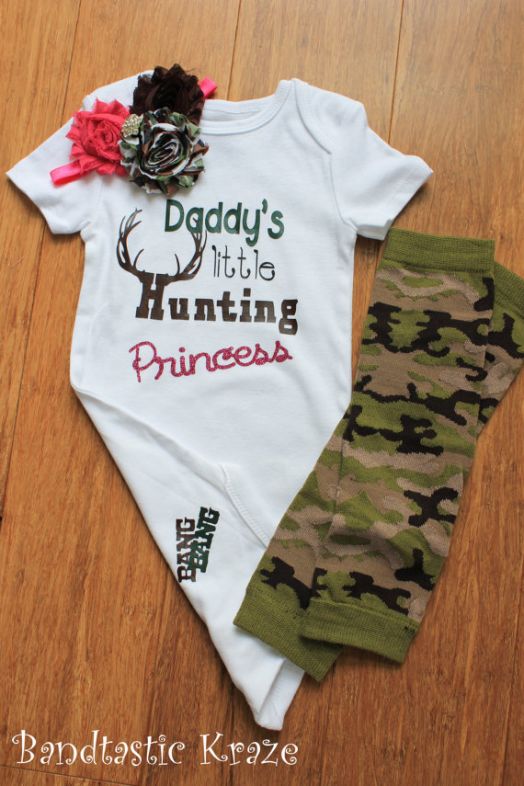 For the little huntresses, there is Daddy's Little Hunting Princess Bodysuit. From BandtasticKraze on Etsy are the camo onesie and leg warmers. Perfect for the little princess in your life. (Starting at $11.99)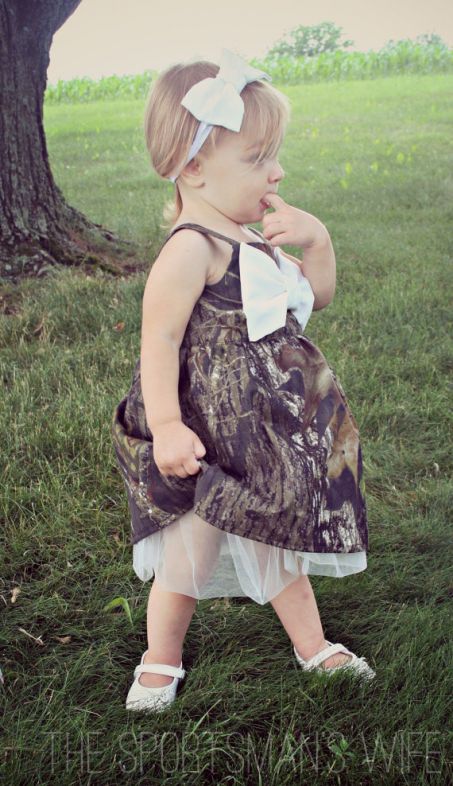 Thesportsmanswife on Etsy has everything you could possibly want for your dress up day with the baby huntress. One of the cutest outfits is this Camo Baby Girl Big Bow Dress w/ Headband in Mossy Oak Camouflage. It is handmade and a crowd favorite. ($20.55)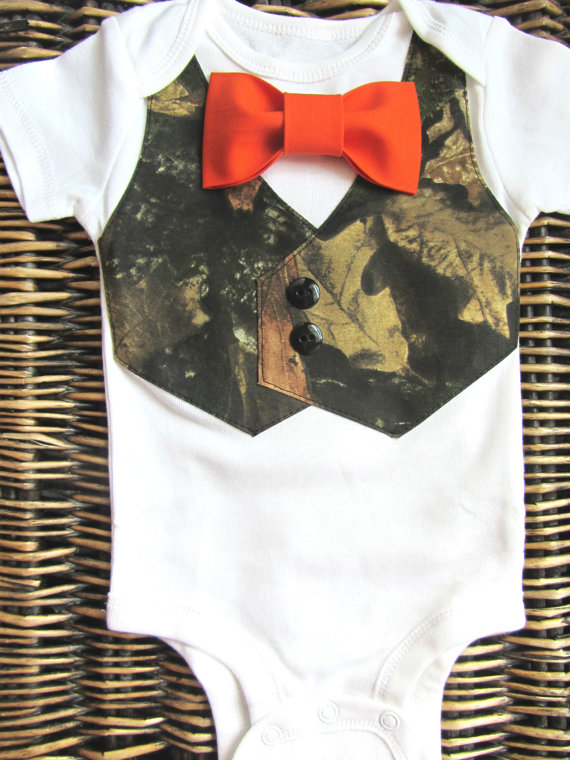 Dress up for the little guy is perfect coming from the Sewlovedbaby from Etsy. One of the best styles is the Baby Boy Camouflage Tuxedo Onesie. It is a handmade mossy oak onesie tux. To top it all off, there is a cute removable orange bow. ($22.99)
To cover up that diaper, there is a great non-gender specific Camo Diaper Cover! It is handmade and is Realtree camo. This is from KarriesBoutique on Etsy. Special for the girls it comes with a matching headband.
$18.00