Company to Award Three T/C Strike Muzzleloaders
SPRINGFIELD, Mass. (November 16, 2015) — Thompson/Center Arms today announced that it is offering a chance for three lucky contestants to win a new T/C Strike muzzleloader through the company's gun giveaway sweepstakes. Beginning November 16th and continuing until December 7, 2015, Thompson/Center Arms will randomly select one qualifying participant per week, and award each with a new muzzleloader free of charge. Registration for the contest can be completed through the Thompson/Center Arms (www.facebook.com/TCArmsCo/) Facebook page or by sending an email to sweepstakes@smith-wesson.com.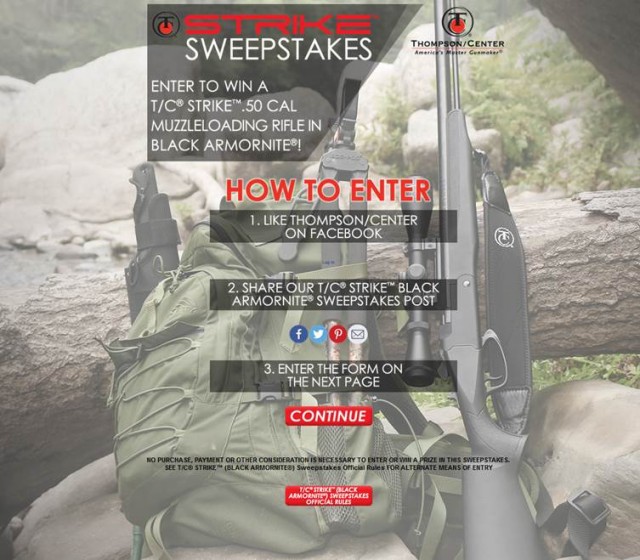 To participate in the gun giveaway sweepstakes, interested candidates are encouraged to go to the Thompson/Center Arms Facebook page and fill out an entry form application. Contestants must also "like" the company's affiliated Facebook page and share the sponsor's sweepstakes post. Contestants can also enter the sweepstakes via email. Only one entry per person is accepted during the sweepstakes term regardless of the method of entry. Complete rules regarding the sweepstakes are available online at
www.smith-wesson.com/promos
.
The first sweepstakes begins on November 16th at 12:00 a.m. (EST) and ends on November 30th at 12:00 a.m. (EST). During the initial sweepstakes period, a black Armornite® T/C Strike will be given away to one random winner. All prizewinners will be publicly announced via the sponsor's Facebook page following the conclusion of the sweepstakes.

T/C Strike
The T/C Strike brings a fresh concept to the venerable world of black powder rifles, offering today's hunter the most advanced features available, while continuing to deliver the performance, accuracy and ease of maintenance that has become the hallmark of Thompson/Center Arms firearms. At the core of this high-tech .50 caliber muzzle loading rifle resides the T/C Strike's advanced Adapt™ Breech system. Featuring an external-threaded breech, the Adapt Breech system effectively seals off the blowback from burnt powders inside the barrel. The new muzzleloader is packaged with two primer adapters to accommodate the most common types of propellants (loose and pellets) available in the market. Additional features of the new T/C Strike include the integration of the advanced Stealth Striker™ system, a match-grade trigger, the patented QLA® muzzle system, a simple take-down design and an advanced corrosion protectant finish.
Thompson/Center Arms Gun Giveaway Sweepstakes
First Prize: T/C Strike – Black Armornite
Start Date: 11/16/15 12:00 a.m. (EST)
End Date: 11/23/15 12:00 a.m. (EST)
Second Prize: T/C Strike – G2 Camo
Start Date: 11/23/15 12:00 a.m. (EST)
End Date: 11/30/15 12:00 a.m. (EST)
Third Prize: T/C Strike – Walnut
Start Date: 11/30/15 12:00 a.m. (EST)
End Date: 12/7/15 12:00 a.m. (EST)
About Smith & Wesson
Smith & Wesson Holding Corporation (NASDAQ Global Select: SWHC) is a U.S.-based leader in firearm manufacturing and design, delivering a broad portfolio of quality firearms, related products, and training to the global military, law enforcement, and consumer markets. The company's firearm division brands include Smith & Wesson®, M&P®, and Thompson/Center Arms™. As an industry leading provider of shooting, reloading, gunsmithing and gun cleaning supplies, the company's accessories division produces innovative, top quality products under Battenfeld Technologies, Inc., including Caldwell® Shooting Supplies, Wheeler® Engineering, Tipton® Gun Cleaning Supplies, Frankford Arsenal® Reloading Tools, Lockdown® Vault Accessories, and Hooyman® Premium Tree Saws. Smith & Wesson facilities are located in Massachusetts, Maine, Connecticut, and Missouri. For more information on Smith & Wesson, call (800) 331-0852 or log on to
www.smith-wesson.com
.