Guest Post: View from the Marina, with Barb Hansen
IT'S TIME TO FEEL GOOD AGAIN, AMERICA! GO BOATING!
There is a malady sweeping the nation. I call it gloom and doomitis. Yes, these are trying times for our country. Acts of violence, economic uncertainty and the rising cost of living all contribute to the collective jitters of Main Street America.
We've all met people who, when you say, "Good morning" they answer with, "What's so good about it?" As much as I try not to go down the road of negativity, sometimes it's hard to avoid it. Have you watched the news lately? It's not a pretty picture. The only sector of the economy that may be rising is the sale of antidepressants and alcoholic beverages.
Right now it's hard to think positive when we are surrounded by so much that is negative. It seems like everything we read is bad news and everything we watch on TV is bad news. No wonder we feel bad.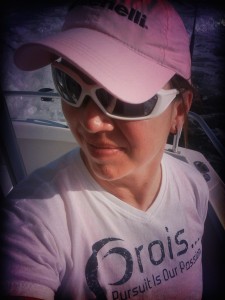 Well, it's time to feel good again. There are so many more things that make me feel good rather than bad in my life. My husband and my animals make me feel good. My dog, Skye, is always happy. He makes me feel good. My business makes me feel good. Sure, there are bad days, but overall it's a good thing. Florida weather really makes me feel good. As of this writing, we've only had three days in the 60's this fall. How can you not love that? Best of all, being near or on the water makes me feel good.
I recently had a boat owner in my office who was chatting about the state of the nation. At the end of the conversation he said, "we are heading off on our boat tomorrow to get away from all the stress for a while!"
When I tell people that we have been in the business of selling boats, chartering vessels and teaching people boating skills for over thirty years they think that sounds pretty cool. And, even though I sit at my computer day in and day out, it is a fun business. However, I often have to throw in a dose of on-the-water medication. Just a few hours on the water, the dolphins playing alongside the boat and the white ibis flying against the blue sky can give me more of a kick than any B-12 shot ever did.
So this is my prescription for our nation's malaise.
Go down to the waterfront and breathe in the sunshine and salt air. If you need a stronger medication, try to get on the water. Take your boat out, go out with friends or plan a charter vacation. You may need a stronger dose which requires being away from the dock and free of all that land-based stress. Trade in those worries and woes for some fair winds and calm seas.
There is something celebratory about boating as well. There is nothing more special than spending time on the water with family and friends for an important occasion such as an anniversary, birthday or Holiday. Even in the midst of all the doom and gloom, we have much to celebrate. In fact, because of the state of the world today we hold especially close the time we spend with those we love.
Take time to smell the salt air. Boating exposes us to so much beauty in this awesome world. Perhaps boating can provide you and your family some comfort and peace in the New Year.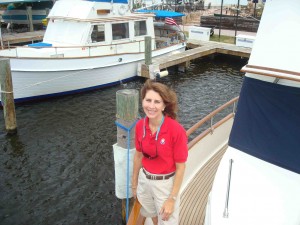 Barb Hansen manages Southwest Florida Yachts, yacht charters, and Florida Sailing & Cruising School. Email: info@swfyachts.com, phone 1-800-262-7939 or visit http://www.swfyachts.com/
About The WON

The Women's Outdoor News, aka The WON, features news, reviews and stories about women who are shooting, hunting, fishing and actively engaging in outdoor adventure. This publication is for women, by women. View all posts by The WON →