Review: CrossBreed Holsters Improves Its Belly Band
If you legally carry a concealed firearm, you know it's important to have holster options. CrossBreed Holsters offers plenty of holster choices, but recently it introduced a new and improved Modular Belly Band, which I have moved to the front of the line for concealed carry options this winter.
Background: In creating its first Modular Belly Band, CrossBreed Holsters partnered with Rob Pincus, owner of I.C.E. Firearm Training Services. Now, Pincus and CrossBreed have redesigned the original belly band, which added more length to the elastic band so it extends over a CrossBreed Modular Holster. I like the support and feel of this band over my firearm, as there's no room for wobble.
Depending on what I've chosen to wear, I can easily position the gun anywhere in front of my body and either under my chest area or around my middle.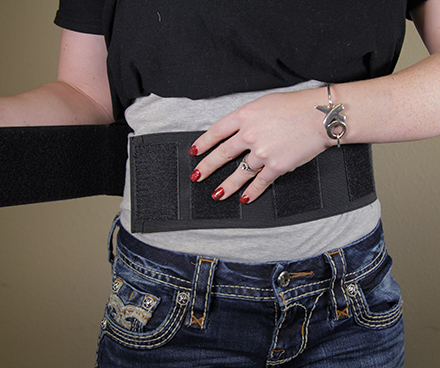 The new belly band also comes with a sewn pouch that will hold either a magazine or a flashlight. It also features a horizontal Velcro brand enclosed accessory pouch – for a cell phone, wallet and that most important document, your concealed carry permit. In my state, that permit must be on my person when I'm carrying a concealed gun. CrossBreed also offers an optional Modular Magazine Carrier to add to this belly band.
I wore an RM380 in the band, and went on walks down country roads where I live. One day, I decided to take along a trash bag and performed a little roadside cleanup, where I had to squat, bend and reach for beer cans, Styrofoam cups and water bottles. I didn't even realize I had the belly band on because it moved with me and most importantly, my gun's muzzle did not crimp my style or dig into my abdomen. When I returned home, I checked and the band had not moved from its original position throughout what some might call extreme yoga postures.
I also gave the band a slight workout with a little run down a road, because I am that type of reviewer and gave it one for the team. Again, no unnecessary jiggling or wobbling movement – from the holster and band combo.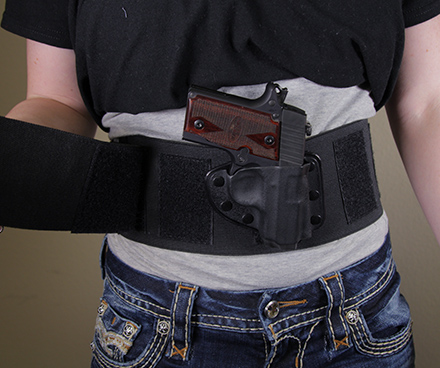 Tip:I wear a wick-away type workout shirt under my winter clothes so that when exercising or wearing a belly band, I can keep moisture wicked away. The band, as a result, did not get soaking wet.
The
CrossBreed Modular Belly Band
comes in small (29 to 36 inches), medium (36 to 42 inches) and large sizes (42 to 52 inches). MSRP: $69.95
About Barbara Baird

Publisher/Editor Barbara Baird is a freelance writer in hunting, shooting and outdoor markets. Her bylines are found at several top hunting and shooting publications. She also is a travel writer, and you can follow her at https://www.ozarkian.com. View all posts by Barbara Baird →