Vera Koo: Is the End of a Shooting Career in Her Sights?
Vera Koo describes why she is looking at the end of her shooting career, and reflects on her decision.

Sponsored by Vera Koo
Some of my shooting friends like to remind me that I have been two years away from retirement for the last 20 years.
It is true that for a long time, when someone asks me how much longer I think I will compete, I respond, "Two years." However, recently, that two-year timeline is ringing more true.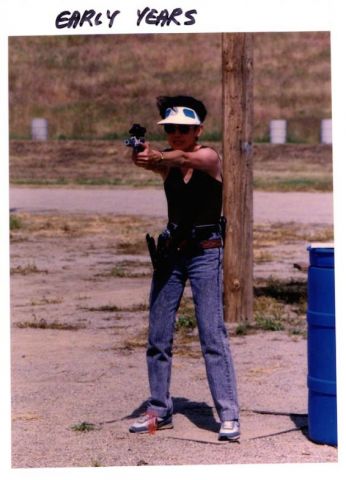 I must face reality. I will turn 70 in December 2016.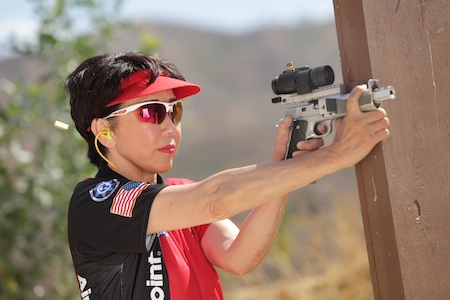 Aging is something no one can escape. Although the fire in my heart is still burning strong, my body is not following.
I noticed about 18 months ago that my arms are shrinking. I am losing muscle mass. It is most noticeable in my forearms, but my upper arms also are shrinking. It is not for lack of trying. I still am committed to a healthy diet and exercise, although I have to be careful to not overdo it.
My memory is not as sharp as it used to be, nor is my eyesight. I have to be smart about my practice time, because my body will not allow me to practice as many hours as in the past. I used to be able to shoot a thousand rounds a day, seven days straight. I would combat the swelling in my hand by soaking it in ice at night. Nowadays, I cut off practice at 850 rounds. I take more days off to rest.
All these signs tell me that my retirement from this sport is approaching. Maybe I will exit after the 2016 World Championships. Maybe I will get a few more years after that.
Our bodies are vehicles we use to travel through life, and my body has a lot of miles on it. Yet, even as I face the reality of retirement approaching, I do not have any sadness in my heart. When I exit this sport, it will be with no regrets. I know I have done all I can to compete at my highest possible level. I have relentlessly pushed myself throughout my career, both physically and mentally.
Although I am not fearful of the day retirement comes, I also am not trying to speed up its arrival. I love this game. I never will be able to find something as exciting as these competitions. This sport requires me to work so hard and push myself at every turn. I enjoy the process.
Shooting has been a good fit for me because I am a natural workaholic. When I am hard at work on my craft, I stay focused. Otherwise, if I am left to my own devices, I become lethargic.
I do not want to become that way, which is one reason I have not stepped away from the sport already, although I have thought about it.
For years, my friends have asked me when I was going to stop shooting, as if I was doing something wrong. If I competed in a different sport, like golf, I doubt they would have asked me when I was going to stop competing. But they kept asking, and in 2003, I thought about quitting.
I got into the sport by accident. It took a turning of events to make me stay. I figured maybe I had experienced enough fun, enough shooting. Maybe it was time to move on and experience different things.
My husband, who has been a great adviser to me over the years, did not understand why I would want to quit. In those days, I was performing at a very high level, and my husband reminded me that I had worked so hard to get to that point and had paid my dues. He asked, "Why would you step away from something you have become so good at?"
I realized there was no reason to. I like pressure. It keeps me focused. The sport also keeps me healthy. Being active in the sport makes me want to exercise and push my body. I also work my mind with all the planning and strategizing in preparation for training and matches.
Some of my husband's friends are retired, and when they talk about it, they paint a picture that does not sound desirable. If you have to retire from something you used to do intensely, you can be left with nothing to do and a lot of time on your hands. Hearing their stories made me realize that retirement is not a good option for me as long as I am still physically able to compete.
Eventually, though, I will have to step away from shooting, and I want to make sure I have activities to fill my time when that day comes. I am currently working on a book, and I will see that project to completion. I also want to have the energy and strength to promote my book once it publishes, and if I retire within the next few years, I will still be young enough to promote my book.
I also would like to reengage with my passion for art, which was my major in college. I think I would enjoy starting my own business in which I could do graphic designs for companies. It would not be an endeavor designed to generate a great profit, but rather something enjoyable to keep me active.
A lot of high-level athletes have a hard time filling their competitive urges once they step away from a sport. That will not be me. I have never been fueled by a desire to beat somebody's scores. What has kept me here all this time is a desire to reach my full potential.
I know retirement is coming, and I think it is coming soon. Even though my heart wants to go forward and remain engaged in the sport, I will not be able to do it for much longer, at least not to the level I want. I have no fear about that day coming. Instead, I focus on squeezing every drop I can out of myself so I can enjoy this sport for as long as my body will allow.
Learn more about Vera at VeraKoo.com.
About Vera Koo

Vera Koo is a first-generation Chinese American woman. She's a wife and mother, author, entrepreneur and retired competition shooter. Along with two published books -- "The Most Unlikely Champion" and "Wisdom and Things: Essays From an Unlikely Champion" -- she writes her column, Vera Koo, at "Women's Outdoor News." View all posts by Vera Koo →
The Conversation