What Happened on a Whitetail Hunt in Texas for Women
Meet Becky Lou Lacock, avid outdoors woman who has been very active in the outdoor industry since making a life change in 2000. She has actively inspired and promoted women in the outdoors by all platforms available to her, which include writing, television productions, participating and ultimately organizing women's group activities across the nation. Her passion is to provide information, inspiration and encouragement to all women. Becky Lou has established and maintained professional relationships with many leaders in the industry, who have supported her over the years. Focused, Becky Lou pours her heart and soul into each and every adventure and has a contagious enthusiasm that seems to spill out onto everyone around her. As a very close friend would say, "If you're not having fun with Becky Lou, it's your own fault." We are looking forward to hearing her stories, and spreading the excitement here at The WON. How appropriate to call her new column "Becky Lou Outdoors."
With the mild weather, great guides and some beautiful bucks this event will go down in history as another successful Girls Hunt Out! Although I have participated, organized and hosted many women's outdoor events, each and every one takes on a life of its own and notches out a special place in my heart. This specific whitetail hunt was no different with so many magical moments I find it difficult to choose.
There were 3 women to join me on the Fojtasek (Pho-toe-zay) Ranch in Winchell, Texas, located in some of the most beautiful parts of the noted Texas Hill Country. After several years, ranch manager Jerry Ellis decided to host his very first women's only hunt. He chose these specific dates in October for an early season opportunity to take some management bucks out of the gene pool, and a few does, to boot. As part of the Bucks and Beards TV team, this hunt would also be filmed for a possible episode.
Angelle Larson made the first contact regarding the hunt. Although we had mutual friends here in southwest Louisiana, we had never met. Angelle had hunted earlier in her adult life and had taken a whitetail doe, but had not been in the woods for several years. The woods had been calling to her and somehow, through mutual connections on the magical world of Facebook, she found this Girls Hunt Out and was absolutely thrilled to see an opportunity to get back out in the woods, and better yet with a group of girls. She contacted me, talked to Jerry, and decided to join the hunt. She and her husband, Kurt, stopped by one afternoon and we met for the first time. Afterwards, I thought that if we were to engage in a race of energy and enthusiasm, she and I would run neck and neck!
The next 2 huntresses received the hunts as gifts by 2 avid outdoorsman, their husbands. Ty Bordelon had viewed the hunt on Facebook, and contacted me. In the past, his wife Britnie, had been hunting exclusively with him, harvesting a few deer, and he thought this would make a great gift-hunt for her birthday. A Girls Hunt Out sounded perfect for this working mom. After Ty shared this information with a co-worker, Wayne Havard, Wayne also decided to buy the hunt to his wife, Andrea.
Andrea had been hunting with Wayne several times with no deer down, so he thought this management hunt would be a great way for her to harvest a whitetail. I don't know that I have ever seen 2 guys more excited for their wives in my entire life! I have to say I was extremely excited about all 3 of these girls. Although I love hunting with my experienced friends, anyone can tell you that I am absolutely thrilled to have newbies to join on my adventures. With a limit of 4, we filled it quickly. Having met Angelle briefly, I was to meet Britnie and Andrea for the very first time upon arriving at the ranch, so it was to be a new adventure with new friends and make more memories.
The setting
Angelle and I were the first to arrive, with the other 2 girls arriving the following day. As we entered the hunter's cabin, we found Dave Thomas, a local fireman with Brownwood Texas Fire Department, intensely trimming a back strap from a doe harvested earlier that day. He began to tell us of the menu for the weekend and our mouths began to water. Menu items included Filet Oscar, stuffed pheasant, ceviche, homemade pies and desserts, all served with the taste and presentation that would compare to any 5-star restaurant. In addition to being a perfect gentleman, Dave also is a foodie's dream come true.
The hunt
In addition to Jerry Ellis, guides included Dewayne Richardson, Carl Greer and Ryan Reagan. Each had been scouting and logging activity with high hopes for some great hunts for the first Girls Hunt Out. Due to conflicting schedules, Andrea and Britnie would not arrive until the first afternoon of the hunt, leaving Angelle and I to be the first in the field. In order of harvest, Angelle took the first buck, ironically her first buck, donning a beautiful symmetrical rack. It is truly a treasure for a first buck ever, and one that will hang on her wall as a tribute.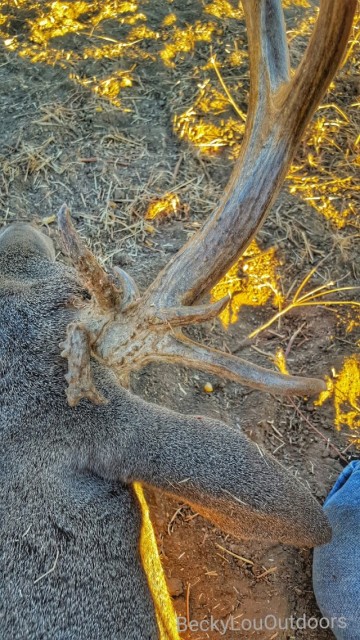 This girl was back in the swing of hunting and we were already planning more trips together. I would be next to harvest a terrific trashy buck with 12 score-able points, most of them sprinkled just above his right crown. I was a happy hunter as I also laid down a doe shortly thereafter, so it was a two-fer that morning for me. My freezer was getting low on venison, so I was thrilled.
Britnie tagged the third buck, and what a beautiful buck it was. I am still not certain who was more excited, she or her husband (upon hearing the news), but it was a celebration to be remembered. This would be known as the Birthday Buck. As a schoolteacher and mother of 2 small children, she does not have many opportunities to go out on her own. Although she was out of her element, and missed her husband and babies, she enjoyed the female camaraderie that only females can understand, and providing food for her family is something she will always treasure.
Andrea's buck would be a little more difficult to come by. It always adds excitement to a story when success happens on the last hour of the last day, and Andrea would be chosen for that privilege. She shot a beautiful buck in some rustic terrain, ony to see him disappear into the hillside. Her guide, Carl, immediately texted all other guides, and after bringing Andrea back to the cabin, they went immediately to the area and began combing through the thick brush. Being a novice hunter, Andrea felt very nervous. We all sat anxiously at the cabin. I asked Andrea about how sure she was about the shot, and she said she felt very good about the shot, when she took it, but now doubted herself. … About an hour after the guys dropped Andrea off and headed for the woods, we heard trucks driving in. With no words spoken, and some blank faces, Andrea walked around to the back of the truck and there lay a big and beautiful buck!
The relief brought tears of joy and happy faces all through the camp. The hunt was over, and we were all bringing beautiful bucks home, with a few does, too. I could write an entire article on each girl's experience on this hunt, and I may, but for now I offer these photos to show what a fabulous time we had and rest assured that the smiles on our faces are etched in our hearts. Hoping that Jerry and the guides will decide to brave another all women's hunt next year, and we can make some new memories.
Want to hunt with Becky Lou and other like-minded women in the future? Find out how to join the next Girls Hunt Out.
About Becky Lou Lacock

Becky Lou Lacock spent most of her life as an entrepreneur owning several retail businesses. Her shooting and hunting adventures began later in life, and her excitement and enthusiasm just seems to spill out onto everyone around her. She tells tales of her adventures here at The WON, in her column titled "Becky Lou Outdoors." With a firm belief of "Let No Woman Be Left Behind," Becky Lou also participates, promotes and organizes female group activities and hunts across the country. She works diligently to provide women of all levels of physical and financial capabilities with perfect outdoor opportunities. As a professional freelance writer, she has been published by media outlets in print and online: InterMedia Outdoors' Game & Fish Magazine / Sportsman Magazine and OutdoorHub.com View all posts by Becky Lou Lacock →