Valentine's Day Options: Concealed Carry Undergarments
Why go with the traditional "chocolates and flowers" for Valentine's Day, when you can choose something more unique for your favorite gun girl? Or, if you are that gun girl, why not buy something for yourself?
There is an abundance of concealed carry undergarment options available, so let's take a look at a few that I really like!
Lingerie stores get a lot of business, especially around Valentine's Day, so why not look at one way a woman can conceal her gun—in her bra! The Flashbang is designed to be worn attached to the middle of the bra, tucked underneath the band. It comes with 3 straps of various lengths to accommodate different bra sizes and styles. The holster is made out of Kydex so that the gun can easily be pulled out by lifting up the shirt and pulling down on the handle of the gun. SRP: $49.99 at flashbangholster.com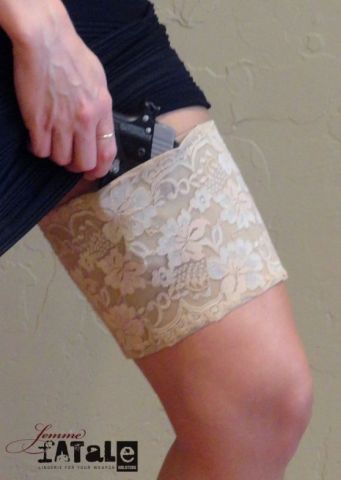 Another not-so-obvious place that a woman can carry a firearm is on her thigh. Lace garters from Femme Fatale hug your upper thigh and use silicone grippers along the top and bottom to keep the holster securely in place. This holster can also double as a way to carry cash, a passport or a cell phone when you don't want to carry a purse. It comes in a variety of colors, such as black, white, blush, red and natural. SRP: $70 at femmefataleholsters.com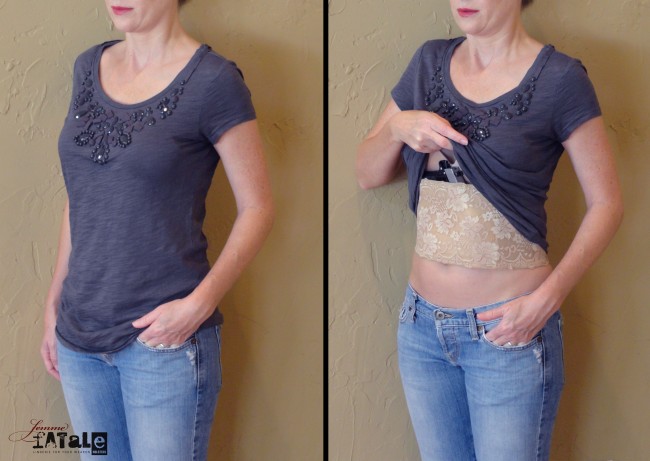 Femme Fatale also offers a great compliment to your lace garter—a corset holster. The pocket is lined with a breathable, waterproof material to help keep perspiration and body oils off your gun. Available in several colors, it accommodates a variety of gun sizes and allows for ambidextrous draw. The back has a lingerie hook-and-eye closure with three rows of eyes for the perfect fit. SRP: $89 at femmefataleholsters.com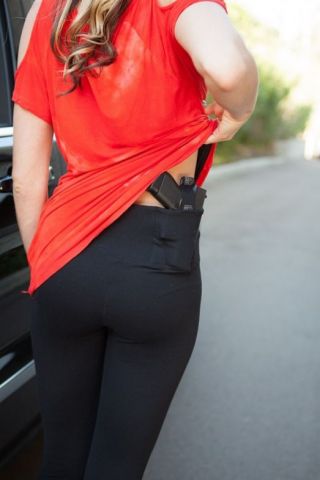 Leggings are all the rage right now, so why not be comfortable and stylish while you're packing heat? UnderTech Undercover's concealment leggings (currently available only in black) feature two holsters—one in the back for a traditional "kidney" position and the other in the front for the "appendix" position. This allows you to choose which is most comfortable and concealable based on your particular activity and clothing. $79.95 at undertechundercover.com
If you're looking for a more traditional carry location, check out the Hip Hugger Classic Holster from Can Can Concealment. This beautiful compression holstering option conceals your weapon discreetly while keeping it within your reach. The corset-style stitching and ribbon add a unique touch, while the elastic holds guns firmly in place and comfortably trims the hips. The Hip Hugger comes in three colors: hot pink, black and purple. SRP: $79 from cancanconcealment.com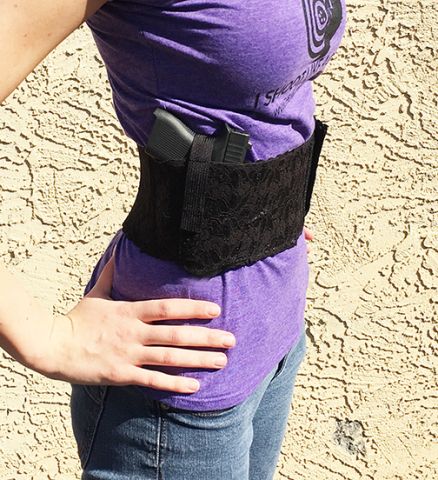 Another option is the elastic lace Belly Band from The Well Armed Woman. It has silky, spandex lining and stretches to fit comfortably so you can wear against your bare skin. It can be positioned anywhere around the waist, on your hip, or under your arms so you can carry either as a cross draw or strong-side draw. Each band offers two holsters with a removable retaining strap. Comes in either black or white. $45.99 at thewellarmedwoman.com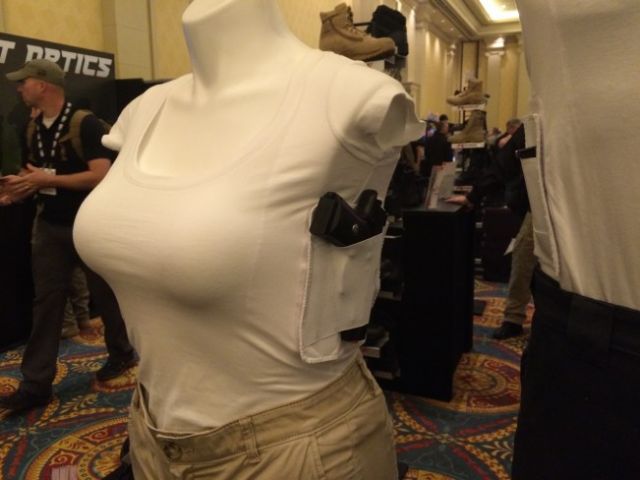 If you like the comfort of a T-shirt, you can now carry a concealed firearm in the Packin' Tee. Ridge Outdoors has designed its T-shirt holster to be worn as a compression-style undershirt. The heavy-duty hook-and-loop attachment has pads on both sides and offers the ability to use one side for the gun holster and the other for a cell phone or other accessory. With a holster on either side, the T-shirt can be used for either right- or left-handed draw. Available in white, with pink coming soon. SRP: $42 from ridgeoutdoors.com
There are also a couple "non-undergarment" options that fit the Valentine's Day theme:
Comp-Tac has a wide variety of holsters, both inside or outside the waistband. The company also has magazine pouches, belts and a great selection of accessories. Many of its products come in red, pink or purple for women who like a more feminine color option. comp-tac.com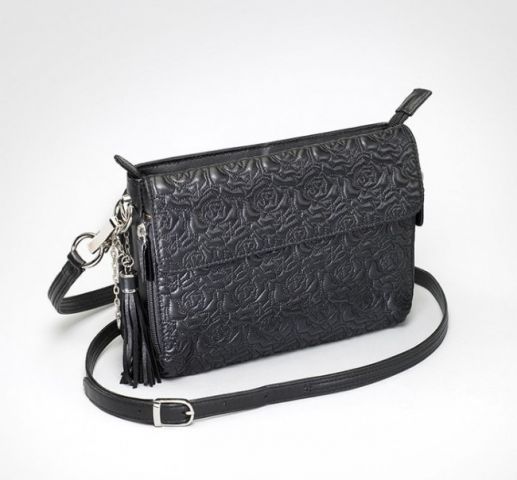 Gun Tote'N Mamas makes an affordable line of concealed carry handbags inspired and developed by women, for women. They have many styles to choose from, including hobo, clutch, cross-body, messenger bags and more. With colors ranging from gunmetal to purple, there's one to fit every preference. guntotenmamas.com
Flowers die; chocolates get consumed. Choosing a Valentine's gift that will last is a much better way to say, "I love you" all year long.
About Stacy Bright

Freelance writer Stacy Bright holds instructor certifications from the NRA in Pistol & Rifle, as well as being an Range Safety Officer and Refuse to be a Victim instructor. In addition to her NRA credentials, she also is a Missouri CCW instructor and teaches various other home and personal defense courses. "In a field dominated by men, I feel I bring a unique perspective to firearms and training, especially to women. I'm passionate about educating, empowering and developing confidence in those I train. In November of 2014, I started the Southwest Missouri chapter of The Well Armed Woman," said Stacy. Stacy lives in southwest Missouri, and has been married for 20 years. Visit TWAW Facebook page: The Well Armed Woman-Springfield, MO Chapter. View all posts by Stacy Bright →
The Conversation