Remington Outdoor Company Celebrates 200 Years
Dear readers, followers, friends and friends-to-be, I'm excited to share some big news with you: This year at SHOT Show I visited with Remington Outdoor Company, and it will be sponsoring my column through 2017!
Here at The WON, we focus on helping you get the information you need for your sport. While I was visiting with the Remington Group, I talked with Ginger Chandler, its senior vice president in new product development and innovation. I asked her about where Remington started, where it is now, and what the company is doing to satisfy women gun owners and prospective gun owners.
A Visit with Ginger Chandler
Remington is celebrating its 200th anniversary this year. A key part of its longevity is that Remington is all about pride and precision.
Ginger explained:
Eliphalet Remington made the first barrel for the company. He hammer-forged it with pride and precision and took it to competition. He came in second place, but he took his first order for a barrel that day. That's the history Remington has, and we're building that pride and precision into everything we do today.
Remington is being careful and cautious, building quality into all it does. Plus, Ginger said, "We're designing for the consumer." That means women as well as men—so what is Remington offering us?
RM380
First off is a pistol that both women and men will appreciate. "Women are increasing the number of handguns they're buying. It's an extraordinary momentum moving forward," said Ginger. "One of the things men and women like is firearms that perform." In that regard, the company just launched the RM380, a micro-pistol in .380.
The thing that's nice about the .380 is that it's concealable," Ginger said. "Racking the slide is easier than any pistol Remington has. Racking can be an issue for some females: 'How do you rack the slide? Can you do it?' This one is easy. It's smooth. It performs. We tested this gun more than you can possibly imagine before we launched it.
"I'm pretty proud of the RM380," said Ginger. "It's the first I've launched as the leader of R&D at Remington."
The RM380 is a little heavier than other handguns, which makes the recoil very manageable. It's easy to shoot, which means you'll take it to the range and practice with it," said Ginger. "That's what the ultimate personal defense gun is. If you practice with it, you'll use it and become proficient. This is a good thing for all firearms owners.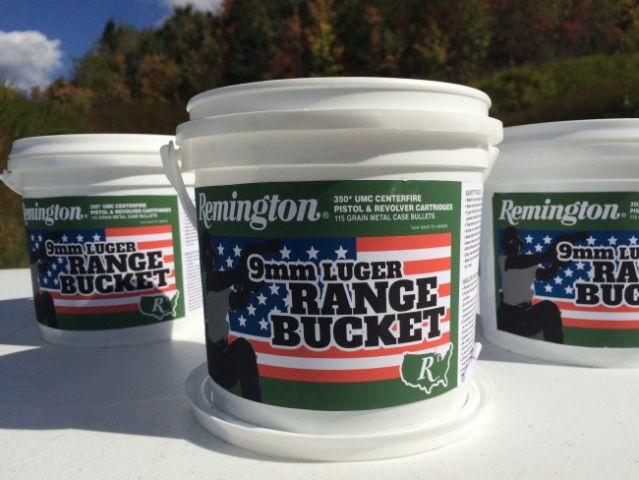 Ammunition
Remington is also introducing Ultimate Defense ammunition. "It's ammunition we make specifically for the compact handguns," explained Ginger. "We provide the firearm, the ammunition and the gun care so you can clean it later. We help keep everything simple for you."
Ginger also mentioned Remington's Managed Recoil ammunition for all common-caliber rifles.
Managed Recoil ammunition is designed so shooters will go to the range and practice," she explained. "Then you switch to higher-end ammunition for a big hunt, where you don't want to miss, without having to change your point of impact or point of aim. It's perfect.
Remington also introduced the Freedom Bucket, which allows a shooter to carry a bucket of ammunition to the range with ease, and not worry about boxes spilling or breaking. "Remington is working to meet the consumer's needs. When I think about females, I know we're making the mark," says Ginger. "We also have a shotgun, which I know you already hunted with and love."
V3 Shotgun
Speaking of shotguns, Ginger showed me Remington's V3.
When you look at the V3 shotgun, the action is in the center of the gun so it's perfectly weighted," she said. "It allows someone who's smaller in stature to reach the pull of angle and swing with ease.The second shot is just as good as the first shot.
I can attest: When I used the V3 on a pheasant hunt, the design allowed me to shoot then rapidly acquire the second bird. Remington also has Nitro Steel ammunition paired with the V3, in accordance with its "keep things simple" strategy.
Anniversary Series Firearms
"All of these systems get back to the pride and precision that Eliphalet started with, but we're taking heritage further," said Ginger. "Not only are we launching the RM380 and V3, but we're also releasing a group of 2016 commemorative guns across the product line."
In celebration of Remington's 200 years of business, the company has created commemorative editions of the 700, 870, 1100, 1911 and 7600, available for purchase during the anniversary year.
About The WON

The Women's Outdoor News, aka The WON, features news, reviews and stories about women who are shooting, hunting, fishing and actively engaging in outdoor adventure. This publication is for women, by women. View all posts by The WON →
The Conversation